ZyWALL Series VPN firewalls are designed to deliver the fastest performance for multi-site deployments.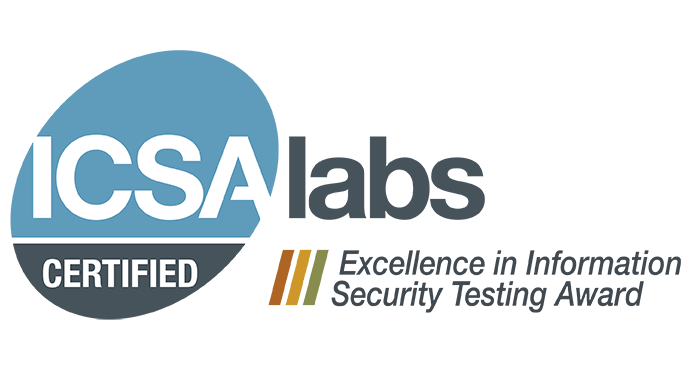 Safer, more reliable VPN connections
Faster processors today have vastly boosted the capabilities of attackers to decrypt VPN tunnels. Legacy VPN cryptographic algorithms like Message Digest 5 (MD5) and Secure Hash Algorithm 1 (SHA-1) are no longer sufficient to guarantee secure outbound communications. With supports to the more advanced Secure Hash Algorithm 2 (SHA-2), the VPN Firewall provides the safest VPN connections in its class to ensure maximum security for business communications.
Engineered Express Mode. Uncompromising Performance.
ZyWALL USG series supports Express Mode with advanced Cloud Query technology which has 30 billion of file ID in Zyxel security cloud's database and constantly adapts new malware data every minute via Threat Intelligence Machine Learning. This innovative design improves the anti-malware detection efficiency, enables it to verify the file ID within seconds to get the most optimal threat detection, so that the ZyWALL USG series can gain higher throughput performance.
Zero-configuration remote access
Virtual private networks provide businesses a secure and convenient way of sharing company resources with partners, customers, or employees on business trips. Yet typical VPN solutions are hard for non-technical users to configure, which greatly reduces their usability and convenience. The Zyxel VPN Firewalls feature Easy VPN to provide auto-provisioned client-to-site IPSec VPN setup.
A wizard is available with the Zyxel IPSec VPN client-software that automatically retrieves the VPN configuration file from the remote Zyxel VPN Firewall and completes the IPSec VPN setup in 3 simple steps. Zyxel's Easy VPN lowers administration effort and allows partner, customers, or traveling employees to access company servers, email, or data centers easily and securely.
Comprehensive Connectivity
ZyWALL USG series not only can protect your network, but it also support Hospitality features including Hotspot, AP management with support for WiFi 6 feature, and concurrent device upgrade. You can buy time-based bundle or quantity-based license to optimize your initial investment and maximize the scale in your environment.
Best TCO for Access Expansion
People expect network access regardless of time or location. As a result, hotspots are in demand in an ever-expanding assortment of locations. The Zyxel Business Firewall Series integrated with Zyxel AP Controller technology enables users to manage up to 130 APs from a centralized user interface. In addition, Zyxel Hotspot Management delivers a unified solution for business networks with user-friendly tools like Billing System, Walled Garden, Multiple Authentication, 3rd Party Social Login and User Agreement. With Zyxel Business Firewall Series, businesses can now deploy or expand a managed Wi-Fi network with minimal effort.
Security Analytics and Report
SecuReporter features a suite of analysis and reporting tools, including network security threats identification and visual analysis on security services statistics, security events, application usage, website usage, and traffic usage, With SecuReporter Premium service, even without UTM Service, user can still have the visibility of usage. SecuReporter provides application overview including real-time usage, sent/received usage, source and destination IP. New added features provide IT manager an observation on network overview.
SecuReporter
I

See.

I

Analyze.

I

Report.

4 step setup wizard for easy remote access with robust SSL, IPSec, and L2TP over IPSec VPN connectivity

SecuReporter, cloud-based intelligent analytics and report service

More secure VPN connections with SHA-2 cryptographic

Auto-provisioned client-to-site IPSec setup with Easy VPN

Device HA Pro dedicated heartbeat port ensures smart handover

Hotspot management for authentication access control and billing

Integrated AP controller as central management to provide flexible deployment options

Express Mode with advanced Cloud Query technology
Services and Licenses
The Zyxel VPN Firewall Series provides a complete feature set to perfectly fit different business requirements as well as to enable the maximum performance and security with an all-in-one appliance. Comprehensive network modularity also empowers IT professionals to customize the system to meet their individual needs.
*: Hotspot Management supports for ZyWALL 310 and ZyWALL 1100 in firmware ZLD4.20 or later; and for ZyWALL 110 in firmware ZLD4.25 or later
Application Diagram
VPN application
High-speed, high-security communications between local servers, remote devices and cloud-hosted applications with deployments of the ZyWALL Firewalls.
Secure, reliable VPN connectivity with IPSec VPN load balancing and failover features delivers high-availability services for exceptional uptime.
Easy-to-use, secure remote access via SSL, IPSec and L2TP over IPSec VPN.
The headquarter ZyWALL Series can also establish an IPSec VPN connection with Amazon VPC/Microsoft Azure for secured access to leverage the benefits of cloud-based applications and to expend on-premise networks that extend into the cloud center.
Hotspot Management
High speed internet access.
Tier of service
Log record for regulatory compliance
Premium security control
Various Network access control ( free or paid access, social login)
*: Hotspot Management supports for ZyWALL 310 and ZyWALL 1100 in firmware ZLD4.20 or later; and for ZyWALL 110 in firmware ZLD4.25 or later.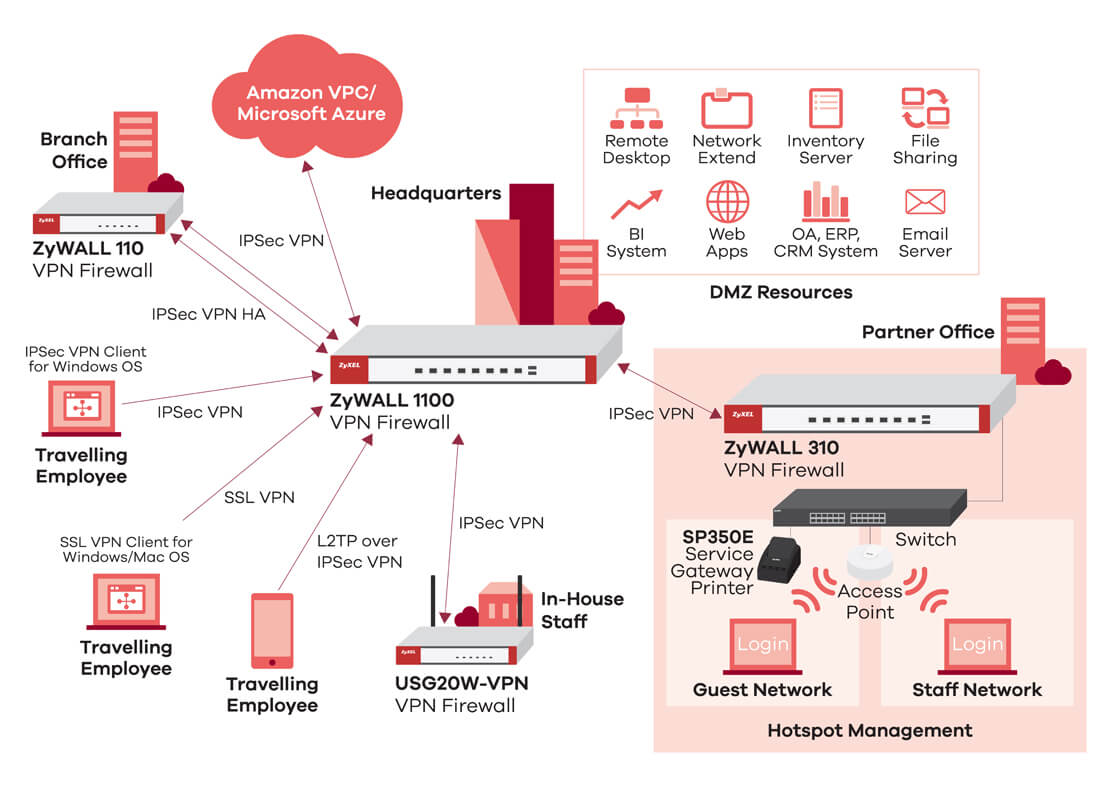 ---
*All specifications are subject to change without notice.