Zyxel Nebula Introduces UI2.0 (Beta) with sleek dashboard and more powerful features
Zyxel Nebula Introduces UI2.0 (Beta) with sleek dashboard and more powerful features
Zyxel Nebula Introduces UI2.0 (Beta) with sleek dashboard and more powerful features
A major redesign of the Nebula Control Center (NCC) is underway. In the latest 8.1 release, Nebula not only introduces important aesthetic and usability enhancements with its stylish user interface (Beta), but also features an array of intelligent management tools and even more device compatibility. These game-changing additions will make things easier for users to maximize the potential of their cloud networks.
UI2.0 (Beta) & Front-end improvements to empower users
Upon login to Nebula users will notice an option of "Try New Nebula" button on the upper right-hand corner. Once it is selected, users will be immediately directed to the new UI.
It is not hard for Nebula devotees to notice the update's focal point: a visually pleasing UI, as shown below. The pristine, ivory backdrop lines up with the existing aesthetics of the Nebula app, achieving a consistent look and feel across devices.
Brand New Look!
With a customizable user interface and visually appealing backdrop, the NCC is ready to empower.
The improvements are not merely aesthetic. Inspired by feedback from Nebula users, the next-generation UI2.0 enhances usability by enabling virtually limitless customization. For example, the widget allows users to customize the essential network data they want to see in the dashboard based on their needs. Or, the captive portal of Wi-Fi and gateway embodies the What-You-See-Is-What-You-Get concept, which offers more control for users to design an appealing captive portal page much easily and quickly.
In addition, this new Nebula UI2.0 update covers almost everything in the front-end revamp including the redesigning of 80+ web pages, adjusting 20+ UX calibrations, and adding 50+ components in the new development framework while enhancing the web performance at the same time. With these improvements, Nebula will most certainly boast even better overall performance and a user experience that is peerless.
Last but not least, when users are in UI2.0 (Beta), they could return back to the old UI whenever they want just by clicking the "Back to old version" button. When they logout and re-login to Nebula, they will remain in the old UI first before they switch to the new one. By taking this beta approach, not only could we collect valuable feedback from Nebula's users and react promptly to further make improvements to better our new UI and revamp progress, but also provides a great opportunity for users to familiarize themselves with the new UI in the earliest stage to ensure a smooth and seamless transition to Nebula UI2.0.
Smart, simple, and secure network connectivity
Nebula 8.1 also has several new key features that are guaranteed to improve cloud networking management and save precious time.
First Time Startup Wizard:

It now supports gateway settings, allowing users to easily complete an entire network setup with a simple few clicks.



Smart Engine:

Nebula's smart engine makes it even easier to correlate settings and events across the entire network. For example, if a user wants to create a separate network by making a guest SSID with VLAN, Nebula will automatically guide the user through VLAN interface settings on the gateway. Additionally, when the scheduled PoE shutdown function is enabled on a switch to conserve energy, Nebula will know not to report an access point offline event for all APs connected to that switch.



Functionality Enhancements:

One of the major functionality enhancements is the Nebula Security Service (NSS) Analysis Report. Starting from this release, Nebula users with the security pack license can now also see the network usage analysis from a client point-of-view. IT administrators will be able to drill down and get more information on the network usage behavior of a specific network client – what applications he/she used, what blocked/botnet web sites he/she tried to access, and whether he/she had been exposed to any virus over the network and the number of times the virus were detected and blocked if there was any,

up to the latest 180 days

(when combined with the Pro Pack license). Thus, further actions can be taken to enforce security policies, improve workplace productivity, and protect businesses' digital assets.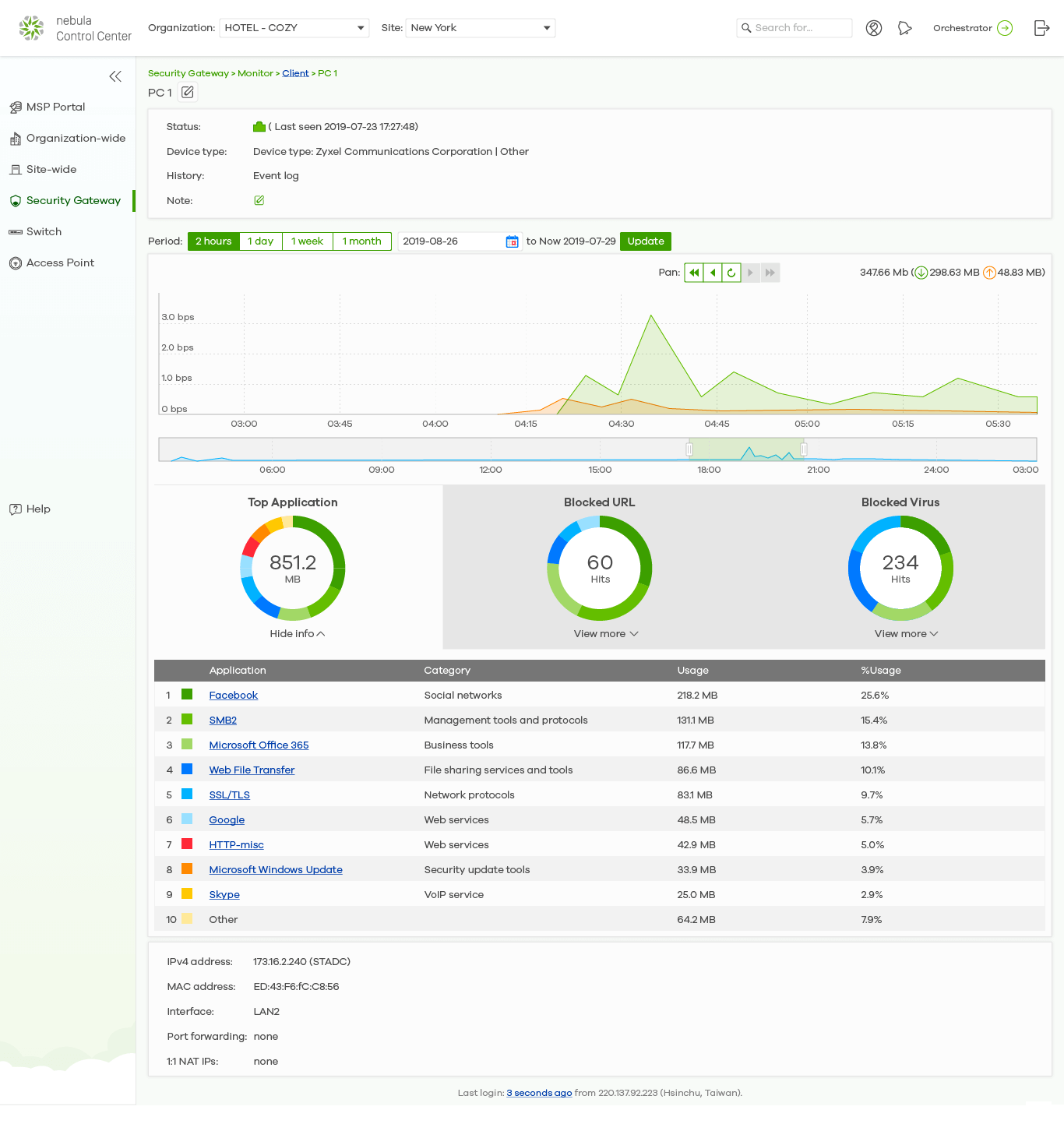 NSS Analysis Report – Application: The result above shows the list of applications the network Client (PC 1) used in the past 2 hours.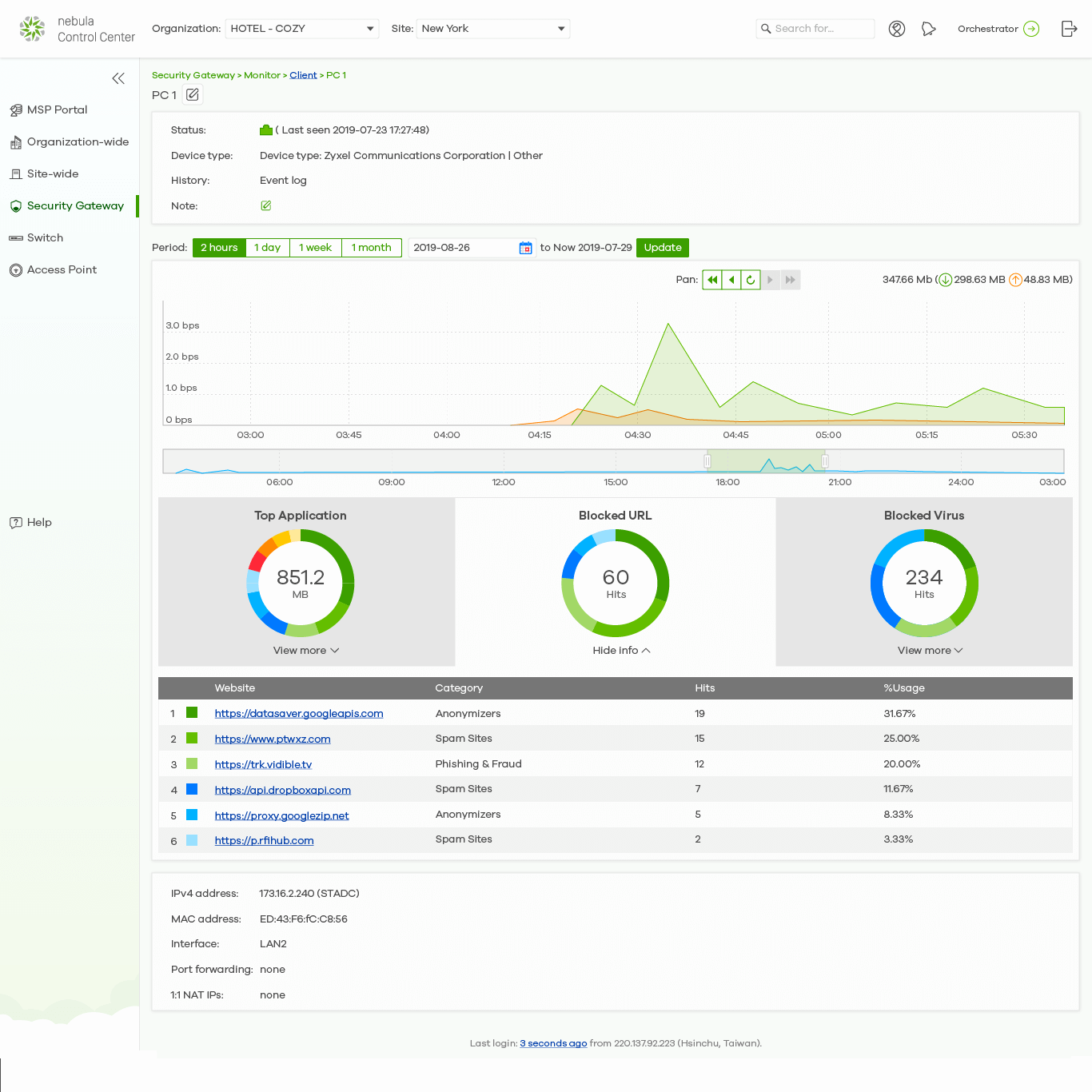 NSS Analysis Report – Content Filtering: The result above shows the list of blocked/botnet web sites the network Client (PC 1) tried to access in the past 2 hours.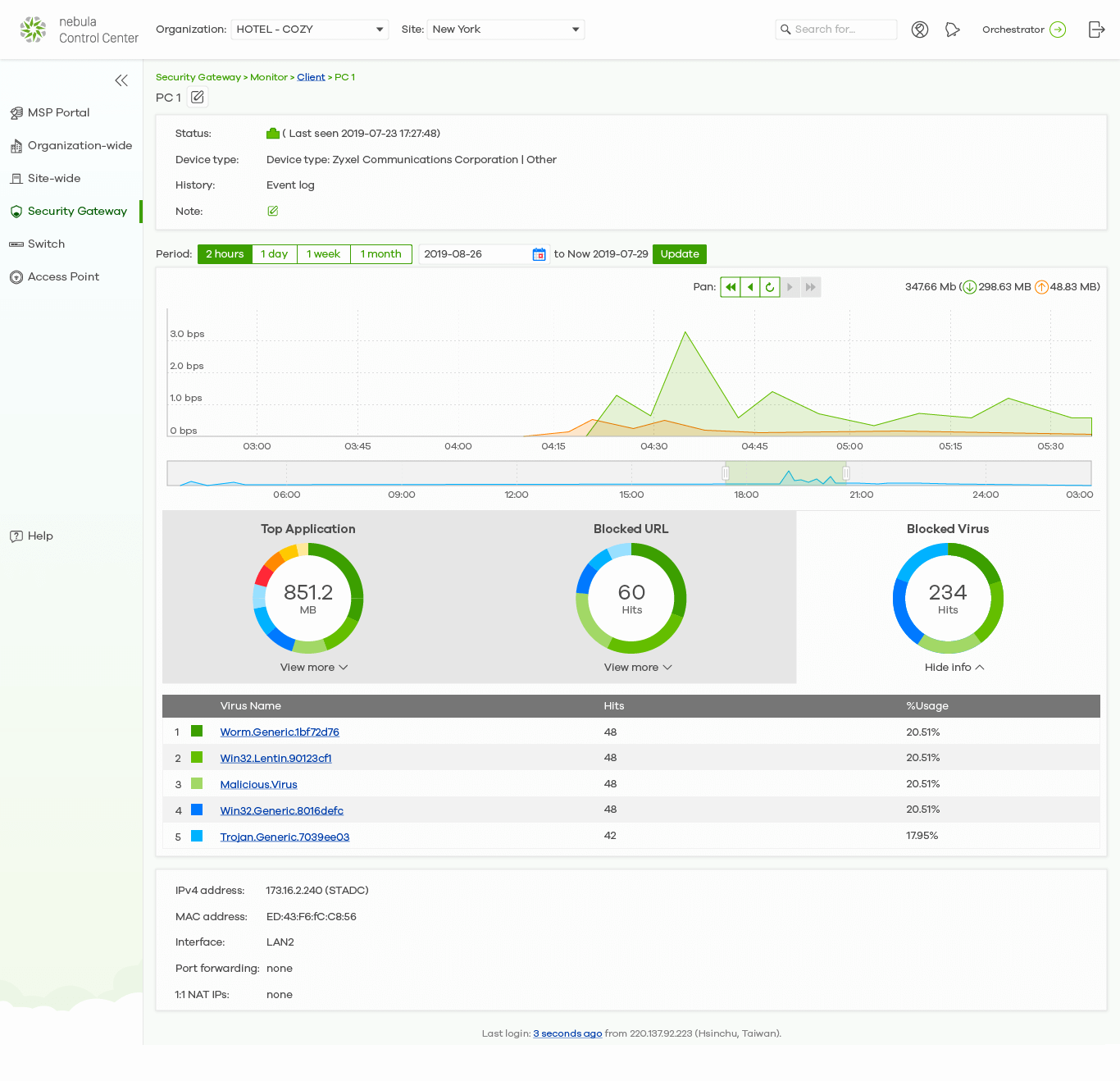 NSS Analysis Report – Anti-virus: The result above shows the list of viruses the network client (PC1) had been exposed to and the number of times the virus were detected and blocked
Other enhancements include:
The AP supports WPA1(WPA2-mix mode) for legacy clients to connect Nebula wireless network.
The gateway supports Azure static route mode, enabling an easy VPN connection between multiple geographical different sites via Microsoft® Azure.
The gateway allows the VPN Clients secure access to corporate resources via IPSec.
A growing Nebula family for a faster, better future
Staying true to its mission to fully expand Nebula's scope, this release also welcomes the XS3800-28 switch to the cloud family. It is a full 10G aggregation switch that can serve as the core of a Nebula network. In the current version, XS3800-28 covers the full L2 functionality and its routing capability in cloud-managed mode will be available in the near future. With the added convenience of cloud management, the switch is fully ready to deliver top-rate power and performance.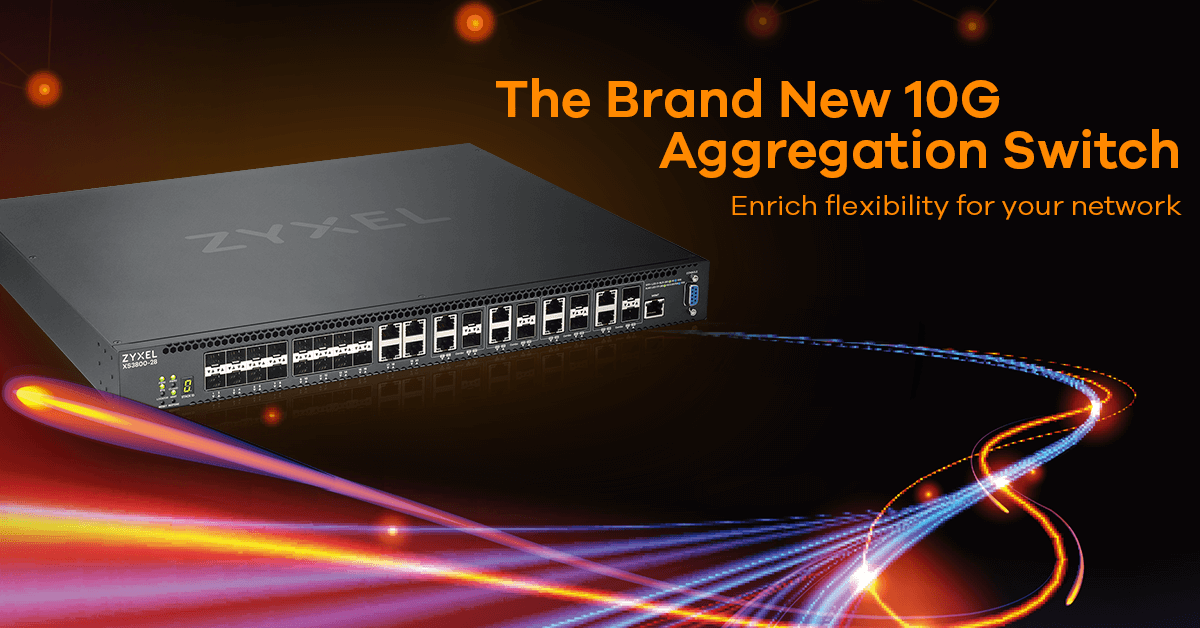 XS3800-28 is now part of the cloud family that can serve as the core of a Nebula network.
Summary
Seeing its tremendous business potential, more and more vendors have been entering the market of cloud networking management, but only providing limited features and offerings. As a full-stack solution leader in SMB cloud networking management, Nebula has already made great strides with introducing the next-gen UI2.0 (Beta) offered by the latest release. By revamping the UI in a way that excites and empowers, all users can now get the most out of the Nebula experience.
* For more information on Nebula 8.1 release and its new feature details, please refer to the release note on Nebula forum and online documents To share your experience of using Nebula UI2.0 (Beta), please kindly post it on Nebula forum.