ZyXEL launches new security firmware to fortify network defenses
A security push for SMB networks with easier learning curves
Aug. 16, 2016 – Hsinchu, Taiwan – Cybercrime is growing both in volume and severity, but is your network defense picking up the pace?
ZyXEL Communications is giving networks a security push with a complimentary major firmware update, the ZLD 4.20, on its next-generation USG and ZyWALL security appliances. The update aims to keep users far ahead of cyber threats with less time and effort thanks to a rich set of new and user-friendly features.
Raising the bar on security defense
While cybercrime is costing the world USD 113 billion per year, the good news is that the majority of attacks can be prevented. The new firmware's Content Filter 2.0 gives businesses and schools peace of mind in knowing their employees and students are not surfing through danger zones and are well protected from hidden threats in HTTPs encrypted traffic. The PCI DSS1 compliance also means that your USG/ZyWALL device is able to work alongside banks to protect your online transactions.
Do more with less
Cyberattacks have become increasingly complex, along with network defense. The ZLD 4.20 eases the steep security learning curve with a brand new user-friendly graphical interface. Walk-through wizards, Cloud Helper and the OneSecurity portal ensure a smoother and faster setup process and ease of maintaining and troubleshooting network security.
For business looking for multi-functional connectivity solutions, the ZyXEL USG/ZyWALL carrying the ZLD 4.20 can now act as a Wi-Fi hotspot with the Hotspot Management function capable of Wi-Fi access control and billing. It can also act as an AP controller or work as your network's "plan b" with the Device HA Pro2 smart handover support to make sure your network is always up and running.
"This firmware release is evidence of ZyXEL's dedication toward continuous improvement of our products to meet the ever-evolving network security requirements of growing businesses and organizations," stated Nathan Yen, AVP of ZyXEL Commercial Gateway Business Center.
ZyXEL's comprehensive portfolio of security appliances and services has attained 16 years of Information Security Testing from ICSA Labs. To download the ZLD 4.20 or find out more information, please visit here.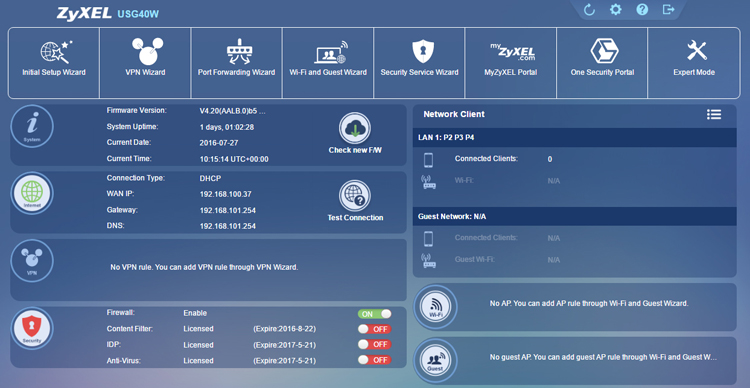 The graphical user interface of ZLD 4.20
1 Payment Card Industry Data Security Standard
2 High Availability Pro
ZyXEL Communications Corp.
Founded in 1989, with over a quarter-century of innovations, ZyXEL Communications Corp. is a world-class networking company providing comprehensive and reliable Internet solutions. Delivering cutting-edge communications innovations to more than 700,000 businesses and 100 million consumers worldwide, today ZyXEL is one of the few companies in the world capable of offering complete networking solutions on broadband access, commercial networking, and home connectivity for Telcos, business, and home users. With a strong local presence in 150 markets around the world, ZyXEL is the ideal partner to deliver tailor-made solutions to meet customers' local needs.