Join ZyXEL at Mobile World Congress 2014 in Barcelona, Spain from February 24-27, 2014 at the Fira Gran Via, Hall 5, booth 5G10.
Booth Location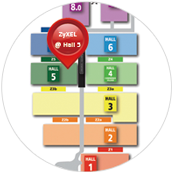 Enlarge
The Mobile World Congress (MWC) is one of the world's largest industrial events, attracting leading mobile players that illustrate the evolution of mobile technologies, products, and solutions. Guests visiting ZyXEL's booth will discover the company's innovative solutions for mobile networking, including 4G LTE, small cell, and Wi-Fi technology.
Come and see:
Mobile WAN solutions on LTE for better quality mobile broadband
Fixed-mobile convergence on small cell and wireless LAN for seamless mobile user experience
Multiple WAN solutions for flexible business resilience
Mobile WAN solutions on LTE for better-quality mobile broadband
Today, individuals and families have an increasing number of portable consumer electronic devices, including smartphones, tablets, laptops, and e-readers. They want to enjoy a wide range of data, voice, or video/music streaming services on the move without latency. Long Term Evolution technology (LTE) can significantly increase peak data rates with the potential for 100Mbps downstream and 50Mbps upstream, reduce latency, scale up bandwidth capacity, and be backward compatible with existing GSM and UMTS technology.
When it comes to LTE technology, ZyXEL positions itself at the forefront of LTE-inside device and application development. At MWC 2014, you can see how ZyXEL leverages the exceptional potential of IAD (Integrated Access Device) features and new LTE technology. We will present the ultimate LTE Indoor Integrated Access Gateway (LTE5321) and LTE Outdoor Gateway (LTE6400/LTE6401) at the event.
In addition, we will demonstrate how ZyXEL LTE Remote Protocol can be enabled in ZyXEL indoor xDSL CPE or a variety of gateway products to remotely manage the LTE ODUs installed in outdoor spaces that are not easily accessible.
We will also introduce the latest dual-SIM LTE portable router (WAH7204), which offers changeable battery alternatives for small battery and powerbank. This mobile hotspot router can aid people on the move to establish high-speed 4G LTE service with 3G failover.
Features
LTE Indoor Integrated
Access Gateway (LTE5321)

LTE Outdoor Gateway
(LTE6400/6401)

Dual-SIM LTE Portable Router
(WAH7204)

• Fixed broadband served by LTE mobile access
• Supports Wi-Fi 802.11 b/g/n 2x2 (up to 300Mbps) with built-in Wi-Fi antenna
• OTA (Over-the-Air) software upgrade
• SIP-based VoIP communications




• 3GPP release 8 category 3, data rates of up to 100 Mbps/50 Mbps (DL/UL)
• LTE tri-band design FDD B3/7/20
• Bundled solution for indoor gateway with outdoor unit
• Remote management through TR-069 and OMA-DM
• Wi-Fi in-LAN service (LTE6401 only)




• Supports 15 Wi-Fi clients simultaneously
• 1" OLED LCD display with device status information
• Supports LTE Band 1/3/7/8/20 and dual-SIM LTE high availability
• Attached power bank to achieve connectivity for up to 24 hours (WAH7204-PB only)
Find more details at ZyXEL's LTE Solution