Zyxel introduces smart trouble-free Wi-Fi for hotels and campuses
New WAC5302D-S access point with world-leading design to enable exceptional guest Wi-Fi experience
Hsinchu Taiwan, January 16, 2017 – Zyxel Communications today announced a new 802.11ac Wall-Plate Unified Access Point, the WAC5302D-S, tailored for hotels, campuses and business facilities to deliver exceptional guest Wi-Fi experiences in multi-room, interference prone environments.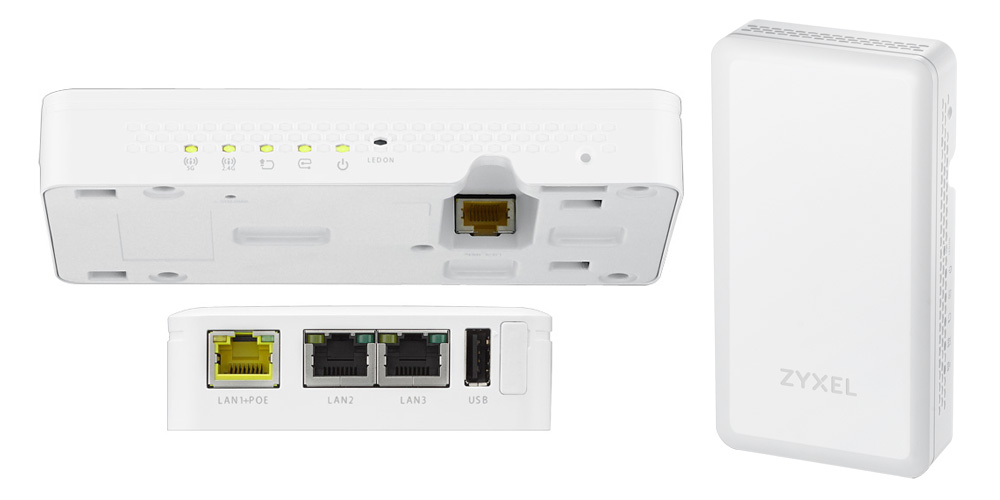 WAC5302D-S' unique design allows it to be mounted anywhere and connect multiple wired and wireless devices at the same time
While consumers now see fast, free Wi-Fi as the top amenity when choosing a hotel, hoteliers still face challenges implementing Wi-Fi solutions. A recent study suggests that 65% of consumers have had to rely on 3G/4G at some point due to poor Wi-Fi in their hotel. In most cases, poor Wi-Fi experience results from too few wireless access points in suboptimal positions or unevenly distributed web traffic.
The Zyxel WAC5302D-S is equipped with a world leading hardware design which allows it to be installed anywhere for best Wi-Fi signal and in-room deco. It can be mounted directly on an outlet box, wall, desktop, or out of sight with no additional kits required. With the built-in Ethernet and PoE ports, it can also connect and supply power to other in-room services such as smart TV or IP phone.
It's no surprise that even in hotels or schools where wireless APs are in every room, interference can cause Wi-Fi speeds to lag. With the WAC5302D-S, the smart antenna and beam-forming technology will dynamically customize signal direction for each individual device, creating the best path to deliver Wi-Fi signals while mitigating interference from neighboring APs.
"Today people expect 24/7 connectivity whether at work or travelling, and having seamless Wi-Fi has become the vital enabler for better user experiences," commented Crowley Wu, Senior AVP of Zyxel Networking Business Unit.
"As the networking ally for businesses, Zyxel understands the struggles facing business owners. With the one-of-the-kind design of the WAC5302D-S, we wanted to help both guests and business owners solve their pain-points from installation to connectivity and help them to do more with better Wi-Fi."
Zyxel has a comprehensive portfolio of 802.11ac wireless access points of stand-alone, unified, and unified pro to cloud managed to satisfy versatile application scenarios. Find out more here.

About Zyxel Communications
Focused on innovation and customer-centric technology and service, Zyxel Communications has been connecting people to the Internet for nearly 30 years. Our ability to adapt and innovate with networking technology places us at the forefront of the drive to create connectivity for telcos and service providers, businesses and home users.
Zyxel is a global force in today's communications market with an unrivalled track record, including:
- 1,500 passionate associates worldwide
- 100 million devices creating global connections
- 700,000 businesses working smarter with Zyxel solutions
- 150 global markets served
Today, Zyxel is building the networks of tomorrow, unlocking potential, and meeting the needs of the modern workplace — powering people at work, life, and play. Zyxel, Your Networking Ally.