Connect & Protect – Network Defense for Small Business WiFi
Connect & Protect – Network Defense for Small Business WiFi
So, what's the issue?
Small businesses are just as vulnerable as large enterprises when it comes to cyber risks. The biggest, most widespread threat facing small businesses is phishing attacks. Phishing accounts for 90% of all breaches that organizations face; it has grown 65% over in 2021 and accounts for over $12 billion in business losses. Malware is the 2nd biggest threat small businesses face. Malware usually comes from malicious website downloads or from connecting to other infected devices. Small businesses need to be prepared for these threats and know how to stop them.

Here's the solution - Connect & Protect AP Security Service
Zyxel's Connect & Protect (CNP) has been specifically designed to give small businesses a hassle-free, cost-effective approach to set up powerful network protection to protect their connected clients. Using the Nebula cloud networking platform, users that are connected to a Wireless Access Point with our Zyxel's Connect & Protect service enabled, will benefit from protection against dangerous or malicious internet traffic (e.g. phishing attacks, malware downloads and harmful/malicious website accesses) automatically while maintaining the privacy and safeguarding of personal information/data.
What can Connect & Protect do?
Operating in Nebula cloud managed mode, Zyxel's Connect & Protect (CNP) includes the following services to protect small business WiFi:
Threat protection incorporates both

IP reputation

and

DNS filtering

technologies to provide network defense for small business WiFi and prevent phishing or malicious website access.
Application visibility and optimization brings visibility to the applications used in the wireless networks to protect core applications, and the bandwidth management gives you the control to prioritize core applications such as mobile POS, live video streaming, and voice/video calls on devices connected to the access point.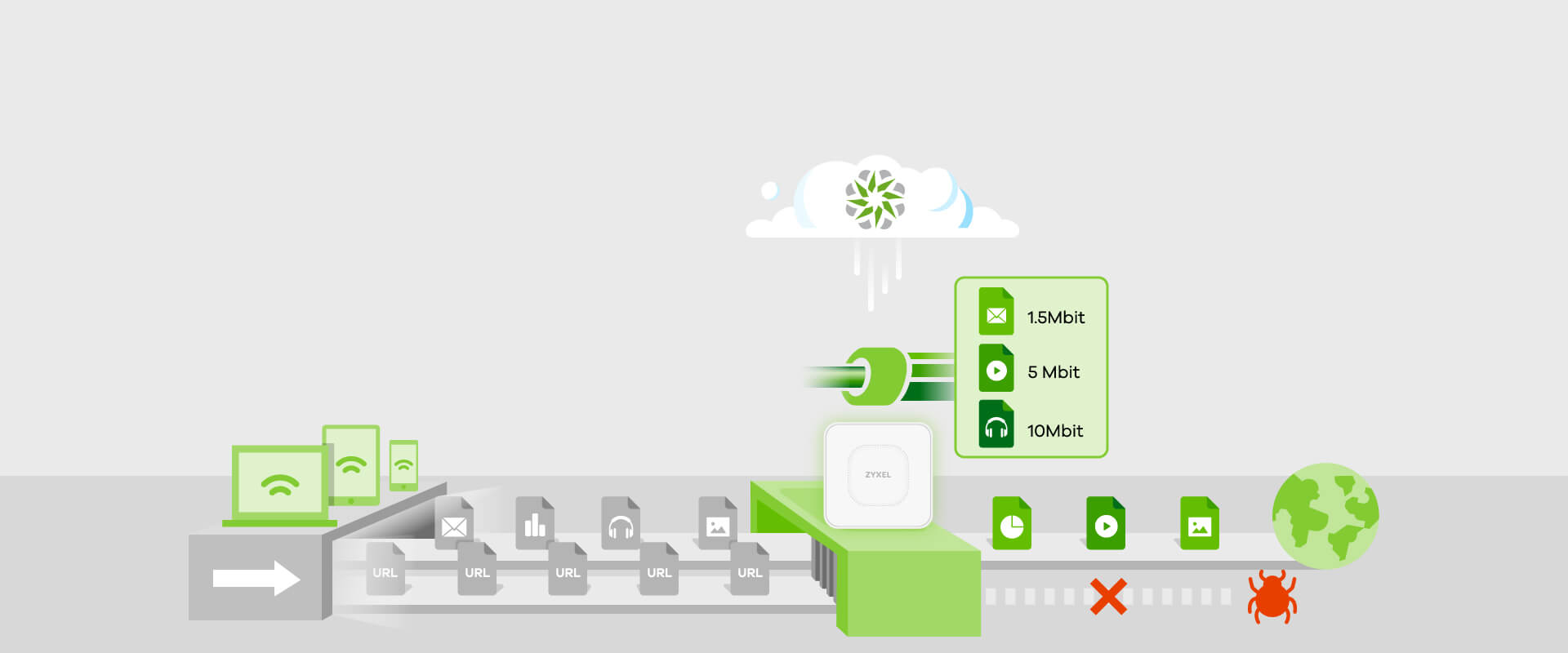 Licenses & Supported Hardware
Connect & Protect security service offers two licensing options: Connect & Protect (CNP) and Connect & Protect Plus (CNP+). Users may choose the one best suited to their needs.
CNP license
CNP Plus license

Threat Management

IP Reputation
DNS Filtering

Threat Management

IP Reputation
DNS Filtering

Application Visibility & Bandwidth Throttling

Supported Models

Supported Models
Protecting everything & everyone on your small business WiFi
Start by protecting everything and everyone on your WiFi network – by installing a Zyxel access point with CNP/CNP+ security service to filter out unsafe web contents and malicious websites to prevent security breaches and avoid personal or business data leakage. It ensures the integrity of your small business WiFi network and makes sure everything and everyone that connect to the network is protected.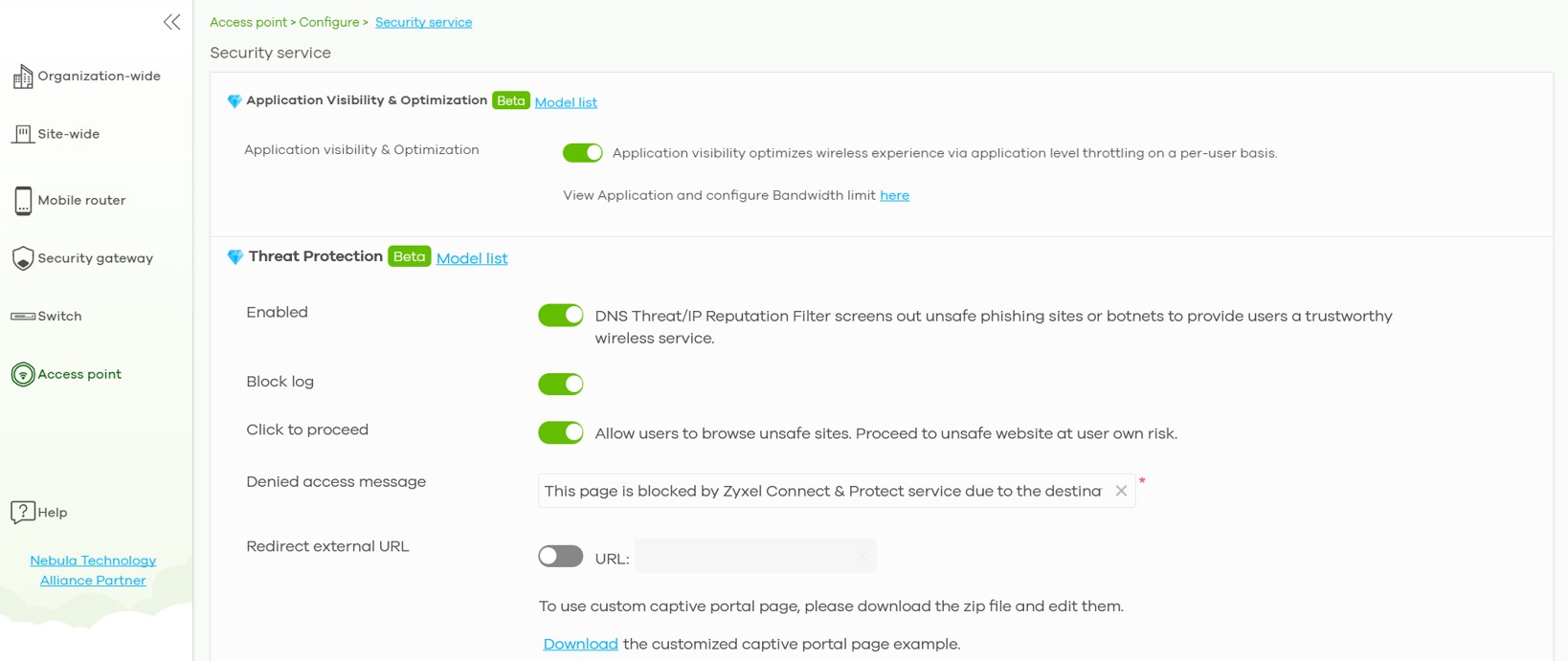 Security Service on Access Point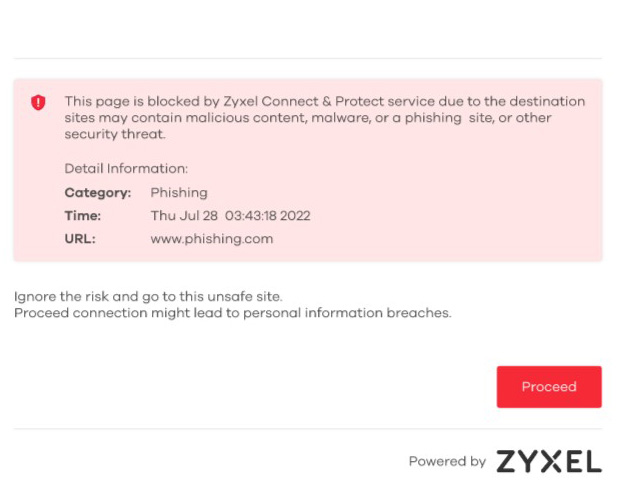 The notification warning the WiFi user when accessing the blocked page
User privacy is important.
CNP/CNP+ service provides easy-to-understand visual reports of online activities while protecting WiFi user's privacy. Data in the reports is anonymized, so at a glance you can see the types of the blocked contents and how often they are blocked, provided by CNP/CNP+, while not sharing user identifiable information or specific websites users went to. This makes CNP/CNP+ service ideal for use on public hotspots and guest networks, where users may worry about their privacy in addition to their safety.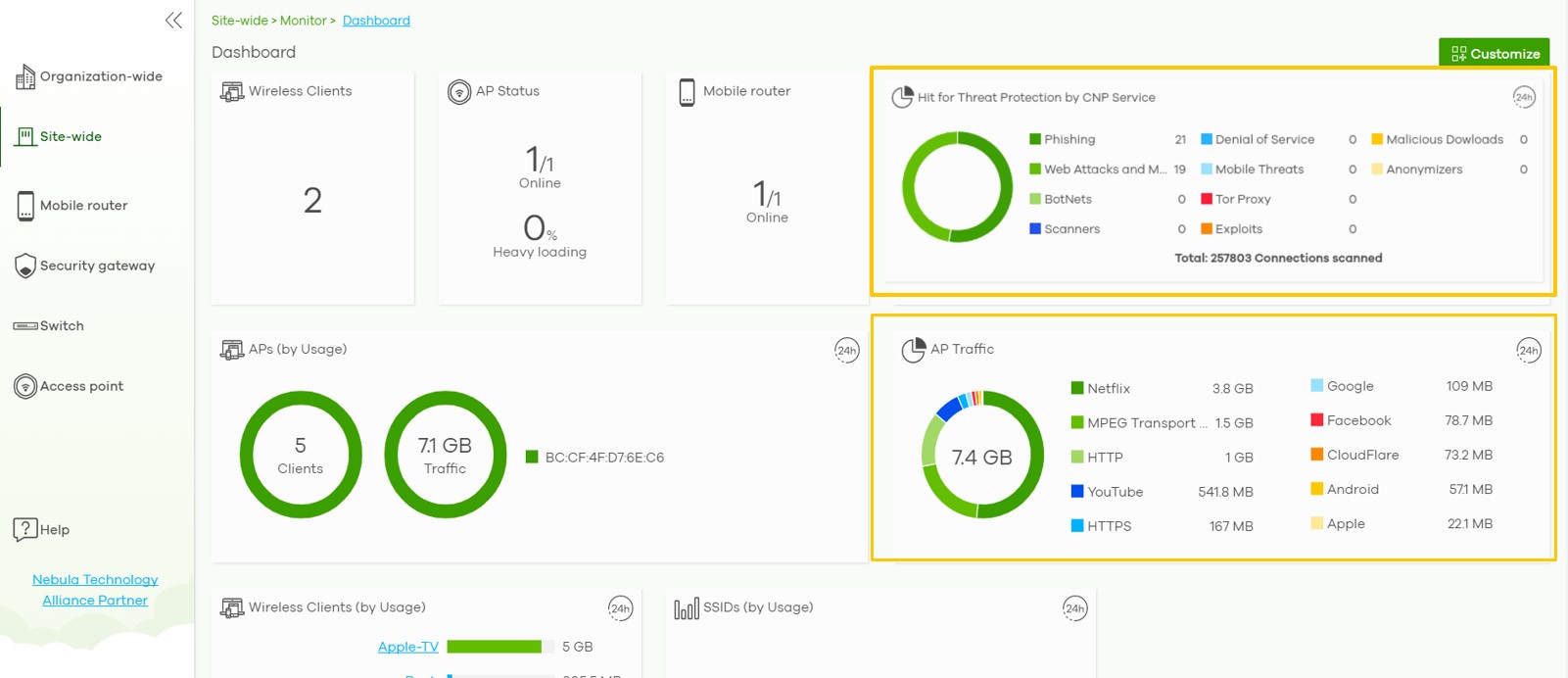 Wireless Network Security & Visibility with CNP/CNP+
WiFi Connectivity Optimized.
Zyxel CNP+ not only provides threat protection but also supports application-level network visibility and bandwidth optimization to streamline crucial business operations like a mobile POS application, or time-sensitive applications such as online streaming or voice and video calls. Simply connect to Zyxel ultra-fast 11ax APs, get protection for your business network and start enjoying an incredibly smooth WiFi experience.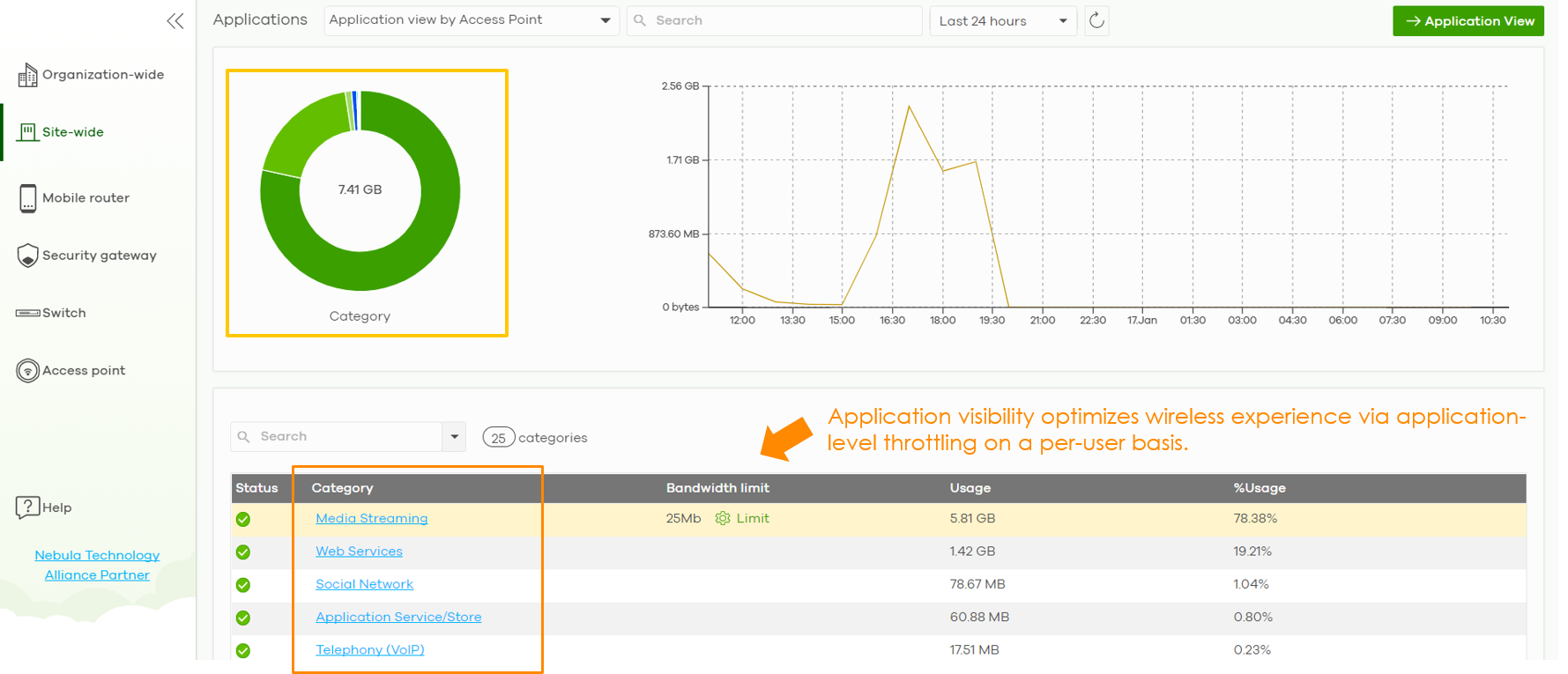 Wireless Traffic Usage in Category View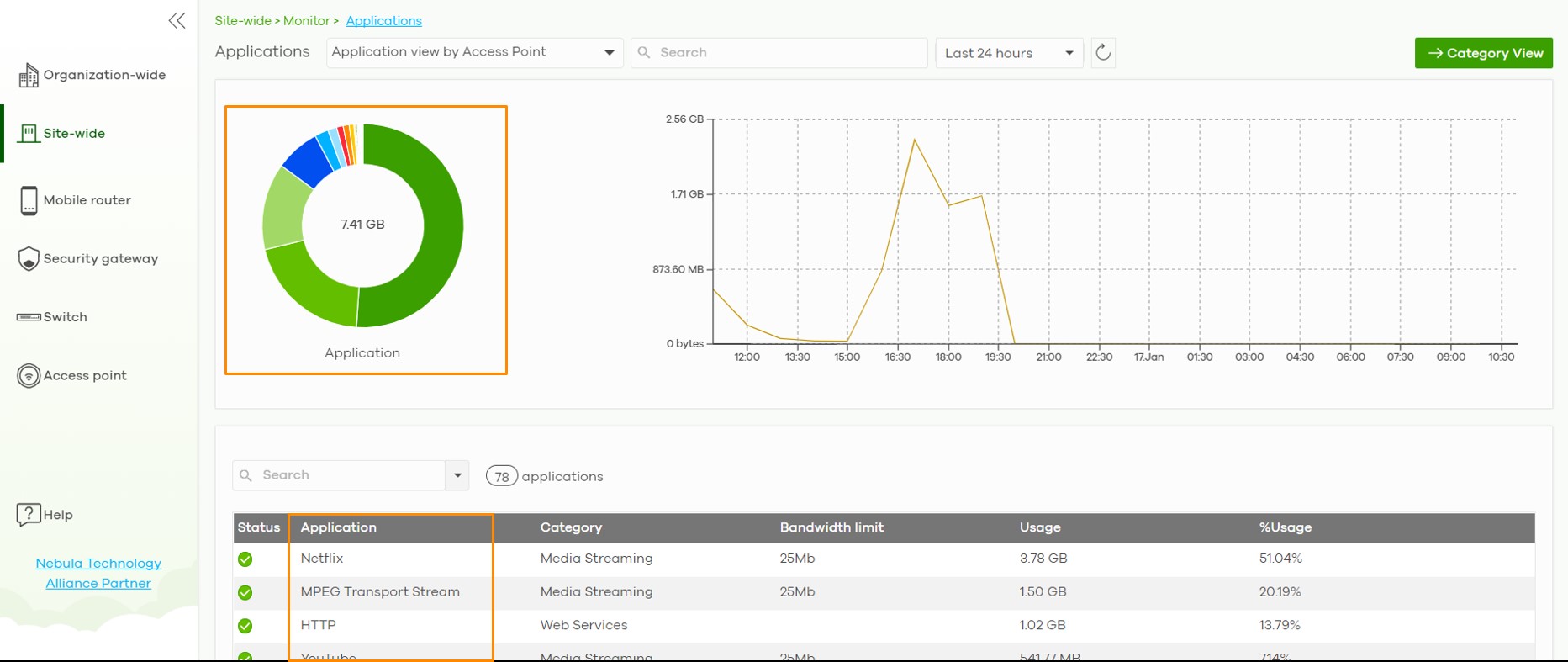 Wireless Traffic Usage in Application View
Where to buy?
If you have a Zyxel access point with CNP service supported model in the cloud-managed mode, you can directly purchase the CNP/CNP+ within the Nebula Control Center (NCC) platform. Follow the prompts in NCC to purchase online: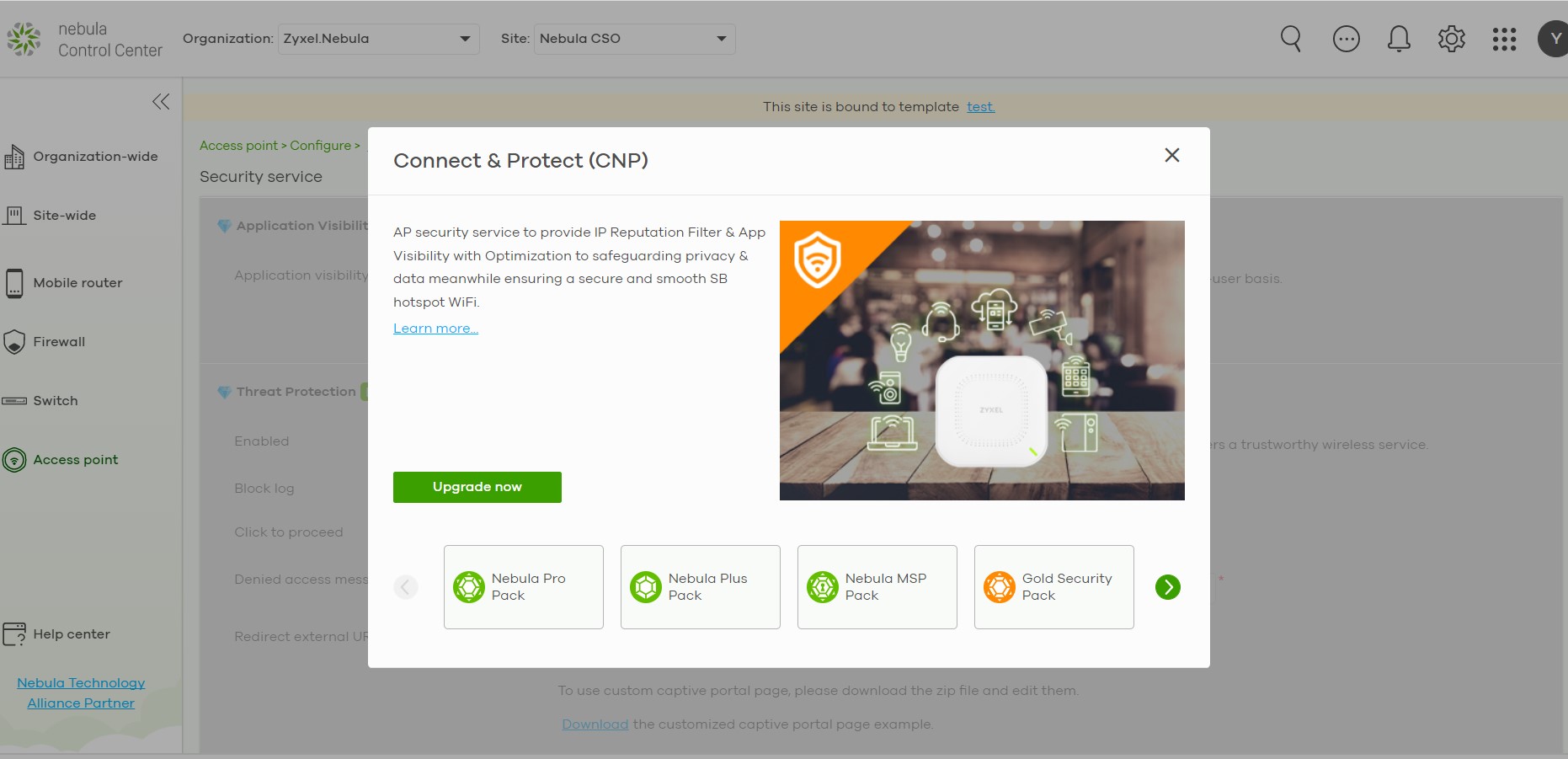 For offline purchase, here is the license ordering information:
Management Mode
Part Code
Service Model Name
(Time-based License Service)
Applicable AP Model
Cloud Mode Only
LIC-CNP-ZZ1Y01F
Connect & Protect License (Threat Protection), 1YR
11ac Wave2 APs (3 models):
NWA1123-ACv3
WAC500
WAC500H
LIC-CPS-ZZ1Y01F
Connect & Protect Plus License, (Threat Protection + App. App. Visibility & Optimization), 1YR
11ax APs (6 models):
NWA110AX
NWA210AX
WAX510D
WAX610D
WAX630S
WAX650S
We also offer special rates on a bundled SKU on NWA1123ACv3 with 1-year CNP license and NWA110AX with 1-year CNP+ license for US and EMEA markets. Please contact your local Zyxel representative or you may purchase the bundled SKUs on Zyxel Amazon Stores.
| Device P/N | Description |
| --- | --- |
| NWA110AX-US0202F | NWA110AX,FOR UNITED STATES REWORK ONLY, Connect & Protect Plus License,1YR, Bundle |
| NWA110AX-EU0202F | NWA110AX,FOR EU AND UK REWORK ONLY, Connect & Protect Plus License,1YR,Bundle |
| NWA1123ACV3-US0202F | NWA1123ACv3, FOR UNITED STATES REWORK ONLY, Connect & Protect License,1YR, Bundle |
| NWA1123ACV3-EU0202F | NWA1123ACv3, FOR EU AND UK REWORK ONLY, Connect & Protect License,1YR, Bundle |