ZyXEL Wireless Solution Makes Museum's Seamless Wi-Fi a Reality
ZyXEL implements new wireless infrastructure to facilitate accessibility and modernization while preserving historic museum in Turin, Italy
Mar. 2, 2016 – Hsinchu, Taiwan – ZyXEL Communications, a global leader in broadband networking technology, has created a wireless networking solution that vastly improved ease-of-access for visitors to content within the Egyptian Museum of Turin – one of the most important and visited cultural sites in Italy.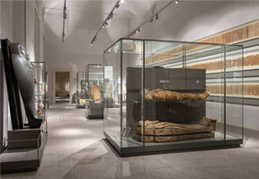 ZyXEL deployed a wireless infrastructure by thoroughly restructuring the environment to achieve accessibility in all exhibition areas. The inauguration of the museum, which took place in 2015, makes available a whole range of visitor services through Wi-Fi.
The project also called for the separation of the wireless virtual network (LAN) from the location's other network, which is exclusively dedicated to the employees of the museum.
The care with which ZyXEL took in setting up the connectivity, networking and security services included adapting the deployment to the aesthetics of the various environments by way of hiding access points appropriately from visitors or by customizing them to match the color of the exhibition rooms where they were installed.
Because culture is an important component of this project, ZyXEL has shared its expertise and solutions for facilities by providing connectivity in creative and unique ways to best meet the customers' specific needs. More than 880,000 guests visited the museum in 2015, making use of new services made possible through ZyXEL wireless solutions.
"We are proud that the Egyptian Museum has selected ZyXEL to contribute to the actualization of its access channels," said Valerio Rosano, ZyXEL Italy Sales & Marketing Manager. "And above all, the adopted solutions, which span all areas of our business, demonstrate that they can be put into service at a highly strategic and functional tourist attraction. Such a project of cultural significance can impact not only the local area, but the entire country as well. Wi-Fi technology helps tell this story by writing a new chapter, and ZyXEL is ready to put its signature under this important process, which has already been started."
The Foundation of the Museum of Egyptian Antiquities made the following statement with respect to the project: "The opening of the Egyptian Museum on April 1, 2015 was the result of a major project of re-functioning, restoration and safeguarding. The new Egyptian Museum believes in the importance of accessibility, both from the intellectual and material point of view. It is aware that these can also be realized by developing a wireless infrastructure in all exhibition areas. Facing this challenge, we are pleased that we can count on ZyXEL and its services."
For more information about this case, please visit here.
ZyXEL Communications Corp.
Founded in 1989, with over a quarter-century of innovations, ZyXEL Communications Corp. is a world-class networking company providing comprehensive and reliable Internet solutions. Delivering cutting-edge communications innovations to more than 400,000 businesses and 100 million consumers worldwide, today ZyXEL is one of the few companies in the world capable of offering complete networking solutions on broadband access, commercial networking, and home connectivity for Telcos, business, and home users. With a strong local presence in 150 markets around the world, ZyXEL is the ideal partner to deliver tailor-made solutions to meet customers' local needs.