ZyXEL Powers World's First OpenStack Application Hackathon
Stable and speedy 11ac Wi-Fi for 200+ participants in a high-density, interference-prone Wi-Fi environment for 56 intense contest hours
Apr. 21, 2016 – Hsinchu, Taiwan - ZyXEL Communications announced today that the World's first OpenStack Application Hackathon held in Taiwan this past March was successfully backed by ZyXEL's integrated networking solution. The solution, spanning from wireless connectivity to network security, helped 200+ hackers and staffs get through 56 intense hours with powerful and secure Wi-Fi.
"The ZyXEL team helped us quickly setup and manage the networking to support nearly 200 hackers with intense Wi-Fi demands at first OpenStack Application Hackathon in Taiwan," said Jonathan Bryce, executive director of the OpenStack Foundation. "The Taiwan OpenStack community is vibrant, and contributors like the team at ZyXEL are one reason OpenStack is seeing such exciting growth in the region."
ZyXEL's solution integrated wireless access points, AP controllers, and a PoE switch with a VPN firewall. The WAC6500 Series of Wi-Fi Access Point boasts smart antenna technology to dynamically compute and change signal patterns to offer better signal accuracy, which satisfied the 200+ participants with smooth Wi-Fi connectivity simultaneously.
"The OpenStack Application Hackathon is different from the other hackathons held before," commented Crowley Wu, Senior AVP of ZyXEL Networking Business Unit. "Deploying the Wi-Fi network on-site was particularly challenging because we had more than 200 participants who developed applications in a Wi-Fi environment. All the incidents taking place during the intense sessions also posed a great challenge to the Wi-Fi network."
The rising BYOD (bring-your-own-device) trend meant that a large number of personally owned devices were making their way to the event's Wi-Fi network, as most participants each carried more than 2 networking devices. The existing HP network switch was originally pushed to its routing limits until ZyXEL came into rescue with ZyXEL ZyWALL110 Series, a VPN Firewall which took over the core routing and allowed the event organizers to remotely manage the network with secure VPN connections.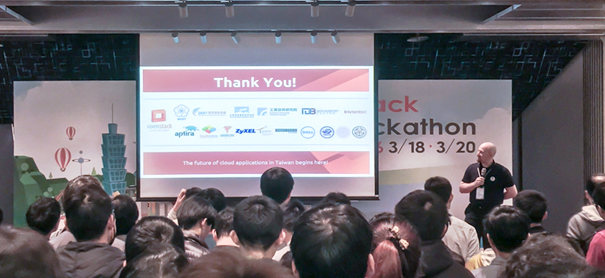 ZyXEL Communications Corp.
Founded in 1989, with over a quarter-century of innovations, ZyXEL Communications Corp. is a world-class networking company providing comprehensive and reliable Internet solutions. Delivering cutting-edge communications innovations to more than 400,000 businesses and 100 million consumers worldwide, today ZyXEL is one of the few companies in the world capable of offering complete networking solutions on broadband access, commercial networking, and home connectivity for Telcos, business, and home users. With a strong local presence in 150 markets around the world, ZyXEL is the ideal partner to deliver tailor-made solutions to meet customers' local needs.