ZyXEL Launches New VPN Firewall for Small Businesses and Offices
USG20(W)-VPN Series to offer businesses high-speed connectivity and network protection
Apr. 18, 2016 – Hsinchu, Taiwan - ZyXEL Communications, a global leader in broadband networking technology, today introduced a new series of VPN firewall, the USG20(W)-VPN designed to offer small businesses and offices high-speed connectivity and protection from cyber threats. Its virtual private network (VPN) support paves the way for employees and telecommuters to securely access business networks from any remote locations, helping businesses boost mobility and productivity.
With businesses today becoming highly mobile, owners and employees often look to access company resources while away from offices. Connecting to private businesses networks from public networks such as the Internet, however, could put company resources increasingly under threat of cyberattacks.
Designed to offer a secure remote access solution for businesses, the ZyXEL USG20(W)-VPN is a VPN firewall fully-fledged with Static Packet Inspection (SPI) protection and hybrid VPN support (IPSec/SSL/L2TP).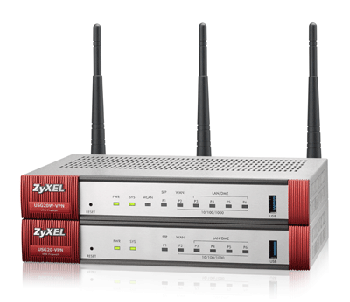 The USG20(W)-VPN adopts Secure Hash Algorithm 2 (SHA-2) certificates, a stronger form of authentication method that has widely replaced the previous generation, SHA-1, to better secure VPN connections in today's networking environment. With 75%+ of websites worldwide and major web browsers, such IE, Firefox, and Chrome* now opting for SHA-2 certificates, having a SHA-2 compatible device will ensure your network traffic is not intercepted by attackers.
Repetitive connection settings can be a huge waste of time for businesses. The USG20(W)-VPN comes equipped with the auto-provisioning function, which allows the connected computers** to retrieve the firewall's VPN settings, getting VPN connections up and running in no time.
Businesses networks can't afford downtime, not even for a short time. The USG20(W)-VPN Series comes with dual-WAN (SFP and Ethernet) support, which allows users to make use of a secondary connection for backup or load balance to keep the network connections consistently stable. The wireless model, the USG20W-VPN, is equipped with 802.11ac wireless speed to help businesses save on the extra costs of buying another wireless router.
ZyXEL's comprehensive portfolio of security appliances and services has attained 16 years of Information Security Testing from ICSA Labs. The security information hub (ZyXEL OneSecurity.com) and the security support portal (myZyXEL.com) are in place to keep businesses pace up with the latest security news, advisories, tutorials, services and more.
*Refers to Microsoft Internet Explorer, Mozilla Firefox, and Google Chrome.
**With the help of the VPN Client Software installed on the connected computers
ZyXEL Communications Corp.
Founded in 1989, with over a quarter-century of innovations, ZyXEL Communications Corp. is a world-class networking company providing comprehensive and reliable Internet solutions. Delivering cutting-edge communications innovations to more than 400,000 businesses and 100 million consumers worldwide, today ZyXEL is one of the few companies in the world capable of offering complete networking solutions on broadband access, commercial networking, and home connectivity for Telcos, business, and home users. With a strong local presence in 150 markets around the world, ZyXEL is the ideal partner to deliver tailor-made solutions to meet customers' local needs.