21 - 23 October 2014
ZyXEL Inspire the Evolution of Access Transformation and the Digital Lifestyle of the Future
Event Location
Booth D40, Hall 11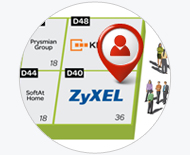 Enlarge
Come and visit ZyXEL Communications at Booth D40, Hall 11 of the Broadband World Forum Europe 2014 for a live demonstration of our industry leading solutions, from Smart Home technologies that will inspire the digital lifestyle of the future, to cutting-edge FTTx GPON solutions designed to fulfil your customer's ever increasing need for speed.
There will also be an exclusive opportunity to see the new, labour-saving ZyXEL OneConnect mobile app in action – a simple and innovative way for your subscribers to manage their wired and wireless connectivity and digital home media from the palm of their hand. The extra mobile convergence solutions of 4G LTE could be your up-and-coming choice to offload the crowded infrastructure, expand your territory, and increase your ARPU.
The solutions we will be showcasing in the RAI Exhibition and Convention Centre, Amsterdam from the 21st-23rd October will allow you to:
Stay ahead of the competition and maximise your ROI by delivering cost effective triple-play connectivity to your customers with GPON Fiber-to-the-Home/Office.
Extract every bit of value from your aging copper links with ZyXEL VDSL2 vectoring.
Deliver a Carrier-Grade Smart Home Solution to your subscribers with intrusion, smoke and flood detection as well as energy usage monitoring and control.
Provide complete Digital Home Integration with Wired and Wireless Connectivity and Personal Cloud Storage, all auto-connected through the user-friendly ZyXEL OneConnect mobile app.
Lower the TCO of your existing infrastructure and increase your ARPU by offering new mobile services to your customers.
Come and speak to us, the experts in customer focussed innovation, and take this unique opportunity to see the technology of the future in operation.
Our End-to-End portfolio includes everything you need to increase your reach, your speed and your revenue.
For more information, please visit ZyXEL Press Release.
InfoVision Awards Shortlist
Carrier-Grade Smart Home Total Solution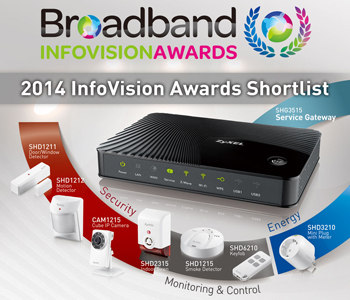 ZyXEL's Carrier-Grade Smart Home Solution, one of the first all-in-one ready to deploy multi-application home solutions, has been shortlisted for recognition as the "Best Broadband Home Service Innovation" of InfoVision Awards. Such an honor cements ZyXEL's reputation as the leading innovator of user-focused networking technology. Products like the ZyXEL Smart Home Solution create value for a wide range of customers, including leading Turkish Telco TTNET, by consolidating application portals, middleware, Z-Wave, OSGi platforms and devices with ECO partners.
ZyXEL Carrier-Grade Smart Home Solution builds on comprehensive range of broadband access and home networking solutions, adding powerful features such as automated smoke, flood and intrusion detection, home energy management and remote heating and lighting control, to create a truly transformative service-offering with the power to make automated digital living a reality. This ground-breaking Smart Home range is the product of close cooperation with local service providers and offer technical support, forming solid ECO partnerships. As a result, it is able to deliver unparalleled quality, stability and compatibility.
* Related models: SHG3515, CAM1215, SHD1211, SHD1212, SHD1215, SHD2315, SHD3210, SHD6210 and more.
SHG3515

Service Gateway

SHD1211

Door/window Detector

SHD1212

Motion Detector

SHD1215

Smoke Detector

SHD2315

Indoor Siren

SHD3210

Mini Plug with Meter

SHD6210

Key Fob