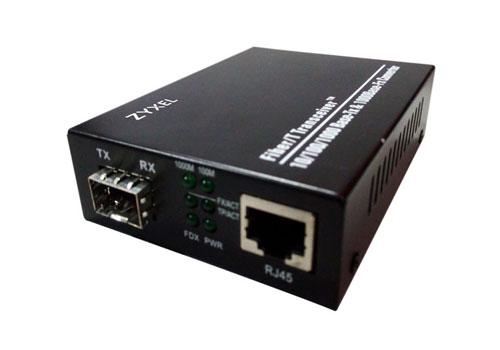 Introduction
Zyxel MC1000-SFP-A is a media converter with Gigabit-class traffic conversion capability. It's specially designed for active Ethernet ETTx deployment to ensure extra bandwidth and future-proof investment. Unique features like fiber protection and wall-mount design allow users to easily deploy the MC1000-SFP-A for fiber connectivity at customer premises.

Converts Different Media Types

Wide SFP Transceiver Adaptability

Link Fault Signaling (LFS) Notifies Down Link to Peers

Wide-ranging operating temperature design from -10°C to 55°C
Benefits
Wide SFP Transceiver Adaptability
The open Gigabit SFP slot accepts a wide range of SFP transceivers such as the latest bi-directional single fiber (BX) or traditional ones for maximum deployment flexibility. In addition, network span can also be extended easily with appropriate fiber transceivers.
Fiber Protection Accommodates and Simplifies
The fiber protection design is capable of organizing and accommodating fiber cables for better cable preservation and significantly easier installation. In addition, the wall-mount design of the MC1000-SFP-A provides better deployment flexibility as well.
Easy Troubleshooting
With the Link Fault Signaling (LFS) mechanism, once any failed link was detected from gigabit copper connectivity, then MC1000-SFP-A will conduct the linkdown on fiber part, and vice versa. Transparent link status data will be sent by the Link Fault Signaling (LFS) mechanism for the users to perform the network recovery and troubleshooting processes easier and faster.