ZyXEL's new PoE switch cuts network complexity for small offices
Connect IP devices with fewer cables and manage through a simpler, iconic interface
July 6, 2016 – Hsinchu, Taiwan – Looking to connect IP phones, IP cameras and Wi-Fi APs but find business switches unaffordable for your business scale? ZyXEL Communications is launching a new series of 5/8-port gigabit switches (the GS1200 Series) to let small offices and startups connect their IP devices with fewer cables and a simpler graphical interface.

ZyXEL
GS1200
Series web-managed PoE gigabit switch
PoE gives businesses the freedom to do more
Every penny counts when you're starting a business on your own. The GS1200 are gigabit PoE switches that supply both power and data over the same cable. It means no messy wiring and less cabling costs to connect PoE powered devices. The PoE+ support offers 30 watts per port that are capable of powering most PoE devices in a small office.
Control networks with ease
Saving time on network management means more time to focus on business that matters. The GS1200 switches come with a graphical web interface to help users get hands-on with the entire network in just a few clicks. Smart features such as VLAN1 and QoS2 make it possible to divide the network into several smaller groups or prioritize bandwidth to create better security and smoother performance.
The GS1200 complies with Energy Efficient Ethernet standards (IEEE 802.3az) – it automatically goes into low-power idle mode when there's no network traffic going around. ZyXEL has a comprehensive portfolio of managed, smart-managed and web-managed network switches designed for businesses of any scale. Find out more about GS1200-5HP, GS1200-8HP, and ZyXEL's switch portfolio.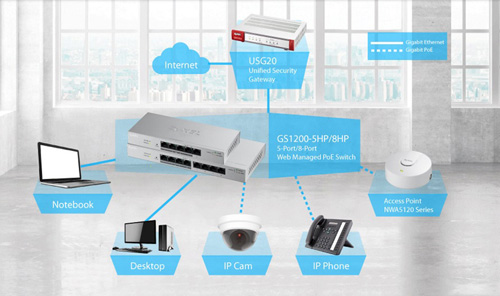 The GS1200 connects IP devices in a small office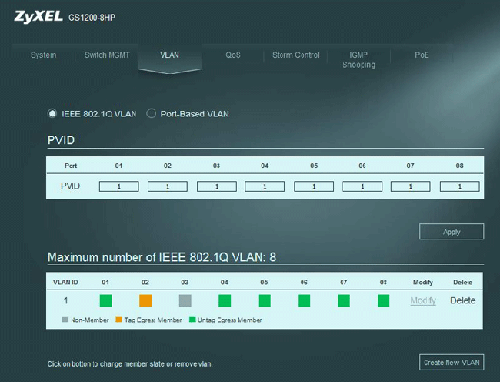 The graphical web interface of the GS1200 Series.
1Virtual local area network
2Quality of service
ZyXEL Communications Corp.
Founded in 1989, with over a quarter-century of innovations, ZyXEL Communications Corp. is a world-class networking company providing comprehensive and reliable Internet solutions. Delivering cutting-edge communications innovations to more than 400,000 businesses and 100 million consumers worldwide, today ZyXEL is one of the few companies in the world capable of offering complete networking solutions on broadband access, commercial networking, and home connectivity for Telcos, business, and home users. With a strong local presence in 150 markets around the world, ZyXEL is the ideal partner to deliver tailor-made solutions to meet customers' local needs.