Zyxel expands Nebula range, offers SMBs more flexibility to move networking into cloud
A complete end-to-end solution to manage multi-site networks in the cloud
Hsinchu Taiwan, June 26, 2017 – Zyxel Communications announced today the expansion of its Nebula cloud networking solution. The new additions include a limited lifetime license, forum support, and new models and features. Managed Service Providers (MSPs) and businesses at all levels will be able to find their best-suited cloud networking offering to boost both efficiency and productivity in managing multi-site networks.
Zyxel Nebula is a 100% cloud-based networking and management solution which centrally and remotely manages all Nebula wired, wireless and security devices with zero-touch provisioning from a single pane of glass – the Nebula Control Center (NCC).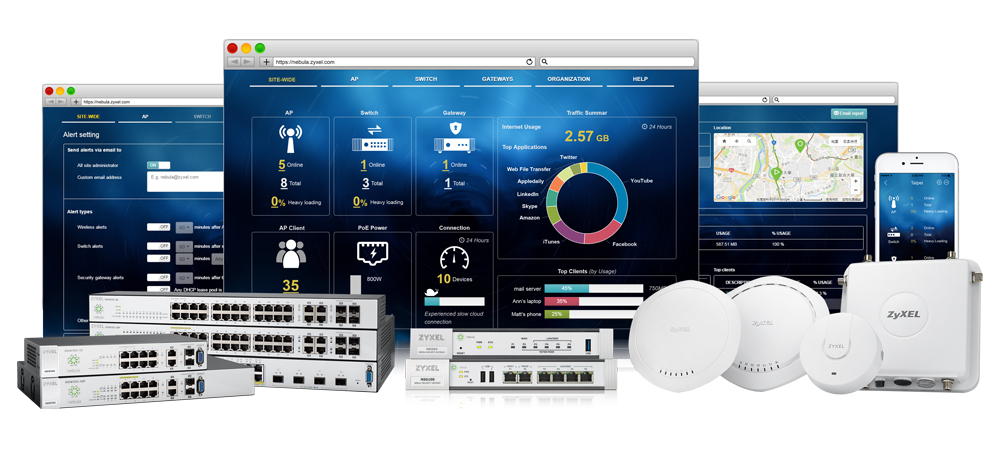 The Nebula family covers wired, wireless, and security devices
Your partner in growth - a flexible licensing model
For most cloud networking solutions on the market today, the entire network or cloud management service will be automatically shut down upon license expiry. Zyxel Nebula, however, keeps your network up and running with a baseline service, helping businesses smoothly get through any temporary budget cuts or snags during license rollover.
On top of the existing credit-based, on-demand licensing model, which gives businesses a predictable option, Zyxel Nebula is now providing extra flexibility with a new limited lifetime license offering. MSPs or businesses subscribed to the license will be able to enjoy a long-term, hassle-free service that doesn't require annual renewals. Even in the event of replacing the subscribed Nebula devices, the service continues at no additional cost, which lowers the total cost of ownership in the long run.
The Nebula forum – where questions are answered and wishes realized
The newly launched Nebula forum doesn't just provide documents or information, it's a place for users to engage and interact with peer Nebula users and Zyxel Nebula experts, get questions answered and problems solved with shared knowledge and experiences. It's also a wishing pool welcoming new ideas that will be heard directly by Nebula developers.
A comprehensive portfolio to meet a wider range of scenarios
A new range of non-PoE switches (NSW100-10, NSW100-28) and an entry level Nebula security gateway (NSG50) also arrived within the Nebula family to provide smaller businesses with an affordable choice to move networking into the cloud. For MSPs, the comprehensive portfolio also means extra flexibility to handle a diverse range of deployment scenarios.
"With the new additions and features to the Nebula family we wanted to simplify the challenges SMBs and MSPs are facing in managing networks across a wide geography," said Crowley Wu, Senior AVP of Zyxel Networking Business Unit. "We are changing network management for the better and bringing fully featured cloud networking solution for those who have previously been priced out of the market."
For service/product availability please contact your local Zyxel sales representatives. For more information please visit here.

About Zyxel Communications
Focused on innovation and customer-centric technology and service, Zyxel Communications has been connecting people to the Internet for nearly 30 years. Our ability to adapt and innovate with networking technology places us at the forefront of the drive to create connectivity for telcos and service providers, businesses and home users.
Zyxel is a global force in today's communications market with an unrivalled track record, including:
- 1,500 passionate associates worldwide
- 100 million devices creating global connections
- 700,000 businesses working smarter with Zyxel solutions
- 150 global markets served
Today, Zyxel is building the networks of tomorrow, unlocking potential, and meeting the needs of the modern workplace — powering people at work, life, and play. Zyxel, Your Networking Ally.