ZyXEL Energizes LTE CPE Market with New LTE Portfolio at MWC 2015
Feb. 26, 2015 – Hsinchu, Taiwan – At the upcoming Mobile World Congress 2015, ZyXEL Communications is unveiling an optimal value LTE CPE portfolio featuring the LTE3300 Series and LTE7400 Series devices with exceptional wireless broadband access both indoors and outdoors.
The prevalence of mobile devices in the current time period means service providers are keen to find wireless broadband solutions, especially LTE. A recent Global mobile Supplier Association (GSA) report indicates that 360 operators in 124 countries have already launched commercial LTE networks and service through the end of 2014. Yet up until now, service providers looking for powerful LTE devices have had limited options.
By introducing the LTE portfolio which covers not only indoors but also outdoors, ZyXEL is one of the few leaders to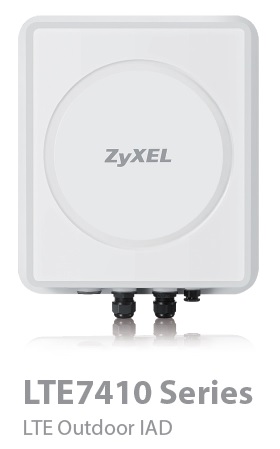 provide a comprehensive set of devices and features at competitive prices, offering a real alternative with customization and extensive local support.
From indoor to outdoor use, ZyXEL's new LTE3300 Series and LTE7400 Series enable service providers to deliver fast and reliable wireless access to any locations with FDD-LTE coverage, whether they are looking for a single-mode (LTE only) or multi-mode (LTE + 3G/2G) device. Additionally, some TDD-LTE bands such as former CDMA (450MHz) and WiMAX (3500MHz) are also supported, paving their way for smooth migration to LTE.
Responding to the ever-increasing demands for seamless wireless communication required by today's always-on way of life, including high-performance video streaming, conference calls, and many more, ZyXEL's LTE CPEs adopt the advanced LTE technology (3GPP release 9, category 4) and can achieve downlink/uplink speeds up to 150/50 Mbps.
ZyXEL's LTE CPEs allow service providers with existing LTE infrastructure to cover remote or rural areas where broadband may be unavailable or simply not economically viable. Similarly, broadband providers with mobile services can enhance their offerings with an alternative to rival that of wired service providers.
"Major service providers have already deployed LTE networks, and 2nd and 3rd tier providers are under pressure to follow," commented Tomas Kotis, European LTE Business Development Manager at ZyXEL Communications, "ZyXEL's new LTE CPEs have already passed field trials by several leading operators, and ZyXEL is ready to enter a market where a vast number of service providers are looking for an alternative quality supplier. As many of them already know and trust ZyXEL DSL CPEs, we're looking forward to joining them on their new and existing LTE projects."
ZyXEL will be at the Mobile World Congress held at Fira Gran Via in Barcelona, Spain from March 2-5, 2015. Come visit us at booth 5G10, hall 5. Find out more information here.

ZyXEL Communications Corp.
Founded in 1989 and celebrating its 25th anniversary this year, ZyXEL Communications Corp. is a world-class networking company providing innovative and reliable Internet solutions. As one of the early modem manufacturers, ZyXEL has gone through transformations in the fast-paced networking industry. Delivering cutting-edge communications innovations to more than 400,000 businesses and more than 100 million consumers throughout the world, today ZyXEL is one of the few companies in the world capable of offering complete networking solutions for Telcos, small to medium-sized businesses, and digital home users for a wide range of deployment scenarios. Telco solutions include Central Office Equipment, Customer Premise Equipment, Wired and Wireless Access Network Devices, and Carrier Switches. SMB and Enterprise solutions include Unified Security Gateways, LAN Switches, WLAN, and IP Telephony. Digital Home solutions include Network Connectivity Devices and Multimedia Solutions.