Easily Expand Connection with Reliable Signal
The Zyxel LTE7461-M602 is excellent for locations like suburban/rural areas, public spots, homes, and offices. Enjoy 4G LTE-Advanced technology with the LTE7461-M602
Seamless Customer Experience with Nebula Mobile Router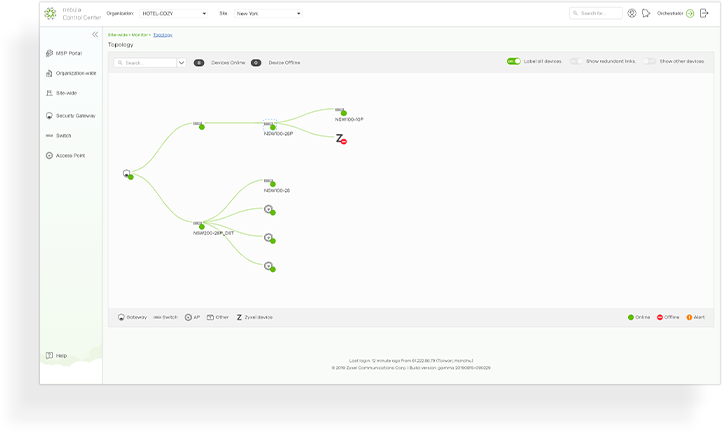 Effortlessly Manage All Devices Anytime Anywhere at Any Scale
Nebula Cloud platform provides real-time network management anytime anywhere with ease. Seamlessly provision and manage all network devices, including access points, switches and firewalls within your organization that are across distributed locations from the Nebula platform, all while keeping your network aware of constantly changing devices. Get the richest collaboration with everything you need on a simplified and unified Nebula Cloud platform.
Non-stop Connectivity
Flexible routing modes with both bridge and router functions.
With or without a router, the LTE7461-M602 can easily be deployed and integrated into any existing environments. Set LTE as your main connection or use it as a backup when your main connection drops in performance.
Designed for all Environments
LTE7461-M602 is designed with IP68 for strong water and dust-proof capability. Get high-quality connection with its multi-band embedded directional antennas of up to 8 dBi even in adverse weather conditions. Its outdoor-friendly design makes it possible to work in harsh environments and locations where desirable signal strength can be challenging to achieve.
IP68

Dust, dirt and
sand resistant

Level 12

Withstand hurricane

level wind speed

(132km/hr)

K.21

Enhanced-mode
lightning protection

-40°C to 60°C

Adapts to wide
range temperature
Efficient and Precise Installation
No electrician required, just a simple DIY installation app needed.
Finding the best signal spot for installation is easy, just use a smartphone or tablet to connect to LTE7461-M602's WiFi network and follow its configuration instruction with the free "Zyxel Air" app. Comes with flexible wall and pole mounting options. Integrated Power over Ethernet (PoE) support makes powering the device simple!
Easy Remote Management with Nebula App
Nebula Cloud Management enables system integrators to easily remote manage through operator's mobile broadband network without leasing a DSL landline to resolve common Network Address Translation (NAT) issues in cellular networks. Scan a QR code with Nebula Mobile App to register your device on Nebula, check the device status, and get an overview information. Nebula Mobile App is designed for your management and troubleshooting needs for your network.