Using innovative and sustainable development ideals, ZyXEL continues to launch outstanding products, which provide customers with quality service and initiatives that promote environmental sustainability policy and activity. ZyXEL is a world-leading company, which obtained the world's first certification "ISO 14006 Environmental management systems–Guidelines for incorporating ecodesign," for networking products and "ISO 50001–Energy management." ZyXEL is proud of this, and we further commit ourselves as follows.
Meet all environmental regulations, other requirements, and improve the environmental performance.
Consult and communicate with employees to ensure that they are involved in procedures within the management system and recognize their individual environmental obligations.
Purchase energy-efficient products and services as well as enhance the performance of energy equipment design.
Develop green products and specify hazardous substance restrictions and rules in order to reduce environmental impacts from the life cycles of our products and continuously improve the process of product ecodesign while satisfying international environmental policy.
We request all our vendors to ensure the source of raw materials (Gold (Au), Tantalum (Ta), Tin (Sn) and Tungsten (W)) does not produce from the Democratic Republic of the Congo or any adjoining country in preventing the threat of human rights from the purchasing process.
Supply suitable plans and actions in order to lower the consumption of energy and materials, implement resource recycling, and prevent occupational disaster.
Establish targets and plans to save energy, reduce pollutants, and prevent disease and then continuously improve the environmental management performance as well as product ecodesign.
Volunteer to inventory, control, and reduce greenhouse gas emissions and additionally save energy continuously.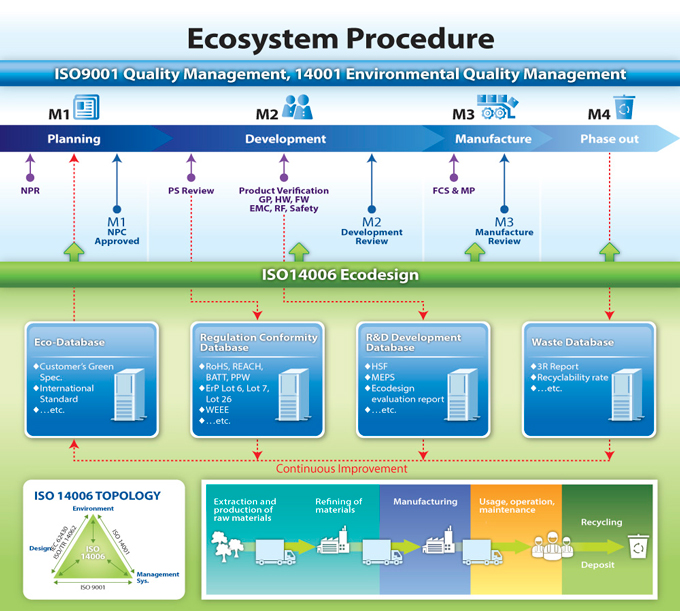 Enlarge
A systematic and structured approach to environmental management incorporates and implements ecodesign process into existing Green Collaboration System of Life Cycle Assessment (LCA) phases, which are purchasing raw material, manufacturing, transportation, use, and EoL (End-of-Life). The mechanism effectively decreases environmental impacts throughout the entire life cycle of a product. Six steps have been taken into serious consideration, which are:
Commitment
Identification
Evaluation
Control
Monitoring
Reviewing
As a result of the environmentally conscious design process for the ZyXEL's Model: VMG8324 (Wireless N VDSL2 VoIP Combo WAN Gigabit IAD), three factors designed to reduce environmental impacts have been evaluated and improved. These are as follows:
A wireless on/off function design, leading to estimated energy savings of up to 0.9 MWh/year, corresponding to a 500 tCO2/year reduction in emissions;
LED indicator on/off function design, saving an estimated 131.4 KWh/year, corresponding to a 70 kgCO2/year reduction in emissions;
Shortened external power cables, reducing waste disposal by an estimated 360 kg/year and lowering the cost of manufacturing as much as USD $962/year.
ISO 14006 Ecodesign process for ZyXEL is a crucial element of our integrated product policy. Our policy takes a preventive approach designed to optimize the environmental performance of products while maintaining and continuing product quality, which will provide new opportunities for ZyXEL and the supply chain as a whole.