Advanced VPN Firewall with an option to run SD-WAN
The ZyWALL VPN1000 integrated innovations connects your cross-group network while providing you the world's best central management and security features.
---

Secure Your Cross-group Network
---
The ZyWALL VPN1000 is equipped with comprehensive VPN connection types including SSL & IPsec VPN, offering businesses secured remote connections.
IPsec VPN hardware engine for high efficiency VPN tunnel and VPN load balance/failover with IKEv2 that ensures strong VPN reliability and security for business.
Reliance on cloud platforms for mission-critical services are growing, VPN1000 is validated by Microsoft Azure and AWS for SMB convenience by using a combination of on-site and cloud-based infrastructure with hybrid networks.
Same Security Across Networks
---
We offer a wide array of products that allow different remote access options including firewalls for headquarters and branch offices, remote access points with Secure WiFi and VPN client management for off-site employees, extending endpoint protection.
Device Insights give you more visibility of your networks including wired, wireless, BYOD, and IoT devices. You can create access policy with device contextual such as OS version or device category to enforce network segmentation. This reduces the attack surface and prevents threats from spreading. Centralized Cloud Management and Monitoring
SD-WAN provides a platform for cloud management, get the benefit of a centralized management for site to site connectivity while having the ability to control and monitor remotely. VPN1000 also provides a standalone gateway mode, if you request more robust VPN functionalities.
Why Should Your
Business Adopt SD-WAN
---
Greater Agility
Quick installation. Remote control. Centralized monitoring
Higher Throughput
Advanced WAN technology boosts throughput performance
Lower Cost
Improve network quality without extra bandwidth investment

Protect Your Business Efficiently
---
The ZyWALL VPN1000 provides all the latest advanced technologies including Content Filtering and Geo Enforcer to better protect your network from web threats.

Strengthen security by blocking access to malicious or risky websites. Prevents malware downloads from compromised or hacked websites.

Monitors traffic and analyzes log data of IP address locations while denying access from unnecessary or potentially dangerous traffic.
Comprehensive Connectivity
The ZyWALL VPN1000 combines AP Controller technology enabling users to manage up to 264 APs from a centralized user interface. Businesses can deploy or expand a managed WiFi network with minimal effort. We also provide Wireless Health Monitor giving you visibility into the connection state of client and access point issues, allowing network administrators to easily troubleshoot issues.
Non-stop Service
VPN features multi-WAN load balancing and failover safety with USB 3G/4G support as a backup WAN. ZyWALL VPN1000 and higher provides active/passive device High-Availability (HA) service for non-stop internet connection service even when one device is broken.
Application Diagram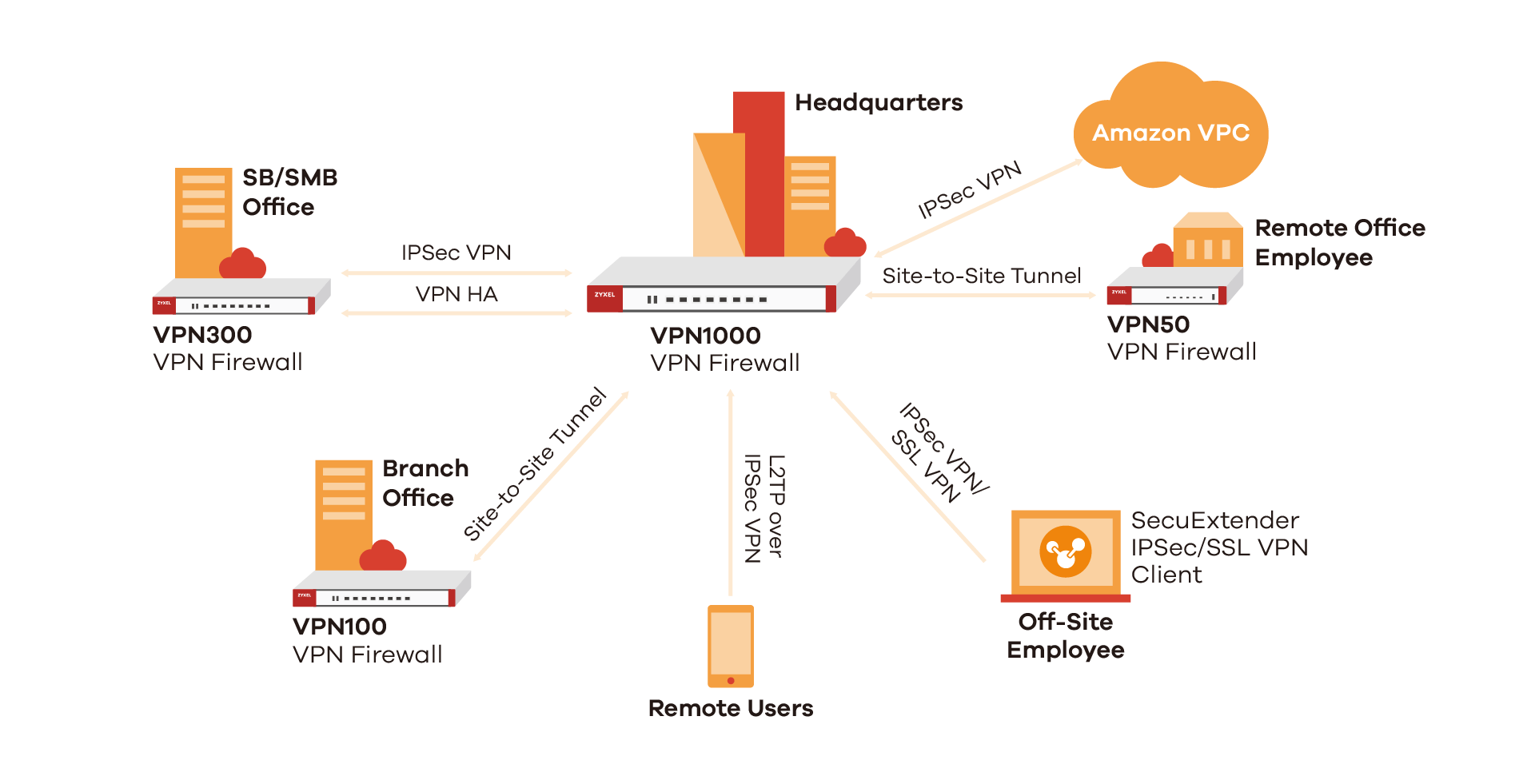 Our Products
---
Deploy VPN1000 as the central of your network and connect with other VPN50/100/300 firewalls to bring a comprehensive approach to the way you connect your network.
---
* All specifications are subject to change without notice.