Zyxel's SymmRepeater
For years, IBS market has been the arena of typical DAS integrators or system integrators (SI) working closely with carriers as carrier contractors. For small-to-medium size enterprises or buildings, whenever they have a need or a necessity to improve cellular coverage to ensure smooth operation for business-critical activities, they choose Off-Air Passive DAS solution to improve cellular coverage for multiple carriers because, comparing to Active DAS or Hybrid DAS that carriers offer, its deployment cost is lower.
This Off-Air Passive DAS (also known as a repeater) utilizes a donor antenna on the roof to repeat off-air signals from a carrier's base station (BTS).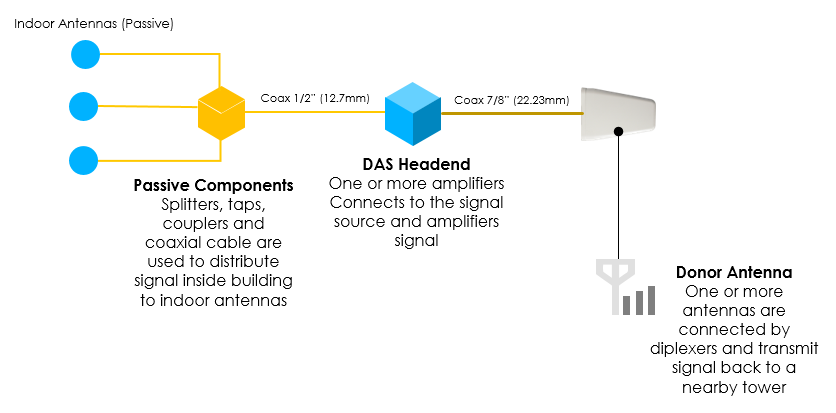 Off-air signals are the most cost effective signal sources for a DAS. But its service performance and signal quality completely depends on the strength and quality of outside donor signal. If the signal at the donor antenna is very weak e.g. only 1 signal bar on mobile, using an off-air signal won't be feasible. It usually requires at least 3 signal bars to be good donor signal.
Besides donor signal quality, Off-Air Passive DAS uses passive RF components such as coaxial cable, splitters, taps and couplers to distribute signal inside a building. At DAS headend the solution needs large diameter coaxial cables (e.g. 7/8" coaxial cable), and then adopts 1/2" diameter coaxial cable to distribute power inside buildings. Beyond the signal source, there are only power losses (no gain elements) all the paths to indoor antennas.
On the other hand, designing a passive DAS correctly requires cautious RF components and precise link budgets calculation, such as cable or splitter loss, to make sure the outputted power for each indoor antenna is equal. Typical DAS integrators thus normally need to hire engineers with strong RF (radio frequency) experience to design and implement an off-air DAS system, because its performance will depend strongly on proper evaluation and optimization of the donor signal. This creates a barrier for ICT-based system integrators (SI) enter this business area.
Now here is good news for ICT-based system integrators. Zyxel offers innovative design in SymmRepeaterENTERPRISE allowing ICT-based system integrators enter such off-air DAS business. No need to have professional RF planning background for engineers, as long as they have surveillance system installation experience. ICT-based system integrators can then reap such off-air DAS business opportunities.
Zyxel's SymmRepeater's dual-symmetric design presents 2-level signal amplification. With auto gain control and auto signal levelling capability, it guarantees end-to-end signal quality between its two devices, gives up to 400 meters of additional reach, and brings signal deep into the building. Even when donor signal is 1 signal bar only, SymmRepeaterENTERPRISE can perfectly repeat off-air signal from carrier's BTS and provide outstanding voice quality and data performance inside buildings. It is an ideal solution for elevators, tunnels, or residential buildings that require off-air signal coverage reaching into higher floors, lower basements, or inner areas.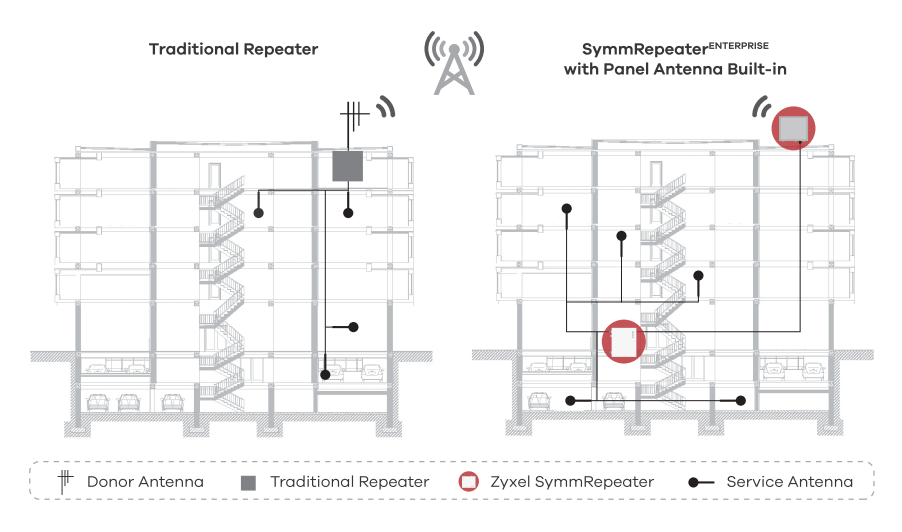 Still, some ICT-based system integrators may have worries for donor antenna installation. Zyxel already thinks ahead for these system integrators and provides all they need for the system installation. SymmRepeaterENTERPRISE is installer-friendly and built-in panel antenna for donor unit, system integrators simply install the IP65 grade donor unit on the roof without worrying at donor antennas selection and installation. In addition, Zyxel also offers an optional accessories kit including indoor antennas and coaxial cables for system integrators. System integrators simply install service antennas similar to wifi installation, then power on SymmRepeaterENTERPRISE , the system is up and running perfectly. Zyxel SymmRepeaterENTERPRISE enables off-air DAS system installation as easy as ABC.
Tag