MultiSite Repeater
The challenges of traditional repeaters have been addressed in the earlier post here, which usually requires at least 3 signal bars to be good donor signal, and due to the technology essence of "Passive DAS", there are only power losses beyond the signal source, traditional repeaters. Therefore, traditional repeaters cannot truly resolve signal dead zones deep in buildings such as basements, elevators or tunnels scenarios.
In terms of floor space coverage, traditional repeaters usually cover up to 2,500m2, it can be a solution for home or small offices. However, for shopping malls, large multi-floor offices/basements or hotels, its signal coverage and performance is just no pleasing. Sometimes with limited budget resources, nevertheless these arenas still have the need to improve cellular coverage for multiple carriers.
Thankfully, Zyxel pinpoints the market demand by launching the MultiSite Repeater, the first single-device repeater among Zyxel's repeater lineup, yet its unique and scalable design differentiates itself from all the other single-device repeaters out there, in reality it is even more extraordinary.
The MultiSite Repeater supports 3 bands, can be either full band or digitally channelize each of its bands. As the name implies, the MultiSite Repeater is designed for multi-site coverage, where a "site" refers to a coverage area or a cluster of closely situated coverage areas. To service one site, the MultiSite Repeater can repeat off-air signal source from a donor antenna located up to 50 m away, then have up to four 17 dBm tri-band outputs to service four 35x35 m areas up to 50 meters away.
In addition, the MultiSite Repeater is built-in 2 expansion ports. To service a second site, simply connecting a second MultiSite Repeater's input port to the first MultiSite Repeater's expansion port via a LMR-400 coaxial cable, the 2nd MultiSite Repeater will receive a clear tri-band signal from the top MultiSite Repeater to cover its own zone. The distance of a LMR-400 coaxial cable can be up to 100 meters. A third site can be covered in the same way, via the second expansion port on the top MultiSite Repeater.
The unique and innovative design enables the MultiSite Repeater capable of cascading up to 7 nodes, ideal for multi-floor deployment, e.g. shopping malls, residential buildings, multi-floors offices/basements, hospitalities and warehouses.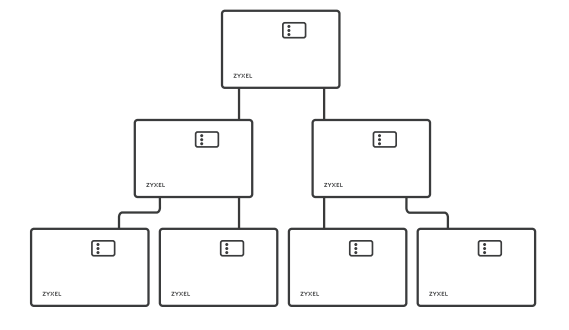 The MultiSite Repeater not only works great alone and is also a perfect complement to the SymmRepeaterENTERPRISE, for those who need more. Via the two expansion ports on the Service Unit of SymmRepeaterENTERPRISE, the MultiSite Repeater has exactly the same output connections as an SymmRepeaterENTERPRISE.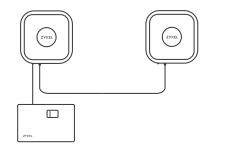 Rooted in Zyxel repeater family's installer-friendly philosophy, the MultiSite Repeater enables ICT-based system integrators enter such off-air DAS business. No need to have professional RF planning background for engineers, as long as they have surveillance system installation experience. ICT-based system integrators can provide a cost-efficient, highly expandable in-building coverage solution for multi-floor deployment.
Tag