VPN and security applications
Organizations, branch offices, partners and home users can deploy Zyxel ZyWALL VPN2S for Site-to-Site IPSec VPN and L2TP Over IPSec VPN clients.
VPN is a solution to establish secured network connections and to reduce long-distance telephone charges.
Remote users can securely access company resources with their computers or smartphones via Zyxel's ZyWALL VPN2S.
The ZyWALL VPN2S can establish L2TP VPN connections to service providers for secured Internet access.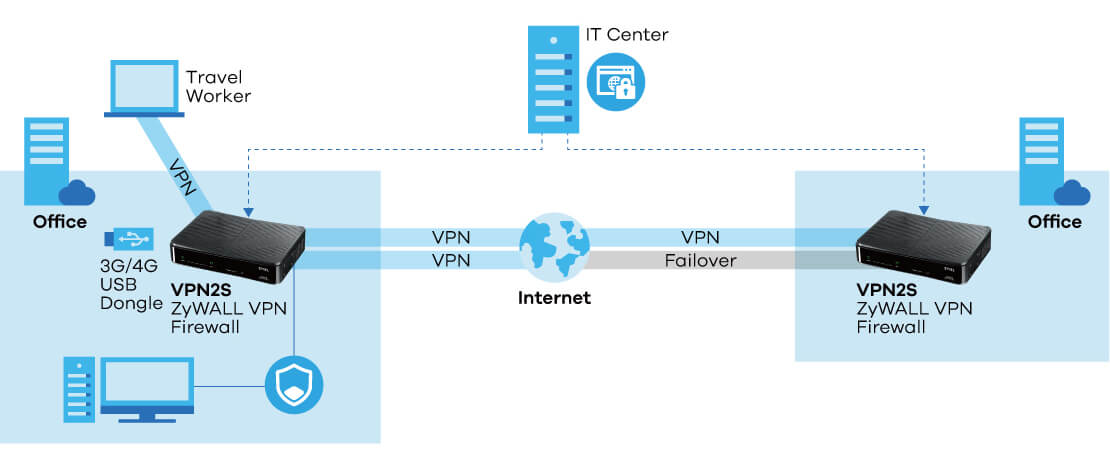 Multi-WAN applications
The VPN2S can adapt to a variety of network environments and enable offices or service providers to perform flexible installations for Ethernet or mobile WAN access.
Multi-WAN load balancing ensures seamless Internet connectivity even with heavy traffics.
The offices can optionally deploy non-stop Internet access with Multi-WAN failover.
The 4th LAN port can configure to additional WAN port.
---
*All specifications are subject to change without notice.