Zyxel's new SOHO gigabit switches merge power with simplicity in connecting office and home gears
Hsinchu Taiwan, 26 March, 2018 – For those who struggle to connect an increasingly growing number of devices in small offices or home workspaces, Zyxel Communications today announced new additions of SOHO Web Managed PoE Gigabit Switch, the GS1200-5HP/8HP v2 series. Combining power, style, and simplicity in one box, the switches give users the power to connect devices anywhere in the office without hassle.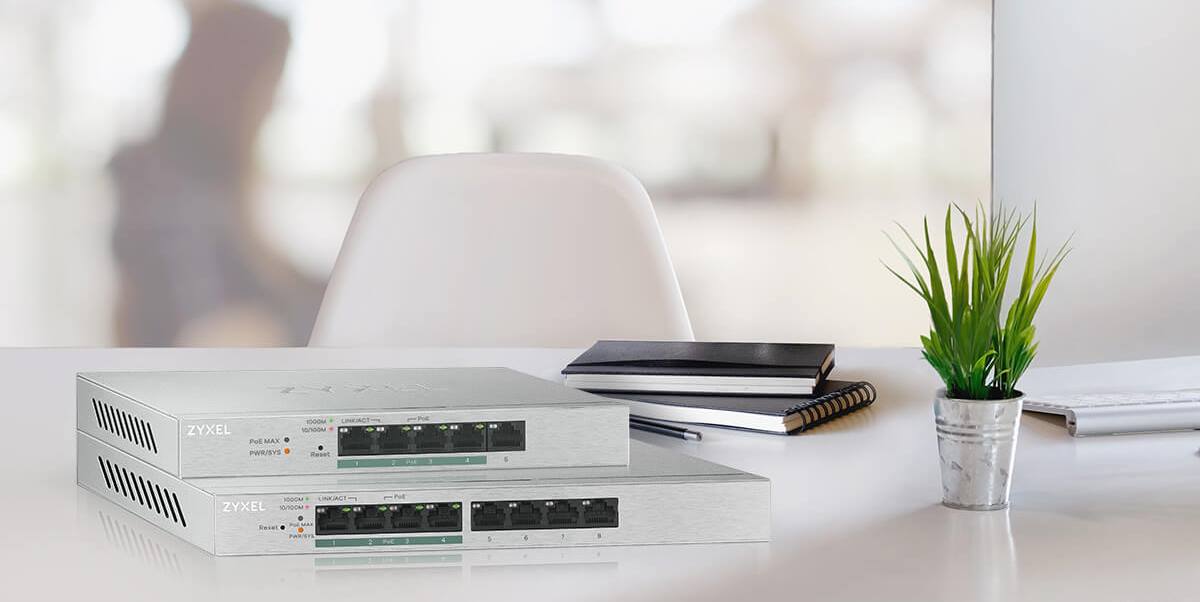 Zyxel GS1200-5HP/8HP v2 easily blends into modern workspaces
PoE makes cable mess a thing of the past
For SOHO offices looking to connect WiFi access points, IP cameras, laptops or a wide range of connected devices to the Internet, the GS1200-5HP/8HP v2 PoE switches save users from the cable mess by supplying power and data through one cable instead of two. Users will be able to get past installation limits and place connected devices anywhere they like, even where there is no power socket available. The 60W total PoE budget provides sufficient power to accommodate even the latest WiFi APs or cameras commonly used in SOHO offices.
Break the bottleneck with smart traffic control
For those who make use of streaming services or applications in offices, the GS1200-5HP/8HP v2 switches are compatible with multicast IGMP snooping v1/v2 and v3 to intelligently forward traffic to devices groups without slowing down the entire network. When multiple devices are connected, the QoS (Quality of Service) feature of the switches will prioritize traffic for applications that need it the most, ensuring your bandwidth-hungry applications run without stuttering.
Manage your network with ease
The GS1200-5HP/8HP v2 series makes managing networks a breeze – the graphical user interface helps users gain a clear view of their device status and manage all the simple control functions for office networks through clicks – without bothering with complicated command lines or console interfaces. The simple and elegant metal box carrying a power- saving design easily blends into modern eco-friendly offices.
For more information about SOHO and home switches, please visit: https://www.zyxel.com/products_services/5-Port-8-Port-Web-Managed-PoE-Gigabit-Switch-GS1200-5HP-v2-GS1200-8HP-v2/
About Zyxel Communications
Focused on innovation and customer-centric technology and service, Zyxel Communications has been connecting people to the Internet for nearly 30 years. Our ability to adapt and innovate with networking technology places us at the forefront of the drive to create connectivity for telcos and service providers, businesses and home users.
Zyxel is a global force in today's communications market with an unrivalled track record, including:
- 1,500 passionate associates worldwide
- 100 million devices creating global connections
- 700,000 businesses working smarter with Zyxel solutions
- 150 global markets served
Today, Zyxel is building the networks of tomorrow, unlocking potential, and meeting the needs of the modern workplace — powering people at work, life, and play. Zyxel, Your Networking Ally.