Zyxel's new small business mesh WiFi puts top grade security in the palm of your hand
Multy Plus launches with a dedicated security app, making it a plug-and-play solution that saves manpower and money
Hsinchu, Taiwan, 27 September 2018—Zyxel Communications today announced Multy Plus, a wireless solution that changes the game for SMBs by delivering business-grade mesh WiFi at a more affordable price point and with easier, plug-and-play usability.
Multy Plus is optimized for small businesses with large environments: it can be managed from a browser or an app, it has a dedicated security app, and it comes with industry-best mounting options right out of the box.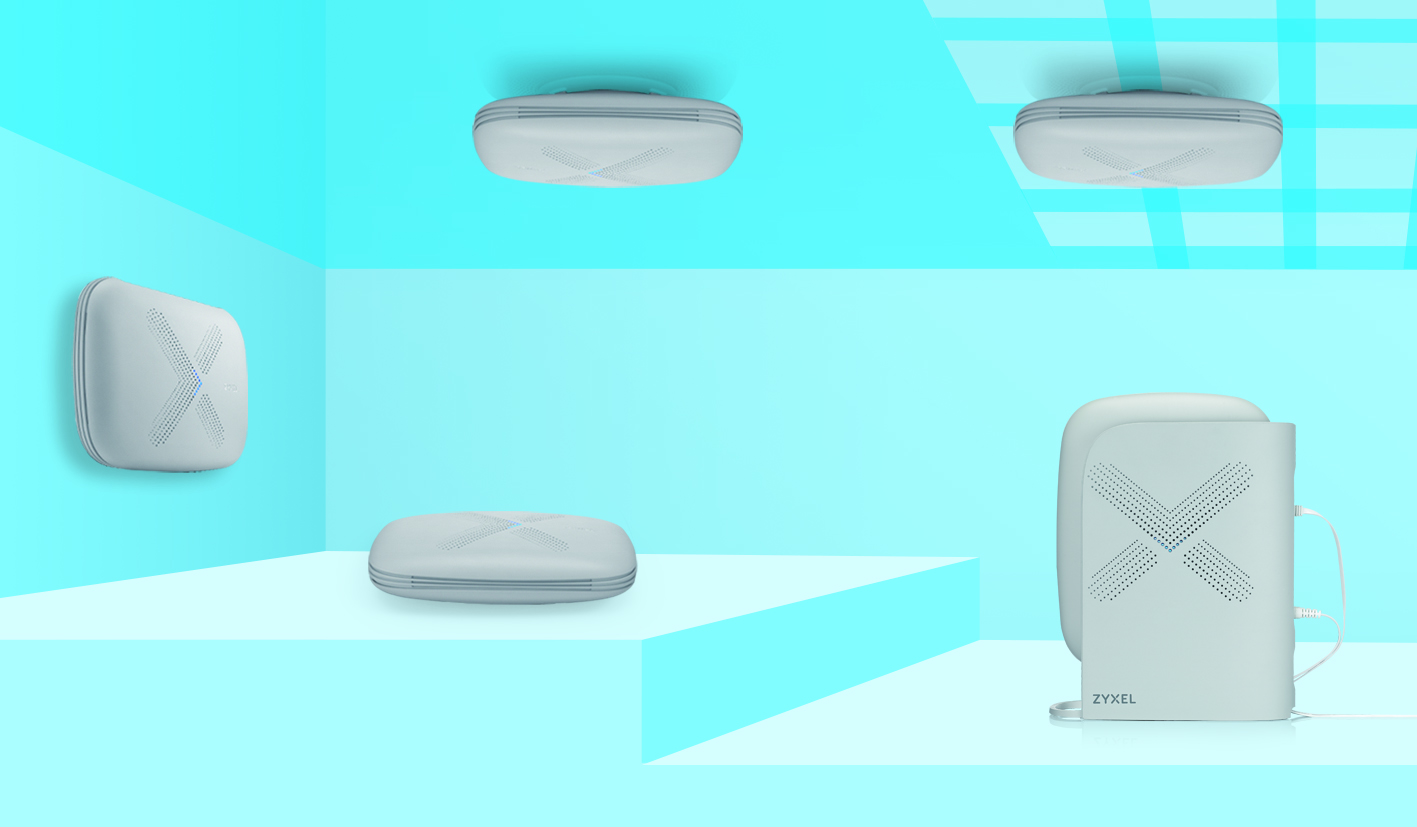 Multy Plus comes packaged with hardware for wall, ceiling, T-bar, and desktop mounting plus a stylish upright stand.
"Small businesses have long been relying on commercial access points to provide wireless internet to guests," said Bill Su, senior AVP of Zyxel's Smart Living SBU. "It's a far from optimal solution as wiring these APs takes a great deal of time and money. Managing them is equally difficult given their complex interfaces, which even experts can struggle with."
"As a mesh solution, Multy Plus gets the job done better, with less work and less expenditure. It only requires placing two or more access points anywhere around the premises—no wired connections necessary—and its interface is straightforward enough that even non-IT staff can use it."
From restaurants to small offices, the device's tri-band WiFi and 5-GHz dedicated backhaul offer speeds of up to 1,733 Mbps across 5,000 square feet via nine internal antennas.
Introducing AiShield
Multy Plus is raising the bar for cybersecurity with AiShield, a dedicated security app that takes numerous GUI functions and packages them for convenient mobile use.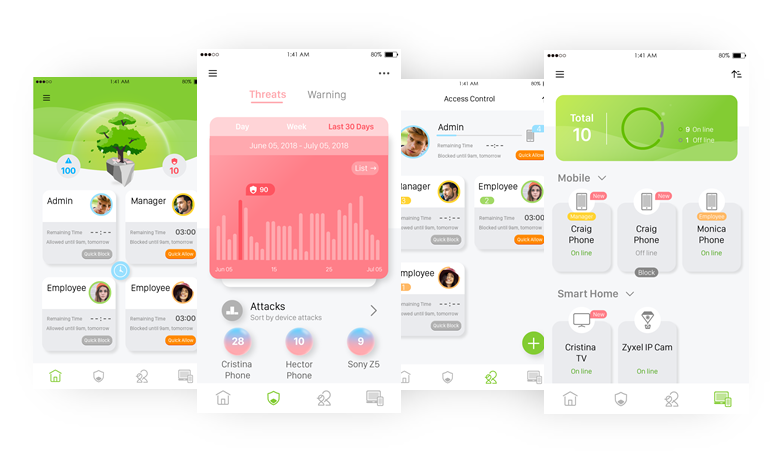 AiShield makes real-time insight and security options accessible from any mobile.
AiShield's security features include access control, which lets you restrict access to tens of thousands of categories of inappropriate websites and up to 500 apps. And, with the AiShield app, users can also:
View threat and warning data, including most-attacked devices
Receive push notifications on network threats
End or extend users' authentication times with one swipe
Harness Big Data for instant insights, such as by sorting users by device type, profile, time connected, etc.
Every Multy Plus comes bundled with one year's free AiShield.
GUI and app make management easy and easier
Multy Plus is the first Zyxel mesh solution that can be managed with both a companion app and a web-based GUI, giving businesses practical flexibility in how they administer their networks.
With either platform, you can check data usage, adjust bandwidth allocations, and separate the network into up to three services: one for administrators, one for employees, and one for visitors—all with different permissions.
Easy-to-configure captive portals
Multy Plus also streamlines and simplifies the process of setting up a captive portal that users must navigate through to gain WiFi access.
The GUI offers businesses straightforward options for their captive portal, letting them configure the password, terms and conditions, and images, such as a logo or photo.
Every mounting option—right in the box
Most mesh access points come with limited mounting options, often forcing buyers to purchase additional installation hardware for each one.
Not Multy Plus. It comes with every installation option in the box: wall, ceiling, desktop, and T-bar mounting as well as a chic upright stand. In addition, Multy Plus's clean, unobtrusive design means it blends in if simply placed on a table or shelf.
Multy Plus is the latest member of Zyxel's mesh family. Its predecessors for home users and service providers—Multy X and Multy Pro—have earned widespread recognition, including at the Taiwan Excellence Awards and the Broadband World Forum.
For more information, visit: https://www.zyxel.com/products_services/AC3000-Tri-Band-WiFi-System-Multy-Plus/