Zyxel wins Taiwan Top 20 global brands recognition for 14th straight year
Zyxel is the only networking brand to receive the honor
Hsinchu Taiwan, November 29, 2016 – Zyxel Communications was named one of the best global brands in Taiwan by the local government today, marking the 14th consecutive year the company has been honored. Zyxel also has the distinction of being the only networking brand among the top 20 winners, with a nearly 5% yearly increase of brand value. The awards ceremony was held today, November 29 at the Taipei International Convention Center in Taiwan.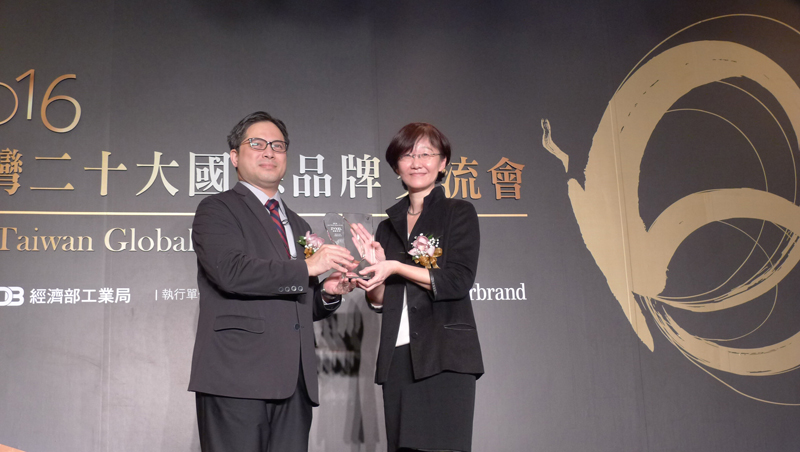 Tefen Tao (right), AVP of Zyxel's Brand and Marketing Management Division, receives the award from Dr. Ming-Ji Wu (left), Director General of Industrial Development Bureau, Ministry of Economic Affairs
The Best Taiwan Global Brands awards are organized by the Industrial Development Bureau of the Ministry of Economic Affairs of Taiwan and implemented by Interbrand Consultancy. The annual survey recognizes 20 winners each year across an array of industries in Taiwan, and it is conducted using Interbrand's established brand valuation methodology, identifying the world's top 100 global brands.
Following a rebranding announced in September 2016, Zyxel now identifies itself as "Your Networking Ally" who provides innovative and customer-centric networking solutions to help people achieve their goals and change the world for the better.
"The award couldn't have come at a better time," said Gordon Yang, president of Zyxel. "We're going through the biggest transformation in Zyxel's history. Over the past 18 months, we organized a series of workshops and boot camps worldwide. Every Zyxel member is involved, committed, and inspired by the new brand purpose. The holistic internal engagement has pulled together the team power we need to deliver on our promises and inspire our customers at every touch point."
The young, energetic new brand image has caused an online sensation and contributed to a 113.8% increase in website traffic from social media sites to the Zyxel website.

About Zyxel Communications
Focused on innovation and customer-centricity, Zyxel Communications has been connecting people to the Internet for nearly 30 years. Our ability to adapt and innovate with networking technology places us at the forefront of creating connectivity for telcos and service providers, business and home users.
Zyxel is building the networks of tomorrow, unlocking potential, and meeting the needs of the modern workplace — powering people at work, in life, and at play. Zyxel, Your Networking Ally.
- 1,500 passionate associates worldwide
- 100 million devices creating global connections
- 700,000 businesses working smarter with Zyxel solutions
- 150 global markets served