ZyXEL Showcases Latest LTE Devices at 5G World 2016
Will include the LTE4506 HomeSpot router which brings lightning-fast 4G LTE-Advanced connectivity and plug-and-play mobility to home networks
June 2, 2016 – Hsinchu, Taiwan – ZyXEL is showcasing its range of powerful LTE products at 5G World Summit, including the LTE4506 – the industry's first Category 6 LTE HomeSpot router that also supports 802.11ac wireless standard.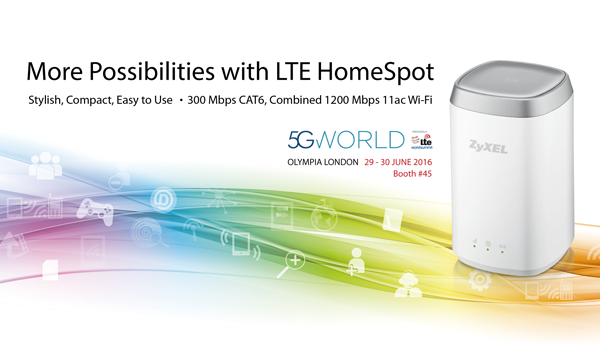 Forming part of ZyXEL's mobile access solution, the 4G LTE-A 802.11ac Wi-Fi HomeSpot Router is the only device in the mobile home router category with LTE Category 6 compliance and the Carrier Aggregation technology delivers downlink data rates of up to 300Mbps – twice that of Category 4. The LTE4506 enables users to connect with a variety of mobile broadband services, compatible with LTE, DC-HSPA+/ HSPA/ UMTS and EDGE/ GPRS/ GSM.
With the latest 802.11ac Wi-Fi technology, the LTE4506 provides dual-band concurrent (2.4GHz + 5GHz) Wi-Fi services at combined speeds of 1167Mbps that are capable of securely supporting up to 32 simultaneous Wi-Fi devices. To share Wi-Fi more conveniently, a one touch button for users to turn on the Wi-Fi sharing function is provided. Other features include a micro USB connector for flexible charging and a gigabit LAN port for non-wireless devices.
Tomas Kotis, Business Development Manager at ZyXEL, will be presenting the HomeSpot and wider LTE portfolio, along with ZyXEL's vision for the LTE space, in more detail at the show:
"With 79 million 4G subscriptions in Europe in 2015 , and 802.11ac booming, demand for 24/7 mobile broadband and multi-device connectivity is growing exponentially," said Tomas Kotis. "This will explode further as we see the introduction of more smart devices and the Internet of Things becomes a reality in 2016, with Statista estimating 4G subscriptions to reach 267 million by 2020.
"The multi-functional LTE HomeSpot can serve as the main Internet router for the home environment, as well as the ideal companion for any family vacation, providing a Wi-Fi hotspot for the car or holiday home."
Also being showcased at 5G World is ZyXEL's LTE7410 and LTE7400 outdoor 4G routers, as well as LTE3311 and LTE3301 indoor 4G routers, Cat6 LTE 11ac MiFi WAH7706, and new Cat6 LTE Outdoor router LTE7460-M606.
ZyXEL is exhibiting at 5G World Olympia London, Booth #45 from 28th to 30th June. For more information, please visit https://5gworldevent.com/company/zyxel/

ZyXEL Communications Corp.
Founded in 1989, with over a quarter-century of innovations, ZyXEL Communications Corp. is a world-class networking company providing comprehensive and reliable Internet solutions. Delivering cutting-edge communications innovations to more than 400,000 businesses and 100 million consumers worldwide, today ZyXEL is one of the few companies in the world capable of offering complete networking solutions on broadband access, commercial networking, and home connectivity for Telcos, business, and home users. With a strong local presence in 150 markets around the world, ZyXEL is the ideal partner to deliver tailor-made solutions to meet customers' local needs.