ZyXEL Scores with Taiwan Excellence Awards 2016
Sweeping six awards with mobile, business, and home connectivity products
Apr. 25, 2016 – Hsinchu, Taiwan - ZyXEL Communications, a global leader in broadband networking technology, today announced it has gathered another 6 Taiwan Excellence Awards recognizing its networking products for home, mobile and business connectivity. ZyXEL has won the Taiwan Excellence recognitions for 11 years in a row, accumulating a portfolio of 65 award-winning products of a diverse range. The award ceremony was held on April 21, 2016 at Taipei International Convention Center, Taiwan.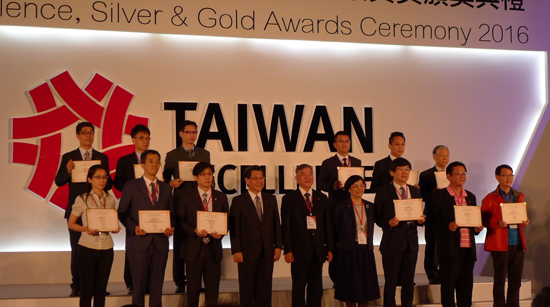 ZyXEL representative (left in the back row) received the Taiwan Excellence Awards
The six award-winning ZyXEL products cover connectivity for home, business, and mobile products. For home use, the AC2200 MU-MIMO Dual-Band Wireless Gigabit Router (NBG6815) features 802.11ac Wi-Fi and MU-MIMO technology. Use it together with the Armor X1 Dual-Band Wireless Gigabit Access Point / Range Extender (WAP6806) or the 1800Mbps Powerline Wireless AC Extender (PLA5437) to enable a previous dead-corner with Wi-Fi that connects multiple users/devices with faster Wi-Fi speed.
Also awarded is the 2-Bay Personal Cloud Storage (NAS520), a cloud storage solution designed for consumers to backup and access their data anywhere and anytime with the help of the exclusive ZyXEL Drive mobile app, which offers better privacy and ownership compared to public cloud services.
For business connectivity, the 802.11ac Dual Radio Unified Pro Access Point (WAC6503D-S) boasts 802.11ac Wi-Fi and smart antenna technology to help businesses obtain better Wi-Fi coverage while using fewer access points.
For mobile connectivity, the awarded ZyXEL LTE Portable Router (WAH7706) offers one of the best international coverage footprints on the market: supporting 2G, 3G, 4G (LTE CAT6), and 802.11ac dual-band Wi-Fi. The lightweight, multi-band and replaceable battery design means that frequent travelers can stay connected wirelessly no matter which mobile services operate in the country they are in.
The Taiwan Excellence Awards has been organized by The Ministry of Economic Affairs (MOEA) of the Taiwanese Government since 1992. The awards recognize products that qualify to represent Taiwan in the worldwide community and were reviewed and selected by 88 judges who gave the crown to the best-of-breed innovations across sectors.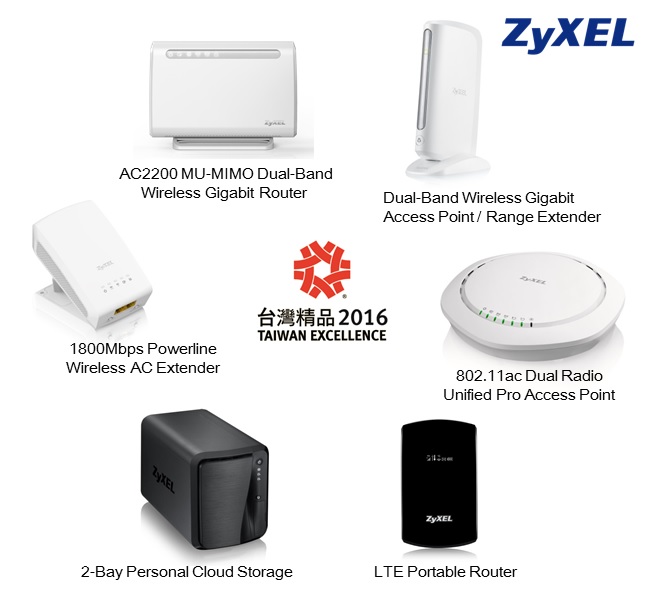 Note: The availability of each product may differ by country. Please contact your local sales representatives.
ZyXEL Communications Corp.
Founded in 1989, with over a quarter-century of innovations, ZyXEL Communications Corp. is a world-class networking company providing comprehensive and reliable Internet solutions. Delivering cutting-edge communications innovations to more than 400,000 businesses and 100 million consumers worldwide, today ZyXEL is one of the few companies in the world capable of offering complete networking solutions on broadband access, commercial networking, and home connectivity for Telcos, business, and home users. With a strong local presence in 150 markets around the world, ZyXEL is the ideal partner to deliver tailor-made solutions to meet customers' local needs.