ZyXEL Releases New Signature to Address Shellshock Vulnerability
Updated signature now available to protect your network
Oct. 3, 2014 – Hsinchu, Taiwan – ZyXEL Communications, the world's leading provider of networking communications products, would like to assure its customers that the company's USG (Unified Security Gateway) and ZyWALL VPN firewalls are not affected by the Shellshock vulnerability, the recently discovered Internet-wide severe vulnerability that enables attackers to override or bypass certain restrictions to execute Linux or Unix bash shell commands. ZyXEL Communications today also announced the release of a new version of IDP (Intrusion Detection & Prevention) Signature to protect customers from Shellshock attack.
With high degree of secured software code, ZyXEL's USG and ZyWALL VPN firewalls are not affected by the attack of Shellshock. Furthermore, the latest IDP Signature is now released to effectively blocking potential attack for customers who have applied the IDP service. Signature versions 3.1.4.106 and later are now available for device firmware ZLD V4.10, with version 3.0.3.106 and later available for firmware ZLD V3.30. Devices with IDP licenses will automatically access the ZyXEL mySecurity Zone to get the latest update including signature 1130021.

The latest ZyXEL IDP Signature, 1130021 WEB GNU Bash Remote Code Execution (CVE-2014-6271)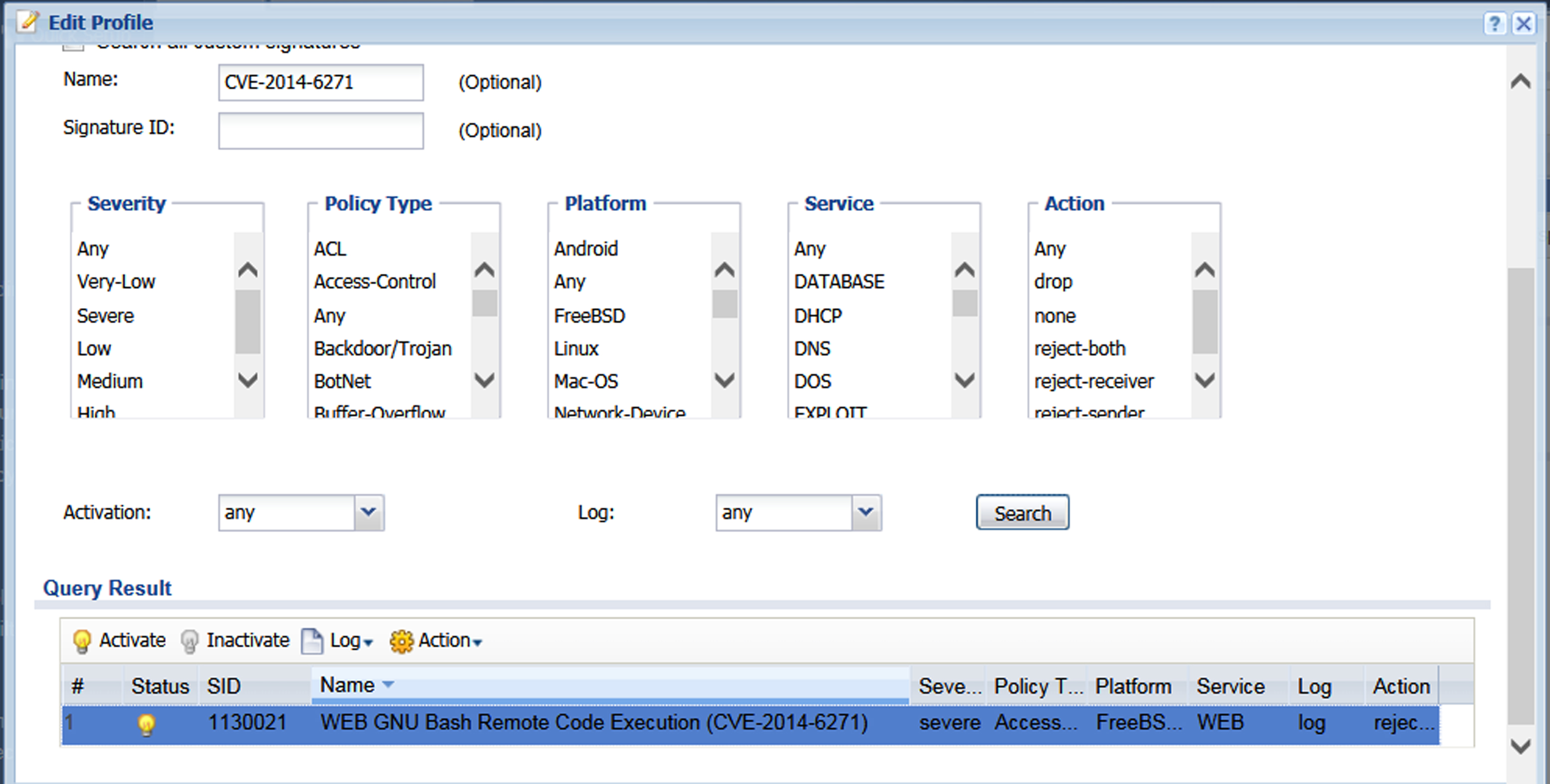 "Since ZyXEL USGs and ZyWALLs serve as the first line of defensive soldiers for systems, automatic update of the Signature is important to help ensure customers receive the maximum protection from various kinds of attack, including the Bash code injection vulnerability," stated Wayne Hwang, AVP of Gateway Strategic BU, ZyXEL Communications. "We are aware of the serious damage caused by Shellshock and will continue to work hard to provide the best protection to our customers. As part of this effort, we strongly recommend that our customers add this IDP license to their USG or ZyWALL for the most effective, up-to-date network protection."
ZyXEL Communications Corp.
Founded in 1989 and celebrating its 25th anniversary this year, ZyXEL Communications Corp. is a world-class networking company providing innovative and reliable Internet solutions. As one of the early modem manufacturers, ZyXEL has gone through transformations in the fast-paced networking industry. Today, ZyXEL is one of the few companies in the world capable of offering complete networking solutions for Telcos, small- to medium-sized businesses, and digital home users for a wide range of deployment scenarios. Telco solutions include Central Office Equipment, Customer Premise Equipment, Wired and Wireless Access Network Devices, and Carrier Switches. SMB and Enterprise solutions include Unified Security Gateways, LAN Switches, WLAN, and IP Telephony. Digital Home solutions include Network Connectivity Devices and Multimedia Solutions.