ZyXEL Lights Up Wi-Fi Blind Spots at Home with Range Extender WRE2206
August 24, 2015 – Hsinchu, Taiwan – Today ZyXEL Communications unveils the Wireless N300 Range Extender, the WRE2206, a device built to light up wireless blind spots at home. With the power boosted internals and a brand new user-friendly design, the WRE2206 delivers up to 30% better wireless coverage* and easy intuitive setup.
ZyXEL is a global leader in broadband networking technology, providing a comprehensive portfolio of wired and wireless network solutions for telecommunications service providers, small- to medium-sized businesses, and home users.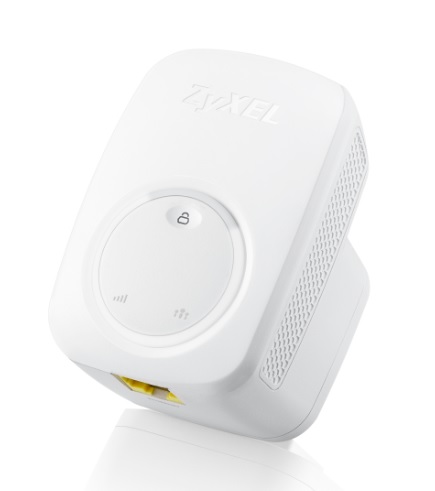 N300 Range Extender

Whether it's to keep up with breaking news, checking online recipes while cooking, sharing snaps, or chatting with friends and family online through social media, wireless connectivity is now an integral part of home life. A wireless router or access point at home may provide wireless internet access, yet the wireless coverage often cannot reach to certain corners.
The ZyXEL WRE2206 is a wireless range extender tailored to solve the connection problem. Two easy steps of setup is all it takes to keep you hooked up with wireless in previously unreachable corners – just plug the power-boosted WRE2206 into a power socket and press the WPS buttons on the WRE2206 and your router or AP. No wiring is necessary to extend your wireless coverage.
The LED ring on the WRE2206 indicates the strength of the wireless signal to help you locate the best spot to install, so you will not have to fumble around the house and pray that you bet on the right place. On the right side of the LED ring the WRE2206 also tells you how many devices are being connected so you always know if too many devices are connected and compromising wireless speed. Regular automatic firmware updates also ensure constant performance enhancements that do not even require any additional effort.
The Ethernet port on the bottom keeps your choice of connection open – be it wired or wireless. The port can be used to connect wired network devices to your existing wireless network, including game consoles, smart TVs or a set top box. The user-centered design of the compact WRE2206 makes it easy to install, manage, and blend in homes where ubiquitous home wireless coverage has become a necessity. Find the video introduction of ZyXEL WRE2206 here.
*Statistics based on third-party lab test results comparing ZyXEL WRE2206 with same level products.

ZyXEL Communications Corp.
Founded in 1989, with over a quarter-century of innovations, ZyXEL Communications Corp. is a world-class networking company providing comprehensive and reliable Internet solutions. Delivering cutting-edge communications innovations to more than 400,000 businesses and 100 million consumers worldwide, today ZyXEL is one of the few companies in the world capable of offering complete networking solutions on broadband access, commercial networking, and home connectivity for Telcos, business, and home users. With a strong local presence in 150 markets around the world, ZyXEL is the ideal partner to deliver tailor-made solutions to meet customers' local needs.