Zyxel launches PLA5236 to fill dead corners with Wi-Fi
Premium hybrid powerline with gigabit Ethernet and 11ac Wi-Fi in one box
Hsinchu Taiwan, November 21, 2016 – Can't reach corners at home and don't want to deal with long and messy cables? Zyxel today announces a new 1000 Mbps Powerline AC900 Wireless Extender (PLA5236), which extends both Ethernet and Wi-Fi through outlets to help you cover dead corners. It's the world's leading powerline paired with comprehensive mobile app support.


Plug PLA5236 in the power socket to get Wi-Fi where you need it
Don't be torn between Wi-Fi and Ethernet
Zyxel PLA5236 is a hybrid model with both Wi-Fi and Ethernet support. It's equipped with 802.11ac Wi-Fi which will unlock the full speed of your latest gadgets* such as the iPhone 7 or iPad Pro. Optimal Wi-Fi coverage is ensured with two external adjustable antennas. The two Ethernet ports on the bottom of PLA5236 allow wired connections to video game consoles, Blu-ray players, set-top box, smart TVs, and laptops.
Install, connect, manage and monitor through mobile apps
Getting networking devices up and running can be time-consuming. Zyxel has developed comprehensive mobile app support for the PLA5236 that will walk users through literally every application scenario without hassle.
The Zyxel Easy Setup App works like an animated manual to guide users step-by-step through installation. Three one-click options of Wi-Fi settings help users find the correct SSID/password without having to type any complicated or lengthy combinations. The Zyxel ONE Connect App gives you control of your entire home network, whether to set up a temporary guest Wi-Fi, activate parental control, or configure all connected devices at the same time.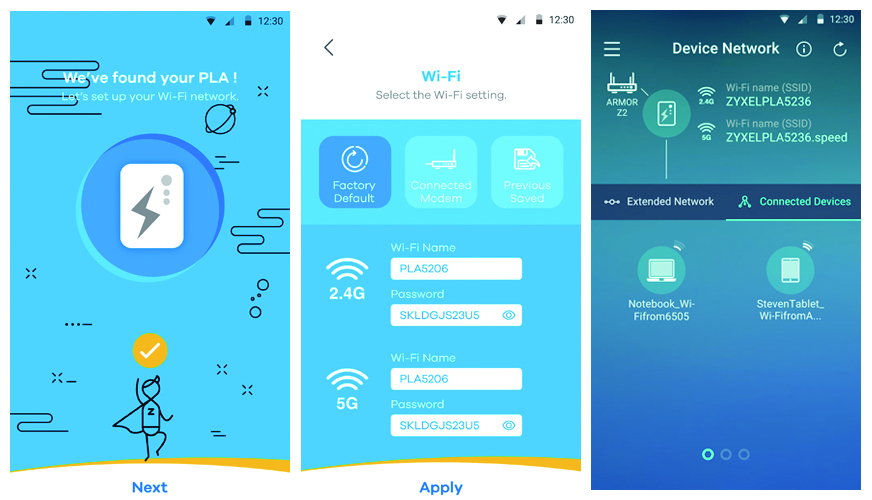 Home network easily installed and managed with Zyxel mobile Apps
Level up performance with HomePlug AV2 technology
Zyxel PLA5236 adopts HomePlug AV2 technology, which delivers 20% faster speed than previous HomePlug AV models, making it ideal for 4K video streaming and gaming.
"For consumers today, Wi-Fi is everything, but getting Wi-Fi around the house isn't all that easy," commented Jenny Lai, AVP of Zyxel Smart Living Business Unit. "Powerline is one of the simplest ways to extend connection. With the Wi-Fi support built in the PLA5236, we are offering consumers real plug-and-play Wi-Fi and help them get the whole home covered easily."
Powerline adapters work in pairs. Zyxel recommends the combination of PLA5236 with PLA5206 v2, a 1000 Mbps Powerline 2-port Gigabit Ethernet Adapter. Zyxel has a comprehensive portfolio of powerline adapters with Wi-Fi hybrid, pass-through socket or HomePlug AV2 support. To Find out more information, please visit: www.zyxel.com
*Refer to gadgets with 802.11ac Wi-Fi support
About Zyxel Communications
Focused on innovation and customer-centricity, Zyxel Communications has been connecting people to the Internet for nearly 30 years. Our ability to adapt and innovate with networking technology places us at the forefront of creating connectivity for telcos and service providers, business and home users.
Zyxel is building the networks of tomorrow, unlocking potential, and meeting the needs of the modern workplace — powering people at work, life, and play. Zyxel, Your Networking Ally.
- 1,500 passionate associates worldwide
- 100 million devices creating global connections
- 700,000 businesses working smarter with Zyxel solutions
- 150 global markets served