ZyXEL Launches New Gigabit Layer 2 Managed Switch with 10G Uplink Speed
Prepare business networks for the explosion of 802.11ac clients
May 31, 2016 – Hsinchu, Taiwan – ZyXEL Communications, a global leader in broadband networking technology, announces today the availability of 28/52-port Layer 2 Managed Gigabit Switches with 10 Gigabit uplink speed (the XGS2210 Series). Featuring the SFP+ 10G Fiber connection and high power budget PoE support, the XGS2210 Series prevents business networks from core traffic bottlenecking at the switch and drives up the flexibility of deploying IP cameras, VoIP phones, or wireless access points for IP surveillance, hospitality and classroom applications.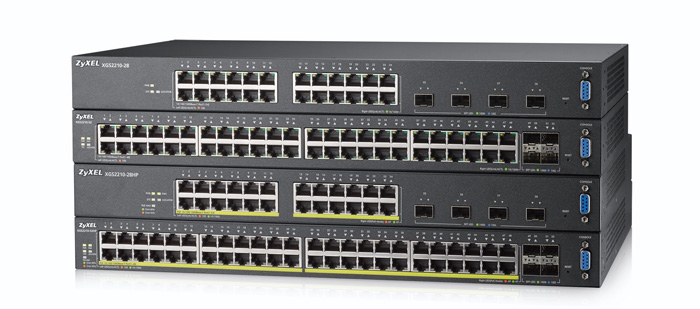 ZyXEL XGS2210 Series 28/52-port GbE L2 Managed Switches
The XGS2210 Series of gigabit switches is equipped with 10G uplink speed. According to Infonetics Research, the 802.11ac wireless standard will encompass 80% of the market share for enterprise access points by the end of 2017 and close to 90% by 2019. As the 802.11ac wireless standard becomes mainstream in today's connectivity, network switches are expected of faster performance and higher uplink capacity to satisfy the 802.11ac clients connected. The XGS2210 Series is designed to be future-proof and to prepare business networks for the rapid growth of 802.11ac clients.
To enable efficient cross-domain routing within a small network, the XGS2210 Series comes with static routing settings that are easy to implement for small to medium-sized businesses. For professional network configurations, the XGS2210 Series supports comprehensive CLI and SNMP to optimize full network management efficiency.
Monitoring network usage is key to maintain a reliable and stable network, especially for converged networks that carry all kinds of traffic. The sFlow support of the XGS2210 Series helps administrators monitor and analyze network traffic and visibility. The ZyNOS V4.30, a complimentary network operating system for ZyXEL switches encompasses advanced features such as IP source guard and PoE scheduling.
With the PoE+ technology and the support of high power budget up to 375W, the XGS2210 Series* PoE models can accommodate power-hungry devices such as 802.11ac access points, Dome cameras or PTZ speed dome cameras without hassles.
The XGS2210 Series comes with 28- and 52-port models with a combination of PoE and non-PoE. ZyXEL has a comprehensive portfolio of managed, smart-managed and unmanaged network switches that powers the hospitality, education, small to medium-sized businesses, and many other verticals around the world with a reliable network.
*The XGS2210-28HP and XGS2210-52HP
ZyXEL Communications Corp.
Founded in 1989, with over a quarter-century of innovations, ZyXEL Communications Corp. is a world-class networking company providing comprehensive and reliable Internet solutions. Delivering cutting-edge communications innovations to more than 400,000 businesses and 100 million consumers worldwide, today ZyXEL is one of the few companies in the world capable of offering complete networking solutions on broadband access, commercial networking, and home connectivity for Telcos, business, and home users. With a strong local presence in 150 markets around the world, ZyXEL is the ideal partner to deliver tailor-made solutions to meet customers' local needs.