ZyXEL Launches a Brand New 10 Gigabit Smart Switch, XS1920-12
Simplifying network upgrades for SMBs
Jan. 9, 2015 – Hsinchu, Taiwan – ZyXEL Communications, a global leader in the development of transformative and labor-saving networking technology for twenty-five years, today announces a flexible, future-proofed 10GbE smart switch, XS1920-12, specifically designed to enable small and medium-sized businesses (SMBs) to upgrade their existing network infrastructure to 10GbE connectivity quickly, easily and economically, with minimal administrative overhead.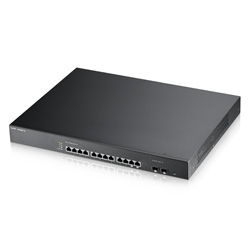 The popularity of cloud-based products and services, VoIP, video streaming and IP surveillance today makes it difficult for SMBs to handle the increasing demands of data volumes.
ZyXEL's new XS1920-12 addresses these challenges. A 10GbE smart switch that economically upgrades any network to high-speed 10GbE bandwidth, the XS1920-12 offers affordable 10GbE network connectivity, comprehensive investment protection, smart, streamlined switch initialization and management, and robust network availability protection.
Affordable 10GbE Network Connectivity with One Switch
To keep up with the demand for ever-increasing bandwidth, many SMBs today face spiralling costs and high deployment complexity. ZyXEL's XS1920-12 is a smart switch which allows administrators to manage the devices through a handy web-based tool. It offers great deployment flexibility with twelve 10GbE connections (ten copper and two optical fiber) and a low port count design.

Upgrading to the XS1920-12 is straightforward. It is backward compatible with Gigabit network with existing Cat 5 or Cat 5e infrastructure, and it allows SMBs to migrate to 10GbE connectivity easily by leveraging Cat 6A (or higher) cabling. Also, IPv6 management features support helps businesses stay ahead of the competition and prepare for future IPv6 networks.
Speed Network Setup, Streamline Network Management
Coupling XS1920-12 with ZyXEL One Network, administrators can utilize ZyXEL's ZON Utility to check locations, assign IPs, reboot, and perform firmware upgrades on multiple switches, all from a single platform.

The Smart Connect function of ZyXEL One Network enables the XS1920-12 to discover all ZyXEL devices on the network, and most devices that supporting Link Layer Discovery Protocol (LLDP). Administrators can see what devices are connected and which ports are in use, devices' IP addresses and their firmware versions, and a simple click on the displayed devices directs to the Web GUI for additional configuration, dramatically simplifying the process of logging into devices for updates or reconfiguration. Through features such as L2 switching capability, the XS1920-12 can function as a core switch, making it a highly cost effective SMB switching solution.

The combination of XS1920-12 and ZyXEL One Network streamlines network management, eliminating the need for direct device access and expensive and overly specific network management tools.
Headache-free Network Connectivity
Network disruption caused by internal errors or external attack can have a serious impact on day-to-day business activities, resulting in significant cost and damage to an SMB's reputation. The XS1920-12 guards against such disruption with several key features.

Loop Guard protects against service disruptions caused by switching loops and IP Source Guard (IPSG) shields the network against MAC and ARP spoof attacks. Other attacks, such as BDPU, ARP and IGMP also target SMB networks but the XS1920-12's CPU protection guarantees that the network will continue to operate, even when under such attacks. Meanwhile, dual images and configuration support maintain network availability and reliability, delivering headache-free network connectivity for SMBs.

The XS1920-12 is ideal for SMBs needing a cost effective, flexible deployment, secure, future-proofed, and easy to manage smart 10GbE switching solution. For product availability and a complete list of product features, please contact your local sales representatives.


ZyXEL Communications Corp.
Founded in 1989 and celebrating its 25th anniversary this year, ZyXEL Communications Corp. is a world-class networking company providing innovative and reliable Internet solutions. As one of the early modem manufacturers, ZyXEL has gone through transformations in the fast-paced networking industry. Today, ZyXEL is one of the few companies in the world capable of offering complete networking solutions for Telcos, small to medium-sized businesses, and digital home users for a wide range of deployment scenarios. Telco solutions include Central Office Equipment, Customer Premise Equipment, Wired and Wireless Access Network Devices, and Carrier Switches. SMB and Enterprise solutions include Unified Security Gateways, LAN Switches, WLAN, and IP Telephony. Digital Home solutions include Network Connectivity Devices and Multimedia Solutions.