ZyXEL Jets Network Management into the Cloud with ZyXEL Cloud Network Center
One Cloud Platform Keeps Multiple Wired or Wireless Client Networks Up and Running at All Times
Oct. 1, 2015 – Hsinchu, Taiwan – Network management becomes time-efficient with ZyXEL's introduction of the Cloud Network Center (CNC), a cloud-based network management platform built for VARs (value-added resellers) to manage multiple wired or wireless networks remotely and centrally through a single cloud platform that is accessible anywhere.
ZyXEL is a global leader in broadband networking technology, providing a comprehensive portfolio of wired and wireless network solutions for telecommunications service providers, small- to medium-sized businesses, and home users.
Following the time-saving lead of the ZyXEL One Network, introduced last year, ZyXEL CNC takes network management further into the cloud and brings its efficiency to a whole new level. Hosted on Amazon's public cloud, the ZyXEL CNC is accessible to VARs wherever they are. It offers an overview of all registered networks with comprehensive management functions governing ZyXEL access points (AP) and AP controllers, network switches, and gateways. With a few clicks through the CNC, VARs can quickly configure connected devices, monitor their operation and health status, and troubleshoot connectivity problems.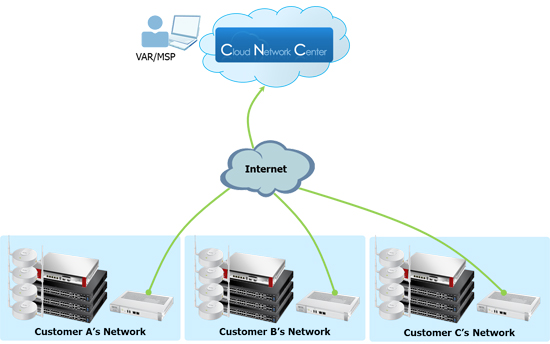 Network Management in the cloud with ZyXEL CNC
Managing multiple networks for clients in different locations, cities, or even countries can be extremely challenging for VARs who are often spread too thinly as they travel to multiple locations while dealing with clients' network problems in person. Add to this the cost to business owners who lose valuable time while waiting for overextended VARs to assist with connectivity problems. The ZyXEL CNC is designed to address these challenges with a single point of entry into the cloud, allowing VARs to shadow client networks closely with a few clicks on the ZyXEL CNC, accelerating responses to client needs.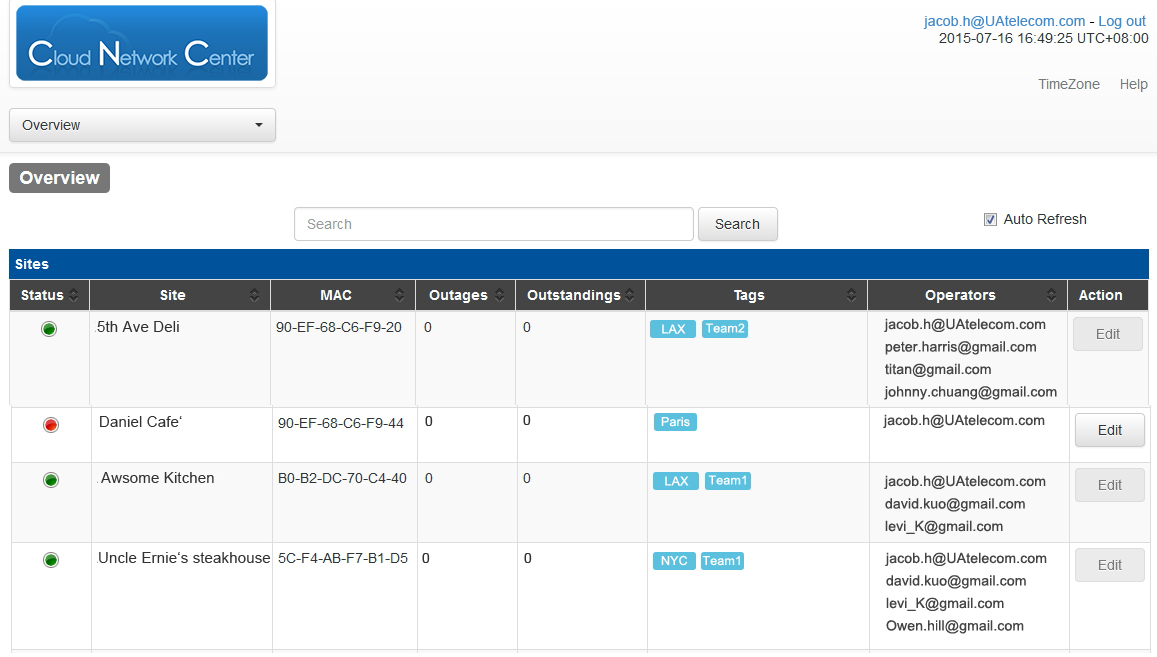 ZyXEL CNC Administration Interface
Management of multiple networks through the CNC also offers fail-proof, uninterrupted operation as network settings are stored in the cloud and backed up on a scheduled basis. When a device in a client's network needs to be replaced, all VARs must to do is send over an identical model and have their client plug in the new model with the one-click restore function. The zero-touch process does not even require VARs' presence at the client site.
The ZyXEL CNC comes with a complimentary one-year license of service for the first purchase, and is available with a flexible license plan that VARs can opt for depending on the scale of their business. Find more information here.
ZyXEL Communications Corp.
Founded in 1989, with over a quarter-century of innovations, ZyXEL Communications Corp. is a world-class networking company providing comprehensive and reliable Internet solutions. Delivering cutting-edge communications innovations to more than 400,000 businesses and 100 million consumers worldwide, today ZyXEL is one of the few companies in the world capable of offering complete networking solutions on broadband access, commercial networking, and home connectivity for Telcos, business, and home users. With a strong local presence in 150 markets around the world, ZyXEL is the ideal partner to deliver tailor-made solutions to meet customers' local needs.