ZyXEL Enables High-Performance Wi-Fi in High-Density, Interference-Prone Wireless Environments with WAC6500
ZyXEL's New Wi-Fi Access Point Introduces Smart Antenna Technology
Mar. 16, 2015 – Hsinchu, Taiwan – ZyXEL debuts a new Smart Antenna Wi-Fi Access Point (AP), the WAC6500 Series, to deliver gigabit wireless with extensive coverage, capacity, and exceptional interference resistance, thanks to the built-in smart antenna which doubles the performance of a conventional antenna. Enabling more users to connect simultaneously, the WAC6500 delivers high-speed Wi-Fi connectivity even in the most congested of environments, ideal for hotels, schools, large enterprises and many more places where high-performance wireless is essential for business or operation.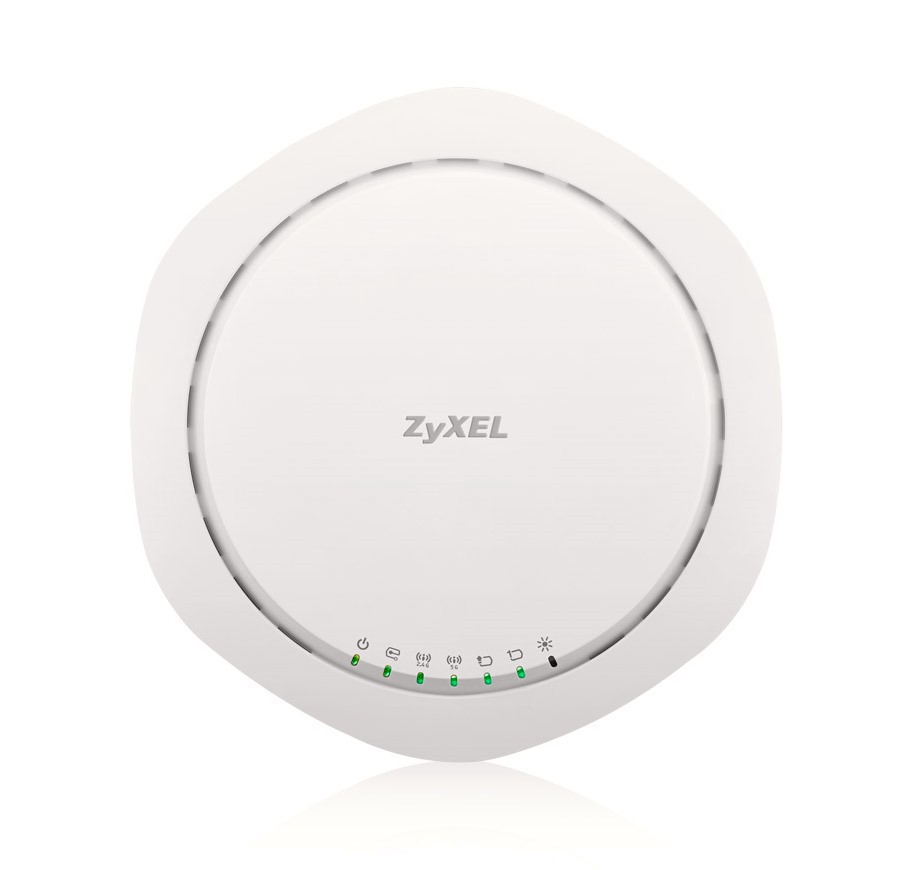 ZyXEL is a global leader in broadband networking technology that provides a comprehensive portfolio of wired and wireless network solutions for telecommunications service providers, small- to medium-sized businesses and home users.
The market for Wi-Fi APs now embraces IEEE 802.11ac technology capable of providing speeds of up to three times faster than those of 802.11n. Yet, in real-life scenarios the technology is still not a cure-all as its performance is often impeded by various constraints.
For example, trying to connect to an overloaded Wi-Fi network in crowded areas can still be frustrating with poor connectivity resulting from interrupted connections, interference, and limited capacity. Upgrading to 802.11ac also means a complicated migration from existing technology. A thorough site re-survey is necessary since the 802.11ac technology works on a different band (5GHz) than the 802.11b/g/n technology (2.4 GHz). ZyXEL sees this problem and introduces the WAC6500 Series, tailor-made to realize the best wireless performance by relying on both 802.11ac and Smart Antenna technology.
A pioneer in the introduction of the Smart Antenna technology in commercial APs, ZyXEL translates this knowhow and experience into the WAC6500 Series' superior performance by analyzing Wi-Fi signals and calculating the best delivery path, making use of more than 700 antenna patterns to ensure the best possible throughput. Patterns are shaped for each client according to real time environments thus mitigating interference by other devices, maximizing the benefits of 802.11ac technology, and ultimately forming a more reliable and satisfying wireless network.
"We all know how frustrating it is if you can't get a good network connection in a hotel or at an event, particularly if you've paid for access," commented Crowley Wu, AVP of ZyXEL's Network Business Unit. "Combined with the fact that most people nowadays carry more than one device with them, this is putting even more strain on networks. The WAC6500 is our answer to the changing user habits and growing numbers of connected devices. Ideal for high-density and interference-prone environments, the WAC6500 enables high-speed connectivity that businesses and users can rely on."
Designed to offer easy installation and fast deployment for high performance wireless coverage, the WAC6500 Series comes with a complete line-up of 2- or 3-stream models with either built-in smart antenna or external antenna options. Pair with NXC Series WLAN controllers to grant users access to advanced network management functions. The WAC6500 Series simplifies the migration to 802.11ac technology and enables seamless transition to networks demanding full gigabit wireless performance. Find out more product details here.


ZyXEL Communications Corp.
Founded in 1989 and celebrating its 25th anniversary this year, ZyXEL Communications Corp. is a world-class networking company providing innovative and reliable Internet solutions. As one of the early modem manufacturers, ZyXEL has gone through transformations in the fast-paced networking industry. Delivering cutting-edge communications innovations to more than 400,000 businesses and more than 100 million consumers throughout the world, today ZyXEL is one of the few companies in the world capable of offering complete networking solutions for Telcos, small to medium-sized businesses, and digital home users for a wide range of deployment scenarios. Telco solutions include Central Office Equipment, Customer Premise Equipment, Wired and Wireless Access Network Devices, and Carrier Switches. SMB and Enterprise solutions include Unified Security Gateways, LAN Switches, WLAN, and IP Telephony. Digital Home solutions include Network Connectivity Devices and Multimedia Solutions.