ZyXEL Elevates User Experience with the New ZyXEL Support Center
A New Online Portal Integrating All Support Functions in One Place with a Friendly Interface
April 27, 2015 – Hsinchu, Taiwan – ZyXEL has just launched the new ZyXEL Support Center, an online portal integrating all support functions in one place. Presented in a user-friendly interface accessible for a wide range of devices, the new ZyXEL Support Center enables users to obtain the support they need in a shorter time with ease.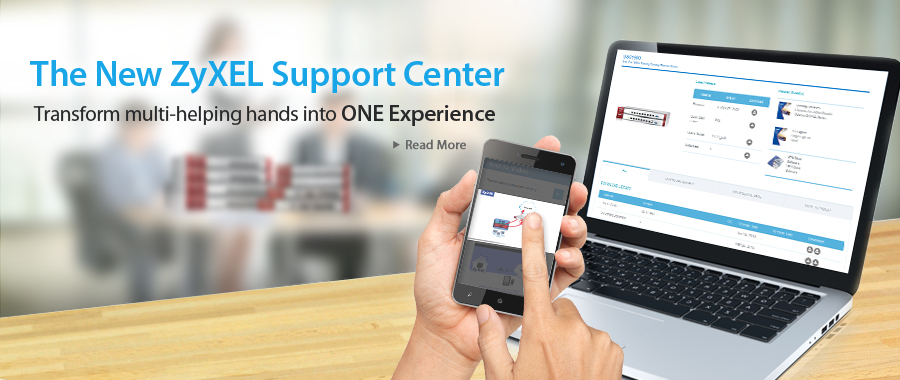 Navigating through the ZyXEL Support Center allows users to download the latest datasheets, manuals, firmware or software; find security advisories, announcements, product hands-on tips, or training courses; engage in the forum with other ZyXEL users and staff; or directly get in contact with worldwide ZyXEL support staff – all brought together in one place.
Whether through desktops, laptops, smart phones, or tablets, the ZyXEL Support Center automatically adapts to the interface of the devices, alleviating the pain of resizing, panning or scrolling the webpage to the proper proportion. A majority of functions are visualized with tables, icons, photos, or videos to help users instantly locate and understand the information they require.
"The new ZyXEL Support Center is like a virtual helping hand. Whether our customers are looking for solutions to problems or instructions/tips for the ZyXEL products they have, this is the one place to go." commented Ken Tsai, Senior Director of ZyXEL Customer Experience Management Division. "Utilizing a responsive web design and visual aids help us build an intuitive and convenient web environment friendly for users. The time and efforts saved for them are always translated to higher customer satisfaction – and that is what has been put at the heart of ZyXEL."
The ZyXEL Support Center officially launched in April 2015. We look forward to welcoming your visit to support.zyxel.com and experience all its given benefits.

ZyXEL Communications Corp.
Founded in 1989 and celebrating its 25th anniversary this year, ZyXEL Communications Corp. is a world-class networking company providing innovative and reliable Internet solutions. As one of the early modem manufacturers, ZyXEL has gone through transformations in the fast-paced networking industry. Delivering cutting-edge communications innovations to more than 400,000 businesses and more than 100 million consumers throughout the world, today ZyXEL is one of the few companies in the world capable of offering complete networking solutions for Telcos, small to medium-sized businesses, and digital home users for a wide range of deployment scenarios. Telco solutions include Central Office Equipment, Customer Premise Equipment, Wired and Wireless Access Network Devices, and Carrier Switches. SMB and Enterprise solutions include Unified Security Gateways, LAN Switches, WLAN, and IP Telephony. Digital Home solutions include Network Connectivity Devices and Multimedia Solutions.