ZyXEL Delivers First Multi Ethernet Port Powerline to the 1000Mbps Market
Designed to Connect the Modern Home
July 10, 2015 – Hsinchu, Taiwan – ZyXEL brings true plug-and-play gigabit network to the home by introducing the PLA5256, a 1000 Mbps powerline adapter with a pass-through socket and two Ethernet ports – the first 1000 Mbps powerline on the market with a friendly design which enables multi-device connection and makes the best use of the limited power sockets at home.
ZyXEL is a global leader in broadband networking technology, providing a comprehensive portfolio of wired and wireless network solutions for telecommunications service providers, small- to medium-sized businesses and home users.
Tailored for places where wired or Wi-Fi connections can hardly reach, and users who look for high-speed network connections for multiple devices across rooms or floors, ZyXEL PLA5256 is a Homeplug AV2 SISO compliant powerline adapter capable of delivering up to 1000 Mbps* of data transfer rates.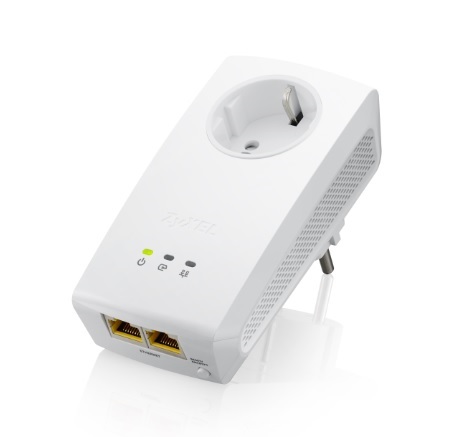 Plug-and-play is made possible as all it takes is to plug a set of two adapters into power sockets and wire network devices to the adapters - no configuration needed. With two Ethernet ports and a pass-through socket on the front, each PLA5256 adapter connects more than just one device and allows other electrical device to plug into it, removing the need to choose between your games console or set top box, perfect for homes with limited sockets and those who need to keep their options open.
Once connected, the PLA5256 offers a Quality-of-Service (QoS) function which automatically allocates bandwidth based on what device needs it most, giving the best possible performance for all connected devices. Network protection is also in place with the built-in 128-bit Advanced Encryption Standard (AES) that can be setup in one touch by pressing the encrypt button on the adapter. It keeps the snooping eyes out and protects your personal local network from users outside of it.
Aside from the PLA5256, ZyXEL also has a comprehensive powerline adapter portfolio which has won awards and great reviews from media or customers worldwide. Recent recognitions include those given by Online PC of Switzerland, Tech Hive of US, The Wirecutter of US, PC Advisor of UK, and many more.
*The theoretical maximum channel data transfer rate is derived from HomePlug AV2 specifications. Actual data transfer rate will vary from network environment including: distance, network traffic, noise on electrical wires, quality of electrical installation and other adverse conditions.
ZyXEL Communications Corp.
Founded in 1989, with over a quarter-century of innovations, ZyXEL Communications Corp. is a world-class networking company providing comprehensive and reliable Internet solutions. Delivering cutting-edge communications innovations to more than 400,000 businesses and 100 million consumers worldwide, today ZyXEL is one of the few companies in the world capable of offering complete networking solutions on broadband access, commercial networking, and home connectivity for Telcos, business, and home users. With a strong local presence in 150 markets around the world, ZyXEL is the ideal partner to deliver tailor-made solutions to meet customers' local needs.