ZyXEL Debuts Industry First 11ac Wi-Fi Access Point with Dual-Optimized Antenna
Optimal Design and Performance Made for Two-Way Switchable Installations
Nov. 9, 2015 – Hsinchu, Taiwan – Today ZyXEL Communications introduces the WAC6103D-I 802.11ac Dual-Radio Access Point (AP) with Dual-Optimized Antenna - the industry's slimmest (32mm) and first AP that can be mounted on ceilings and walls without compromising wireless performance.
ZyXEL is a global leader in broadband networking technology, providing a comprehensive portfolio of wired and wireless network solutions for telecommunications service providers, small- to medium-sized businesses and home users.
Position matters when it comes to AP placement. It determines wireless coverage area and connectivity performance. Most wireless APs on market today are designed for a single method of installation. When they are placed in a way other than they are designed for, signal strength is often noticeably compromised. Using external antennas along with extra configurations might help, but that also means extra cost and additional tech barriers.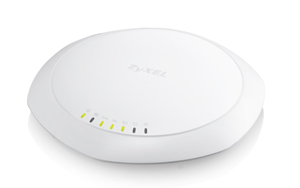 ZyXEL WAC6103D-I 802.11ac Access Point

ZyXEL
WAC6103D-I
is
the industry's first AP to break this boundary
. Equipped with a
dual-optimized antenna
, the
WAC6103D-I
adjusts antenna settings according to the way it is installed. It is
switchable two-ways whether its on a ceiling or wall
and provides the best possible signal coverage for the deployment scenario. Switch modes with one click on the AP or with the easy to use web user interface.
Qualified as a 3-stream 802.11ac Wi-Fi access point, the WAC6103D-I can achieve a combined data rate of up to 1.75 Gbps and is proven to give up to 5 times better performance than same-level competitor products*. Exceptional performance is housed in the industry's slimmest design - only 1.26 inches in height (32mm). Its simple and low profile appearance allows it to easily blend in any modern office, hotel, classroom or cafe.
AP deployment is also made simple with the built-in APFlexTM function, which allows the WAC6103D-I to automatically detect and work with the AP controller deployed in the network. In other words, the WAC6103D-I works with the wireless network on its own, freeing users from tricky configuration settings. The WAC6103D-I is also compatible with the ZyXEL One Network and the ZON utility that make business network management time-efficient.
"The WAC6103D-I has overcome the installation limits usually met when placing APs – we know how much trouble it is and WAC6103D-I is our answer to it," said Crowley Wu, AVP of ZyXEL Network Business Unit. "The WAC6103D-I is a holistic combination of function, performance and design. It is an enterprise class professional AP, but using it does not require too much technical knowledge, which makes it a just-fit solution for businesses looking to build or manage the wireless networks on their own."
*Statistics based on ZyXEL lab test results comparing ZyXEL WAC6103D-I with same level products for 5GHz connectivity performance on wall-mount condition.

ZyXEL Communications Corp.
Founded in 1989, with over a quarter-century of innovations, ZyXEL Communications Corp. is a world-class networking company providing comprehensive and reliable Internet solutions. Delivering cutting-edge communications innovations to more than 400,000 businesses and 100 million consumers worldwide, today ZyXEL is one of the few companies in the world capable of offering complete networking solutions on broadband access, commercial networking, and home connectivity for Telcos, business, and home users. With a strong local presence in 150 markets around the world, ZyXEL is the ideal partner to deliver tailor-made solutions to meet customers' local needs.