ZyXEL Advances User Experience and Network Management Efficiency with the ZyNOS V4.30
New Version of the ZyXEL Network Operating System Now Available for ZyXEL Network Switches
Sep. 14, 2015 – Hsinchu, Taiwan – Today ZyXEL Communications announces the release of the ZyXEL Network Operating System (ZyNOS) Version 4.30 which embodies a polished graphical user interface (GUI) and a set of feature enhancements that optimize user experience and network management efficiency for ZyXEL Network Switches. The upgrade is to roll out from ZyXEL's best-selling switches, the Smart Switch
GS1920 Series
and the Fully Managed Switch
GS2210 Series
and
XGS/GS3700 Series
this year.
ZyXEL is a global leader in broadband networking technology, providing a comprehensive portfolio of wired and wireless network solutions for telecommunications service providers, small- to medium-sized businesses, and home users.
Following the
ZyXEL One Network
, which has been well received for its efficient and user-friendly network setup and maintenance since it was introduced last year, the ZyNOS V4.30 also carries out ZyXEL's "One" endeavor to simplify and streamline network management. Tailored for ZyXEL network switches, the ZyNOS V4.30 comes with a refreshing look at the web-based GUI that is consistent with ZyXEL's wireless access points and security gateways. The unified interface helps users who are familiar with ZyXEL products to get their hands on switches without extra learning. A new at-a-glance view of the switch's information, status, IP address, and quick links to several key functions are now accessible on the status page upon landing.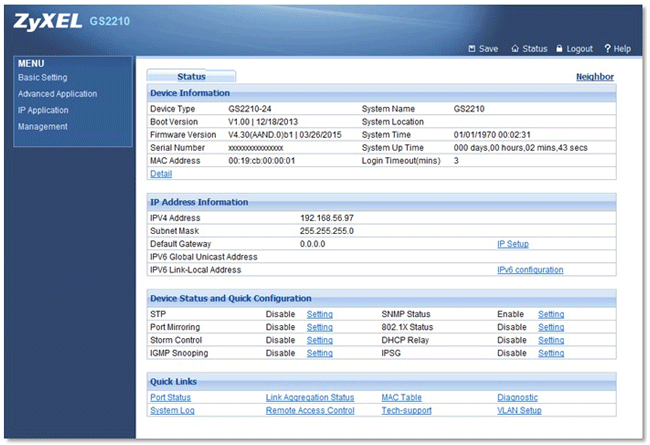 The web-based GUI of ZyXEL GS2210 Series Switch running on ZyNOS V4.30
"We have seen IT staff spend most of their time on repetitive and time-consuming network management tasks," commented Crowley Wu, AVP of ZyXEL Network Business Unit, "from the ZyXEL One Network to ZyNOS V4.30, we are taking steps to ease their workload pains and help small- to medium-sized businesses capitalize on time and effort saved from network management."
Upgrading to the ZyNOS V4.30 promises additional compelling benefits for ZyXEL Network Switch users. The advanced features added to the fully managed GS2210 & XGS/GS3700 Series include energy savings with the PoE scheduling function, higher flexibilities on authentication with more options such as MAC-based authentication per VLAN, and strong reliability with the Root guard and BPDU guard now at users' disposal.
The ZyNOS V4.30 currently supports ZyXEL GS2210 Series network switches and will support the GS1920 Series and the XGS/GS3700 Series in October 2015.

ZyXEL Communications Corp.
Founded in 1989, with over a quarter-century of innovations, ZyXEL Communications Corp. is a world-class networking company providing comprehensive and reliable Internet solutions. Delivering cutting-edge communications innovations to more than 400,000 businesses and 100 million consumers worldwide, today ZyXEL is one of the few companies in the world capable of offering complete networking solutions on broadband access, commercial networking, and home connectivity for Telcos, business, and home users. With a strong local presence in 150 markets around the world, ZyXEL is the ideal partner to deliver tailor-made solutions to meet customers' local needs.