WiFi Mesh Network powers Zyxel to 2019 Taiwan Excellence Awards
Wins mark 14 straight years of success at the country's top manufacturing and design awards
Hsinchu Taiwan, 9 November 2018—Zyxel Communications has again swept the Taiwan Excellence Awards, racking up five prizes largely on the back of its growing suite of well-received WiFi mesh networking, GPON, and LTE solutions. Zyxel has now had 88 products recognized over 14 consecutive years at the awards, which are organized by Taiwan's Ministry of Economic Affairs and were held this year on November 9th in Taipei, Taiwan.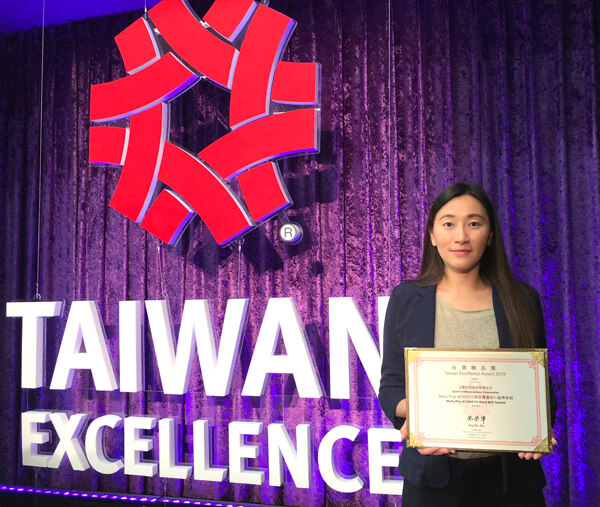 Ms. Irene Tsai, Product Marketing Manager of Zyxel's Smart Living Business Unit received the awards on behalf of Zyxel
In the past two years, Zyxel has initiated a bold shift in its focus, particularly toward mesh WiFi networking products. These awards are a tremendous validation that these efforts have yielded highly practical solutions that are already making tangible differences for consumers and businesses at home and abroad.
Of particular pride are the awards for the Multy suite of mesh networking solutions – including Multy Plus, Multy U and Multy Mini. Much of this success comes down to the priority Zyxel has placed on optimizing radiofrequency design as well on user-friendly, app-based setup and management. The stylish design and a variety of mounting options also earned Multy Plus and Multy U the 2018 Golden Pin Design Award.
Zyxel products directed at service providers were also honored, including 1U Pizza Box 8-port GPON OLT (OLT1408A) and 4G LTE-A indoor IAD (LTE3316). Designed to create better user experiences, the Zyxel LTE3316 can be easily set by the "LTE Ally" app and users can enjoy instant connection just inserting a SIM card whether they're at home, in the office or even in remote areas.
Here's the complete list of Zyxel's award winners:
- 4G LTE-A indoor IAD (
LTE3316-M604
)
- 1U Pizza Box 8-port GPON OLT (
OLT1408A
)
- Multy Plus AC3000 Tri-Band WiFi system (
WSQ60
)
- Multy U AC2100 Tri-Band WiFi System (WSR30)
- Multy Mini AC1750 Dual-Band WiFi System (WSQ20)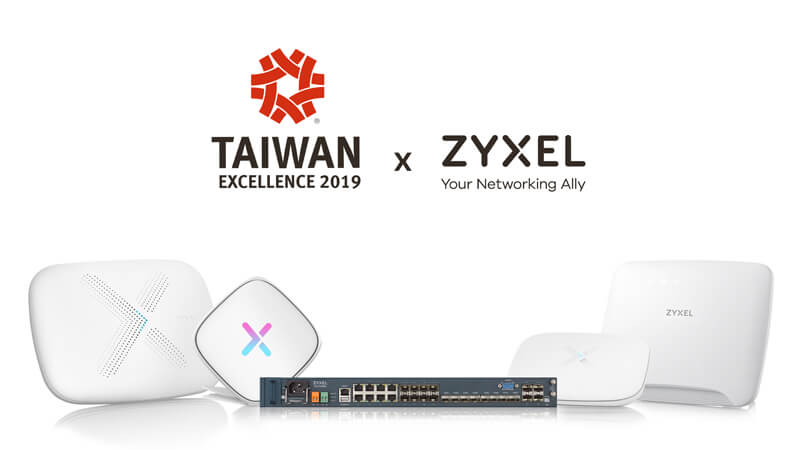 Established in 1992, the Taiwan Excellence Awards recognize products that showcase Taiwanese innovation to the world. Winners are selected from nearly 1,200 applicants by a panel of 140 judges for demonstrating "best of breed" innovations across multiple sectors. For product availability please contact your local Zyxel sales representatives.
About Zyxel Communications
Focused on innovation and customer-centric technology and service, Zyxel Communications has been connecting people to the Internet for nearly 30 years. Our ability to adapt and innovate with networking technology places us at the forefront of the drive to create connectivity for telcos and service providers, businesses and home users.
Zyxel is a global force in today's communications market with an unrivalled track record, including:
- 1,500 passionate associates worldwide
- 100 million devices creating global connections
- 700,000 businesses working smarter with Zyxel solutions
- 150 global markets served
Today, Zyxel is building the networks of tomorrow, unlocking potential, and meeting the needs of the modern workplace — powering people at work, life, and play. Zyxel, Your Networking Ally.