Turkish Hotel Group Chooses ZyXEL Solutions to Connect Five Hotels and Thousands of Guest Rooms
ZyXEL partners with Stone Group Hotels to provide secure, high speed wireless Internet access across 2,000 guest rooms
May 10, 2016 – Hsinchu, Taiwan – ZyXEL Communications, a global leader in broadband networking technology, has teamed with Stone Group Hotels to create a complete network solution aimed at enhancing the guest experience while improving management and staff effectiveness at its resort hotels in Antalya, Turkey. ZyXEL has furnished five distinguished hotels in the group with the latest wireless network technologies in line with the needs of their customers and personnel.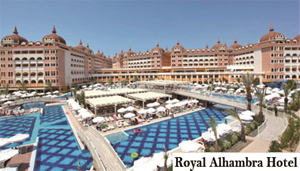 As a global innovator in network technologies, ZyXEL continues to build a strong portfolio of new success stories without slowing its pace. This includes ZyXEL's recent completion of network infrastructure projects for the Stone Group Hotels, a company which is playing a significant role in stimulating Turkey's burgeoning tourism sector. Tourism and hospitality have been promoted as important components of "smokeless industry" in the country.
Four of the hotels — the Royal Holiday, Royal Wings, Royal Alhambra, and Royal Dragon — were equipped with ZyXEL IP DSLAM (Digital Subscriber Line Access Multiplexer) chassis, extending VDSL signals to the rooms via telephone lines from the existing exchange system. In this way, all rooms in each hotel covered by the project have been provided with robust wireless access. The Royal Taj Mahal Hotel, one of the newer additions to the Stone Group portfolio, successfully upgraded its Wi-Fi network to the 802.11ac technology, providing an exceptional wired and wireless network that is able to meet the demands of the present while being prepared for future.
"ZyXEL develops projects for the tourism industry that greatly support our country's economy, which is one of our primary focuses. In particular, there is a high demand for Internet access in both the guest rooms of large hotel chains and the general customer areas. Therefore, we are very glad to implement a project that can satisfy such customer needs." said Erdem Timur Koca, ZyXEL Turkey Channel Project Sales Manager.
Ümit Gürel, Stone Group Hotel's IT coordinator added, "The reason why we preferred ZyXEL for these projects is their record of successful projects already realized at university campuses, hotels, and industrial sites. Guests expect Internet access in both their rooms and the common areas of large hotels like ours. ZyXEL's products were the most suitable for addressing the needs of our valued customers. We are very happy to be a part of a successful project such as this."
For more information about the cases, please visit:
Turkish Luxury Hotel Group Gets Comprehensive Connectivity with ZyXEL DSLAM Solution
New Turkish Hotel Launches with State-of-the-Art ZyXEL Network Solution
ZyXEL Communications Corp.
Founded in 1989, with over a quarter-century of innovations, ZyXEL Communications Corp. is a world-class networking company providing comprehensive and reliable Internet solutions. Delivering cutting-edge communications innovations to more than 400,000 businesses and 100 million consumers worldwide, today ZyXEL is one of the few companies in the world capable of offering complete networking solutions on broadband access, commercial networking, and home connectivity for Telcos, business, and home users. With a strong local presence in 150 markets around the world, ZyXEL is the ideal partner to deliver tailor-made solutions to meet customers' local needs.