Smart antenna key to overcoming the ultimate Wi-Fi challenge
New report finds ZyXEL outperforms competition by 75% in eliminating co-channel interference
June 20, 2016 – Hsinchu, Taiwan – New independent Wi-Fi performance analysis conducted by the University of Brescia reveals that smart antenna technology is the key to overcoming the biggest hindrance to wireless performance - co-channel interference. The report also finds that ZyXEL's Smart Antenna Wi-Fi AP (WAC6503D-S) outperforms competing 802.11ac APs by 75%.
Leading experts in the field of wireless network performance, the University of Brescia's Wireless Networking Group compared 802.11ac Wi-Fi APs equipped with and without smart antenna technology from four leading networking brands: Aruba, Cisco, Ruckus, and ZyXEL. The results show that ZyXEL's Wi-Fi AP outperforms all other competition in the coverage test.
Co-channel interference is an unavoidable dilemma of today's fast evolving 802.11ac technology, simply because the channel width is higher and the available channels become fewer. This means more Wi-Fi APs are operating on the same channel and interfering with each other. Reducing transmission power is an obvious thought, but it results in worse coverage and dead zones. The research team compared the APs in co-channel interference environments and finds that ZyXEL's WAC6503D-S scored the best, outperforming competing APs with an average 75% better throughput.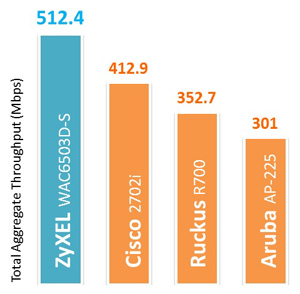 Results from one of the co-channel interference tests (Source: Performance Analysis of 802.11ac Access Points: The Power of Smart Antenna Technology)
"The analysis will help educate the industry on how antenna performance and co-channel interference are crucial to Wi-Fi performance," commented Crowley Wu, Senior AVP of ZyXEL Networking Business Unit. "A technical breakthrough is needed to attend to coverage while combating interference. We've integrated the smart antenna technology and our wireless expertise in the WAC6503D-S to combat common Wi-Fi challenges such as coverage, capacity or interference. This is why the WAC6503D-S is the top achiever in almost every test."
The ZyXEL WAC6503D-S is part of ZyXEL's premium portfolio of 11ac Dual Radio Unified Pro Access Points and has won a number of industry awards in Asia, Europe and the U.S.
ZyXEL Communications Corp.
Founded in 1989, with over a quarter-century of innovations, ZyXEL Communications Corp. is a world-class networking company providing comprehensive and reliable Internet solutions. Delivering cutting-edge communications innovations to more than 400,000 businesses and 100 million consumers worldwide, today ZyXEL is one of the few companies in the world capable of offering complete networking solutions on broadband access, commercial networking, and home connectivity for Telcos, business, and home users. With a strong local presence in 150 markets around the world, ZyXEL is the ideal partner to deliver tailor-made solutions to meet customers' local needs.