Small businesses can now reap the benefits of the cloud with Zyxel's new easy-to-use switch
Zyxel's new GS1915 series maximizes efficiency and agility in an affordable way, to offset the scaling network management challenges facing prosumers, small businesses and chain stores
Hsinchu, Taiwan, 6 April 2022 — Zyxel Networks, the leader in delivering secure and cloud-powered networking solutions, today launched its compact and affordable cloud-based GS1915 series 8-port PoE and Non-PoE Switches enabling more agile network connectivity, seamless multi-device management, and an easier transition to the cloud for small businesses.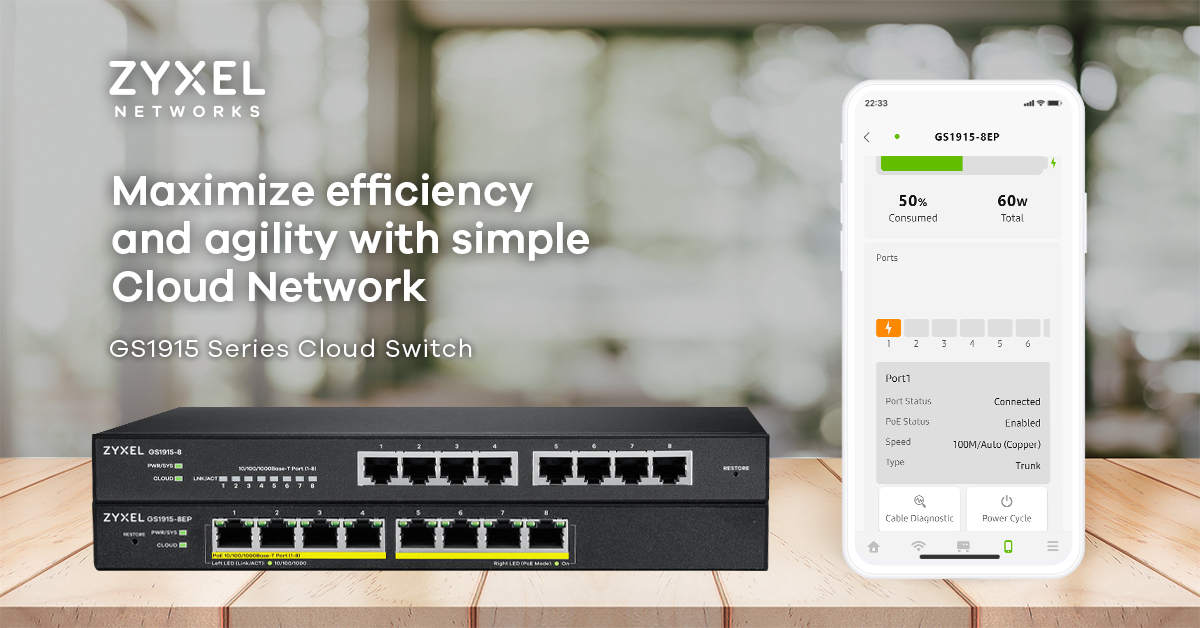 The GS1915's effortless deployment and easy management makes it simple for prosumers, small businesses and chain stores to deploy without a dedicated IT team.
Agile networks, easily managed
The GS1915 series features complimentary Nebula cloud management via an intuitive web interface or the Nebula mobile App. Users can enjoy a streamlined experience from network installation to management without the additional costs of a software or hardware controller. There is also a typical standalone mode available for even more flexibility.
The Nebula App provides an easy way to onboard new devices to the platform, check the network status overview, remotely control your network, and block unauthorized clients anywhere, anytime.
Prosumers, small businesses, and chain stores can take advantage of Nebula ecosystem to access real-time network information and to centrally and remotely manage the GS1915 series of switches along with access points, security firewalls, and 5G/LTE mobile routers with a simple and unified network experience.
Making daily work easier
The PoE model GS1915-8EP comes with a full 8-port PoE+ and supports a 60W power budget, ideal for setting up multiple APs and cameras within homes and small businesses. With the Nebula App it's easy to reset an abnormal camera by power cycling it, even when you're away.
The intuitive LED indicators on the GS1915 series switches' front panels make it easy for users to check the switch status immediately. Designed without a fan, the switches operate silently, blending perfectly into any working environment without disturbing fan noises.
"Fast, stable, secure connections shouldn't solely be the luxury of huge enterprises that have deep budgets and dedicated IT teams. The expansion of our switch and Nebula portfolio is a sign of our commitment to smaller businesses and prosumers, giving them the flexibility to scale their networks, and make the transition to the cloud when they're ready, without the need to replace hardware. By removing these stresses, and making network connectivity simpler, they can spend more time focusing on what they need and do best - running their business," comments Crowley Wu, VP of Zyxel's Networking Business Unit.
Zyxel has also announced the imminent launch of a 10G fiber switch, XS1930-12F. This latest addition to the switch and Nebula portfolio will give customers even more flexibility in their scaling plans, cloud transitions, and navigation of the hybrid working world.
For more information about the switch range please visit: https://www.zyxel.com/products_services/8-port-GbE-Smart-Managed-Switch-GS1915-Series/
About Zyxel Networks
Zyxel Networks has unlocked people's potential by connecting businesses and home users for over 30 years. Today, this means using the cloud to deliver a simplified and unified networking experience, leveraging intelligence to protect against cyberthreats that evolve by the day and offering subscriptions to help SMBs scale flexibly as they grow.
Having spun off from affiliate Zyxel Communications in 2019, we're a global force in the networking market with an unrivalled international presence in 150 markets. We've shipped more than 100 million devices and are trusted by over 1 million businesses, all working smarter with Zyxel solutions.
We're building the networks of tomorrow and meeting the needs of the modern workplace — powering people at work, play, and life.
Zyxel, Your Networking Ally