ZyXEL Communications - Inspiring the Evolution of Access Transformation at BBWFE2014
Showcasing ground-breaking FTTx and VDSL2 Vectoring solutions which enable Service Providers to meet growing consumer demand for speed and reliability while maximizing ROI of existing investments and minimizing TCO of new fiber links
Oct. 21, 2014, Hsinchu, Taiwan – The consumer world today is a bandwidth-hungry place. According to recent research, the average number of Internet-connected devices per household is 5.7. Broadband subscribers expect to watch multiple simultaneous HD video streams, upload and download multimedia files, and use bandwidth-hungry peer-to-peer services throughout their homes from both wired and wireless devices without a glitch--or a hefty bill.
Smart home services and the growing popularity of the "Internet of Things" also mean that sensors, gateways and controllers are being connected to home networks in increasing numbers, adding to the growing demand for speed, bandwidth, and reliability already experienced by Service Providers.
ZyXEL Communications, a global leader in the development of transformative and labor-saving networking technology for twenty-five years, fully understands the challenges created by this ever-increasing need for bandwidth and speed, helping Service Providers stay ahead of the market. Our tailored, cost-effective solutions encompass everything customers need to create a first rate, high-capacity infrastructure, from the central office all the way to the home.
Ultimate performance means optimal customer value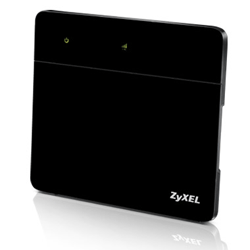 ZyXEL's VDSL2 Vectoring technology, a central feature of the company's new VMG8924/VMG8948 VDSL CPE range, is a perfect example of how ZyXEL can help Service Providers realize maximum return on investment from their existing assets.
By cancelling the crosstalk generated within bundled VDSL2 lines, vectoring effectively doubles the available bandwidth, and almost triples service coverage. With additional features, such as DSL bonding and a combo DSL/Ethernet WAN interface, the ZyXEL VMG8924/VMG8948 series offers unparalleled link availability, flexibility and performance, enabling Service Providers to extract every bit of value from their aging copper networks.

FTTx services brought by the E2E GPON solutions
ZyXEL also offers a full range of E2E GPON solutions, allowing Service Providers to transition seamlessly from DSL to fiber, and ultimately roll-out Fiber-to-the-Home Triple Play services with broadband, television and telephone connectivity all carried over a single fiber link.
The modular chassis of the OLT2412/2406 gives Service Providers the flexibility to select and implement the most cost-effective fiber technologies and deployment models for their networks. It can accommodate up to 8/4 line cards, two uplink cards (2412 only) and two management cards. Along with a maximum of 2048/1024 GPON connections, the ZyXEL OLT also provides up to 32/16 active fiber access connections, In addition, management cards, uplink cards and power modules can be configured as redundant components to offer another level of network stability.
The unique scalability and flexibility of ZyXEL's comprehensive range of VDSL2 and FTTx products stems from its extensive worldwide experience in the deployment of industry leading access solutions, as well as the company's long-standing determination to help service providers lower their investment risk, streamline network integration, and stay ahead of the competition.
Visit us at Booth 40, Hall 11 of Broadband World Forum 2014 for a live demonstration of our industry leading solutions, a chance to speak to our experts about customer-focused innovations, and an opportunity to see the technology of the future in operation today.

ZyXEL Communications Corp.
Founded in 1989 and celebrating its 25th anniversary this year, ZyXEL Communications Corp. is a world-class networking company providing innovative and reliable Internet solutions. As one of the early modem manufacturers, ZyXEL has gone through transformations in the fast-paced networking industry. Today, ZyXEL is one of the few companies in the world capable of offering complete networking solutions for Telcos, small to medium-sized businesses, and digital home users for a wide range of deployment scenarios. Telco solutions include Central Office Equipment, Customer Premise Equipment, Wired and Wireless Access Network Devices, and Carrier Switches. SMB and Enterprise solutions include Unified Security Gateways, LAN Switches, WLAN, and IP Telephony. Digital Home solutions include Network Connectivity Devices and Multimedia Solutions. For more information, please visit www.zyxel.com