ZyXEL Communications - Inspiring Digital Lifestyle at BBWFE2014
Oct. 21, 2014, Hsinchu, Taiwan – ZyXEL Communications, a global leader in the development of transformative and labor-saving networking technology for twenty-five years, is now showcasing their new End-to-End Carrier-Grade Smart Home solution at BBWF 2014.
ZyXEL's innovative Smart Home solution brings new levels of convenience, energy-efficiency, and peace-of-mind to Service Providers as well as their subscribers. More than integrating a wide range of broadband access and home networking solutions, this Solution comes with value-adding features that make automated digital living a reality.
Real-time, remote home management at your fingertips
What operates at the heart of the Smart Home solution is ZyXEL's commerce-ready, Z-Wave compatible Service Gateway. Connecting the Gateway with ZyXEL's wide range of Z-Wave compatible sensors, including Motion, Smoke, Flood Detectors, and Temperature Sensors, the Solution offers subscribers multi-aspect home management automatically and remotely.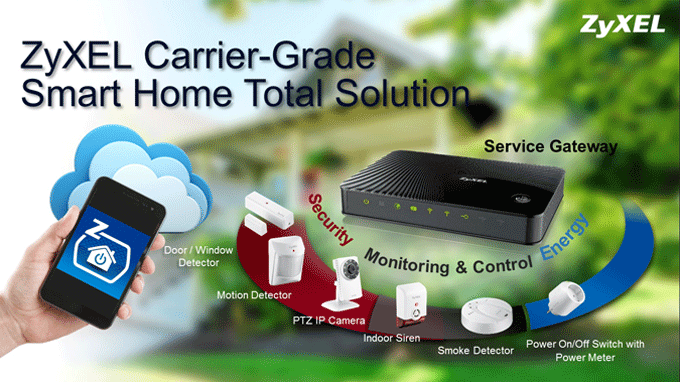 Upon detection of any abnormalities by the sensors, notifications will be passed to the Gateway and pushed to subscribers on smart phones or tablets in real-time: anytime, anywhere. As long as subscribers are connected, they can manage their home security, energy efficiency, and appliances at their fingertips.
Switching home devices on or off via ZyXEL's Z-Wave compatible power controllers to save energy; activating an audible siren on receipt of smoke, water or intrusion notifications; or triggering an IP camera when suspicious actions are detected, all are now made possible with ZyXEL's products.
Wi-Fi extension like never before
Another core of the Smart Home solution is ZyXEL's Wireless Range Extender WRE6505. It is a user-friendly device with AC 750 dual-band (2.4 and 5 GHz) technology capable of extending existing Wi-Fi networks more efficiently at subscriber homes.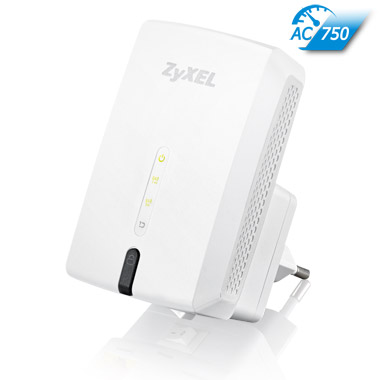 The WRE6505 comes with a compact and stylish design with LED lights indicating signals that help users to place it in the most suitable spot, while the one-click Wi-Fi Protected Setup (WPS) enhances the smooth and simple installation process.
Tailored for service providers, the WRE6505 has a remote management function that allows convenient setup and configuration, or easy firmware updates at a later stage. It delivers speeds of up to 750 Mbit/s on an 802.11ac network and is backward compatible with 802.11 a/b/g/n equipment, offering unparalleled quality, stability, and compatibility for service providers and helping them to meet with customer needs.
Building Digital Homes Worldwide
ZyXEL's Smart Home range includes many products oriented for close cooperation with partners, and is now helping Service Providers to capitalize on new revenue streams as it transforms the digital lifestyle of their subscribers worldwide.
One example is Broadcom, the leading semiconductor innovator responsible, along with ZyXEL, for developing the latest HomePlug AV2 standard technology. The cooperative effort gave birth to ZyXEL's PLA5206 Powerline Gigabit Ethernet Adapter, allowing users to quickly and easily set up a lightning-fast 1000Mbps network using their existing electrical lines.
Visit ZyXEL at Booth 40, Hall 11 of Broadband World Forum 2014 for more success stories and a live demonstration of the Smart Home solution. Don't miss the chance to speak to our experts and to see the technology of the future in operation now.
ZyXEL Communications Corp.
Founded in 1989 and celebrating its 25th anniversary this year, ZyXEL Communications Corp. is a world-class networking company providing innovative and reliable Internet solutions. As one of the early modem manufacturers, ZyXEL has gone through transformations in the fast-paced networking industry. Today, ZyXEL is one of the few companies in the world capable of offering complete networking solutions for Telcos, small to medium-sized businesses, and digital home users for a wide range of deployment scenarios. Telco solutions include Central Office Equipment, Customer Premise Equipment, Wired and Wireless Access Network Devices, and Carrier Switches. SMB and Enterprise solutions include Unified Security Gateways, LAN Switches, WLAN, and IP Telephony. Digital Home solutions include Network Connectivity Devices and Multimedia Solutions. For more information, please visit www.zyxel.com