Boost home Wi-Fi with small, portable Zyxel Wi-Fi extenders
Get connected faster, wherever and whenever at home
Hsinchu Taiwan, November 28, 2016 – Zyxel Communications announces today that the latest and the best Wi-Fi networking ally is coming to each Wi-Fi user's home. Two new Wi-Fi range extenders, the WRE6606 and WRE6505 v2, are now available to extend speedy 802.11ac Wi-Fi in places you couldn't reach before.
Locating places for the best W-Fi signal
Designed for everyone who wishes to extend Wi-Fi throughout the home or a SOHO office, the WRE6606 and WRE6505 v2 come with a smart and intuitive design to make setup and connect easy breezy.
With the LED ring on the WRE6505 v2, users can easily detect the signal strengths of both bands (2.4 GHz and 5GHz) at various places at home, providing the easiest search navigation. However, in the event where wall outlets are absent, such as in the backyard, the garage or the front porch, the WRE6606 comes with a micro USB port to connect to portable power banks, allowing users to extend Wi-Fi around the house.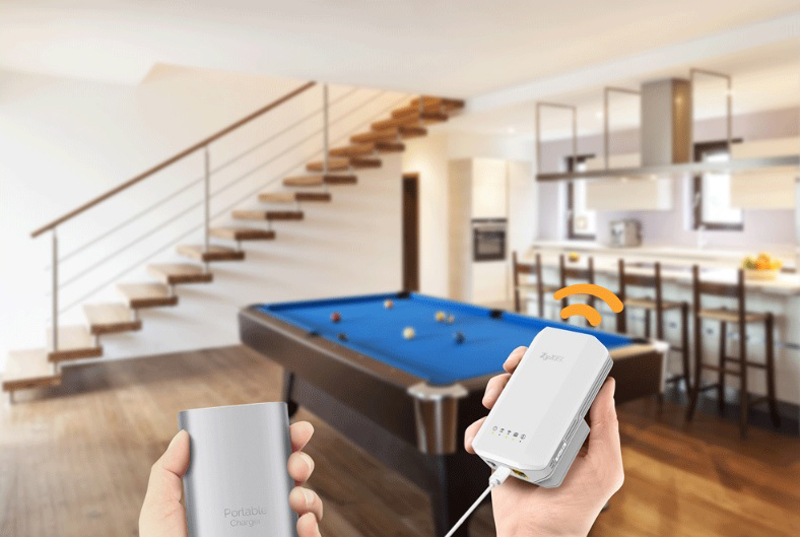 The WRE6606 connecting to a power bank for anywhere Wi-Fi at home
Simple clicks to replace complicated setups
One of the premium, advanced features available with the WRE6606 includes easy switch to access point, extender, or client mode with the push of a button, perfect for users to connect it with routers and devices with flexible wired or wireless connections. The LED signal lights might become disturbing at night. With the WRE6505 v2, three clicks on the WPS button will help users turn off the signal lights immediately for a good night sleep.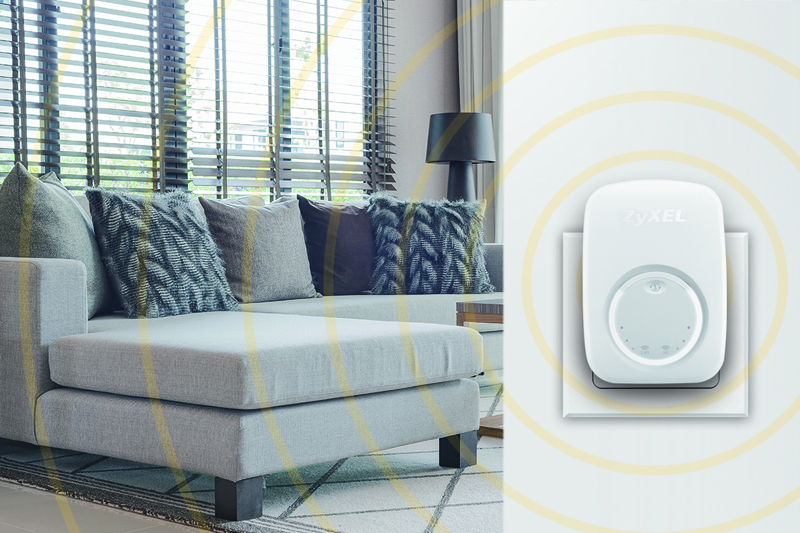 The WRE6505 v2 is smaller than credit card for non-instrusive installtion
Triple wireless mode for every home scenario
Both the WRE6606 and the WRE6505 v2 include three different wireless modes to boost in-home Wi-Fi, so that users take real advantage of dual-bands and achieve the best Wi-Fi experience. Use the Normal Mode for day-to-day Wi-Fi usage; the Range Mode for maximum coverage that takes Wi-Fi to the furthest corner of any household; and the Speed Mode to save time of all types of latency-sensitive streaming, downloads, uploads or multimedia engagement.
"As the networking ally for home users, Zyxel continues to build whole home coverage that allows them to be more productive and more entertained," said Jenny Lai, AVP of Zyxel Smart Living Business Unit. "The wireless extenders are ideal devices for helping home users eliminate Wi-Fi dead spots and get connected wherever they are in their homes, however they'd like."
The WRE6606 is an AC1300 MU-MIMO Dual-Band Wireless Range Extender, and the WRE6505 v2 is a Wireless AC750 Range Extender. Users who have been enjoying Zyxel routers are able to sync Wi-Fi settings with Zyxel ONE Connect mobile app to other home connectivity devices. Zyxel recommends the combination of WRE6606/WRE6505 v2 with the AC1300 MU-MIMO Dual-Band Wireless Gigabit Router (NBG6617) for best home coverage.
To find out more information about Zyxel's comprehensive portfolio of Wi-Fi extenders, please visit here.
About Zyxel Communications
Focused on innovation and customer-centricity, Zyxel Communications has been connecting people to the Internet for nearly 30 years. Our ability to adapt and innovate with networking technology places us at the forefront of creating connectivity for telcos and service providers, business and home users.
Zyxel is building the networks of tomorrow, unlocking potential, and meeting the needs of the modern workplace — powering people at work, life, and play. Zyxel, Your Networking Ally.
- 1,500 passionate associates worldwide
- 100 million devices creating global connections
- 700,000 businesses working smarter with Zyxel solutions
- 150 global markets served