Zyxel teams with Avira OEM to help SMBs defend against zero-day and unknown threats
Hsinchu, Taiwan, 15 November 2021–Zyxel Networks, a leader in delivering secure, AI- and cloud-powered business and home solutions, today announced the availability of the Cloudbox API from Avira OEM, part of NortonLifeLock's offerings. Avira's Cloud Sandbox service integrates with Zyxel's Advanced Threat Protection (ATP) firewalls. Available now, this integration provides SMBs with even greater threat detection rates and response times to thwart unknown threats.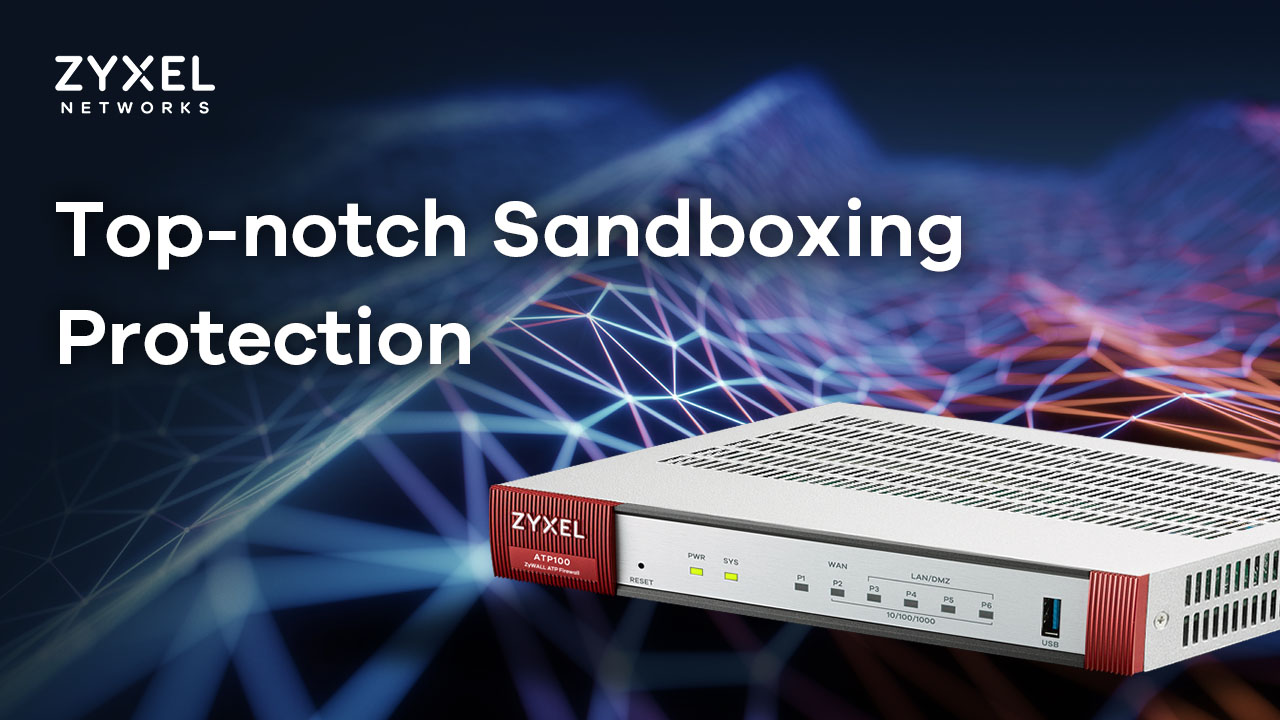 According to Zyxel's threat intelligence lab*, around 100 million of unknown threats were detected each year and 70% of which were hidden in PDF or ZIP files that can easily catch employees or network users off guard. The increasing risks make it more crucial than ever to deploy a solution that helps safeguard businesses from zero-day and unknown attacks, and that is what the Zyxel and Avira Cloud Sandbox service integration offers. With sandboxing technology, firewalls can automatically confine potentially malicious files in a safe and contained environment (or sandbox), where they can be tested to determine whether they are safe before being let through the firewall.
Through this product integration, Zyxel is continuing its commitment to customers by providing all-in-one security solutions that are designed specifically for SMBs. Users will benefit from a revolutionary sandboxing architecture with stellar performance, which enables better detection rates and faster response times to zero-day attacks. This means that network administrators are equipped with the right tools to stop potential threats quickly and effectively, thus safeguarding valuable business assets.
Alongside sandbox enhancements, users of Zyxel's ATP firewalls will be able to take advantage of a continuous stream of up-to-the-minute threat intelligence insights, identified by other ATP firewalls worldwide. In addition to receiving regular updates of newly flagged signatures from trusted sources, access to this extensive threat database will ensure that users have a comprehensive solution to safeguard their network and business assets from evolving threats.
"Businesses understand that the threat landscape is constantly evolving and that it's important to have measures in place that can keep up. With the integration of Avira's Cloud Sandbox service, part of NortonLifeLock, we are able to provide an enhanced comprehensive sandboxing solution aimed specifically at the SMB market, to provide them with peace of mind that they are protected from both known and unknown threats," said Mr. Nathan Yen, AVP of Zyxel's Gateway Business Unit.
The new Zyxel service is available to ATP Firewall customers in the Gold Security Pack license bundle. Users who have already purchased the license will automatically be upgraded to the new Zyxel service with no additional action and expense needed.
For more information about the Zyxel ATP Firewall series, please visit https://www.zyxel.com/atp
*Based on the analytics of Zyxel's Security Cloud
About Zyxel Networks
Zyxel has been getting business and home users online for over 30 years, relying since Day 1 on innovation and customer-centric service. In 1989, this meant analog modems. Today, it means using AI and the cloud to deliver rapid, reliable, and secure networking solutions for business and home users.
Zyxel is a global force in the communications market with an unrivalled international presence that include:
- 150 markets served
- 1,000,000 businesses working smarter with Zyxel solutions
- 100 million devices creating global connections
We're building the networks of tomorrow, unlocking potential, and meeting the needs of the modern workplace—powering people at work, play, and life.
Zyxel, Your Networking Ally.