Zyxel launches two new 5G mobile repeaters for SMBs to solve flaky mobile coverage
Provides IT channel partners with installer-friendly solutions to move into a new business vertical
Hsinchu, Taiwan, 21 June 2021—Zyxel Networks, a leader in delivering secure, AI- and cloud-powered business and home networking solutions, today introduced two new 5G NR commercial mobile repeaters, MagicOffice and MultiSite, to address in-building coverage issues such as dropped calls, slow data speeds and poor reception in commercial venues, multistory buildings, and underground spaces.
With mobile communication playing a vital part in business and home life, poor indoor mobile reception in stores, car parks, electric vehicle charging stations or offices can create customer complaints or reduce productivity. Designed to improve indoor mobile coverage, the repeaters extend mobile signals indoors, across multiple floors, underground or where signal is weak.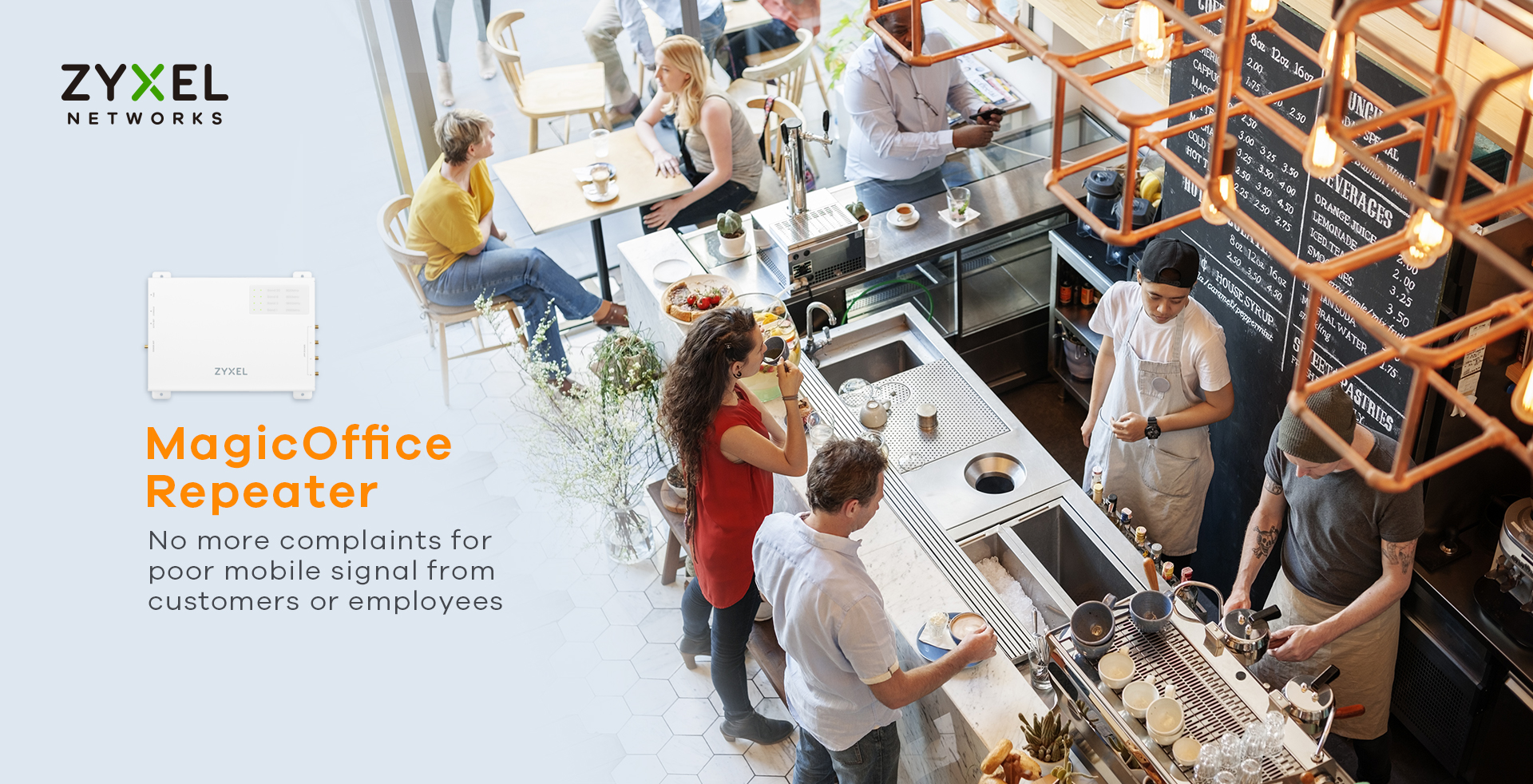 Budget-friendly and straightforward set-up
While traditional repeaters are often complicated to deploy, space-intensive, and needing specialist expertise to install, Zyxel's MagicOffice and MultiSite commercial repeaters overcome these challenges. Both solutions will automatically detect the isolation figure, give optimal gain, and readjust regularly to match any changes.
MagicOffice Repeater is ideal for a small office or commercial venues of up to 900m², while buildings with multiple floors covering up to 25,200m² can now benefit from the MultiSite Repeater. For users looking to boost signal across multiple sites or floors, the MultiSite Repeater can cascade up to 7 nodes using budget-friendly soft coaxial cables. It is still centrally managed under one interface, making it much easier to install, manage and maintain, saving time and resources.
Greater power to unlock wider deployment opportunities
Zyxel's repeaters feature industry-leading system gain, meaning they are extremely effective in areas where mobile signal is weaker. Compared to most products that require at least three to four-bar mobile signal strength outdoors to work, Zyxel's solutions will work from a two to three-bar signal. For situations with very poor, one-bar signal strength or in dead zone areas within buildings or tunnels, the MultiSite Repeater also works with Zyxel's patented SymmRepeaterEnterprise to boost signals.
Echo avoidance and operator network safe
Zyxel's patented echo-avoidance technology enables the repeaters to automatically detect any oscillation and performance issues. Once detected, the repeaters automatically adjust power output without needing manual intervention, saving time and effort on maintenance. With a network safe design, the repeaters also automatically adapt to the power level of nearby operator networks to maintain stable communications quality.
"Zyxel's two new repeaters not only overcome the challenges of a weak mobile signal but do so in a simple and cost-effective way, making it an ideal solution for IT channel partners to pave into the in-building mobile market and create new revenue streams," said Crowley Wu, Senior Vice President of Zyxel Networking SBU. "Our patented technology and simple set-up make ongoing maintenance and enhancements easy to manage for optimal solution performance and benefit."
For more information about Zyxel's MagicOffice and MultiSite Repeaters, please visit https://www.zyxel.com/products_services/Quad-Band-Repeater-MagicOffice-Repeater/ and https://www.zyxel.com/products_services/Tri-Band-Cascadable-Repeater-MultiSite-Repeater/ .
About Zyxel Networks
Zyxel has been getting business and home users online for over 30 years, relying since Day 1 on innovation and customer-centric service. In 1989, this meant analog modems. Today, it means using AI and the cloud to deliver rapid, reliable, and secure networking solutions for business and home users.
Zyxel is a global force in the communications market with an unrivalled international presence that include:
- 150 markets served
- 1,000,000 businesses working smarter with Zyxel solutions
- 100 million devices creating global connections
We're building the networks of tomorrow, unlocking potential, and meeting the needs of the modern workplace—powering people at work, play, and life.
Zyxel, Your Networking Ally.