Zyxel improves customer journey with revamped online experience
Major website updates make it easier for users to find information, shop, and learn through Zyxel's online experience
Hsinchu, Taiwan, September 20, 2022—Zyxel Networks, the leader in delivering secure, cloud-powered networking solutions, has given its website a major upgrade to improve the online customer journey. The changes provide a better experience for its customers through a fully renovated official website, the introduction of the Zyxel Store, and a revamped Education Center.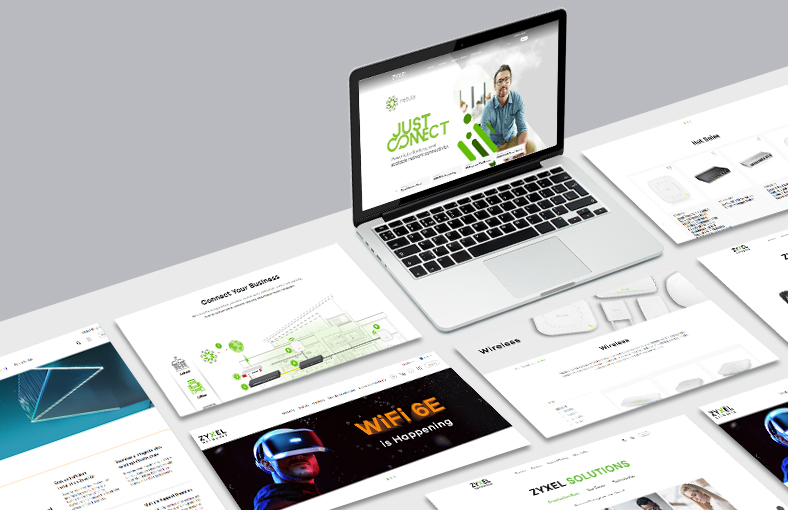 Smoother website, easier journey
The revamped official website offers customers a simplified, re-categorized menu, restructured content, and a streamlined user flow. The product and solution pages have been revamped with a clear hierarchy of contents, along with diagrams showing all supported products and how they are deployed. The pages also feature refined searching and filtering capabilities and success stories to help customers quickly find the products that are right for them.
One-stop online shop
Zyxel has also debuted an online store where customers can shop for hardware directly from the brand. This is particularly useful for small businesses, as it reduces the amount of time spent trawling through third party ecommerce sites looking for the right product and the best offer. The Zyxel Store provides users with its full range in one place, allowing them to order, pay, track, and return products − with competitive pricing, exclusive offers, fast delivery, and direct access to warranty and customer support.
Additionally, any users and channel partners looking for service licenses will also have the option to purchase online through Zyxel Marketplace and Circle, This means regardless of whether they are shopping for hardware or licenses, all users will be able to connect with Zyxel throughout their entire digital journey and find the best buying options to suit their business needs.
Network education made easier
Zyxel's Education Center has also been revamped to help users, partners, or anyone else wanting to level up their skills and become an expert in networking.
The fully online, digital platform makes it easy for users to learn at their own pace and grow career expertise, with certification available to showcase their newly acquired skills. Available courses are updated every six months, providing a continual stream of new learning materials, and more than 60% of these courses are available free of charge. Multilingual training courses and certification programs are also available in English or Chinese.
"We want our customers to have the best possible experience while using our website and have made major updates to provide this for them. The insights provided by our customers and partners have been invaluable in helping us to restructure our pages and online offerings to ensure a streamlined digital journey that exceeds expectations. Our website now provides users and partners with a one-stop-shop for information, purchases, and education, with an easy to navigate, intuitive new design," comments Mr. Gordon Yang, President of Zyxel Networks.
Updates to the official website and Education Center have been launched globally. The Zyxel Store is currently available for 27 countries in the EU and can be viewed in English and German, with future plans to expand into more countries, languages and currencies in the coming months.
For more information, please visit: https://www.zyxel.com/global/en
About Zyxel Networks
Zyxel Networks has unlocked people's potential by connecting businesses and home users for over 30 years. Today, this means using the cloud to deliver a simplified and unified networking experience, leveraging intelligence to protect against cyberthreats that evolve by the day and offering subscriptions to help SMBs scale flexibly as they grow.
Having spun off from affiliate Zyxel Communications in 2019, we're a global force in the networking market with an unrivalled international presence in 150 markets. We've shipped more than 100 million devices and are trusted by over 1 million businesses, all working smarter with Zyxel solutions.
We're building the networks of tomorrow and meeting the needs of the modern workplace — powering people at work, play, and life.
Zyxel, Your Networking Ally.