With ZyXEL's G.SHDSL.bis, RIO was able to obtain higher speed
Overview
Customer Name: RIO Networks
Customer Industry: Technology Driven Telephone Company
Challenge: To offer new and existing customers reliable communication services with significantly higher symmetrical bandwidth.
Benefits: With ZyXEL's G.SHDSL.bis, RIO was able to obtain higher speed bandwidth symmetrically, increasing capacity while maintaining flexibility. This solution allowed RIO to differentiate itself from competitors by offering their customers appealing service options.

Challenge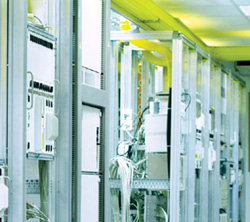 Rio Networks, a leading provider of local and long distance services, Internet access, and data communications, found interest in developing an affordable communications service that would draw new businesses and retain their existing customers. Rio saw that SMBs today drive demand for increased bandwidth. Typical high-speed DSL offerings were designed to deliver more bandwidth downstream than is made available upstream. Contrarily many SMBs require similar bandwidth needs whether downstream or upstream. Businesses use high speed Internet to share information about their company offerings, conduct videoconferences, and other high bandwidth needs requiring symmetric bandwidth. In order to continue differentiating themselves in the marketplace and to make their existent service option more appealing, RIO realized that they would have to offer higher bandwidth with symmetric Internet access transmission. RIO's challenge was to offer Unified Communications Services that would include:
1.High speed data transmission
2.Voice through hosted IP PBX
3. E-mail via hosted exchange
4. Two way fax capabilities
5. Unified messaging for voice mail
6. Additional services

In order to generate revenue from this venture, Rio understood that they would have to provide these services at a very affordable price so that SMBs could run their business efficiently in difficult economic environments. Cost effectiveness ruled out expensive traditional T-1 access.

Solution


Rio Networks faced a challenge to offer reliable communication services with the significantly higher symmetrical bandwidth required to draw in new SMB customers and retain existing customers. To meet these challenges, Rio found ZyXEL Communications. ZyXEL's product lineup includes a full G.SHDSL.bis solution ideal for Rio's SMB customer base. ZyXEL provided Rio Networks confidence in that G.SHDSL.bis would best suit their business application needs by offering higher-speed bandwidth whether upstream or downstream. ZyXEL's products using G.SHDSL.bis transmission methods combine the positive aspects inherent in utilizing existing copper to deliver high-speed communications with the additional benefits of increased data rates at a longer reach with less noise. Rio further found ZyXEL's solution appealing due to its affordability, among numerous other benefits.

ZyXEL's solution met all of Rio Networks' objectives in their pursuit to offer a higher speed bandwidth service option to their SMB customers. While Internet services for business applications are traditionally served by T-1 lines, T-1 equipment can be very expensive both to purchase (CAPEX) and maintain (OPEX). Rio cut its CAPEX and OPEX costs through selecting ZyXEL's G.SHDSL.bis product solution, which delivered a value-competitive alternative to otherwise expensive T1 service offerings.

Furthermore, ZyXEL's responsiveness and accessible US-based customer service organization helped Rio to meet its rapid deployment schedule. ZyXEL's support throughout the entire process provided Rio Networks' a smooth technology transition offering uninterrupted services to their SMB customer base at a most attractive price.
Key advantages of ZyXEL's G.SHDSL.bis product solution include:
1. Performance and reliability
2. Full featured end-to-end QoS platform including VLAN tagging
3. Reliable remote management and troubleshooting
4. Web GUI for easy configuration
5. Solid US-based technical service and support
6. Affordability

With ZyXEL, Rio Networks addressed the surge in demand for bandwidth by increasing capacity while maintaining flexibility. ZyXEL's solution provided Rio Networks with the opportunity to differentiate itself from competitors through offering both new and existing customers affordable updated technology bundled into appealing service options.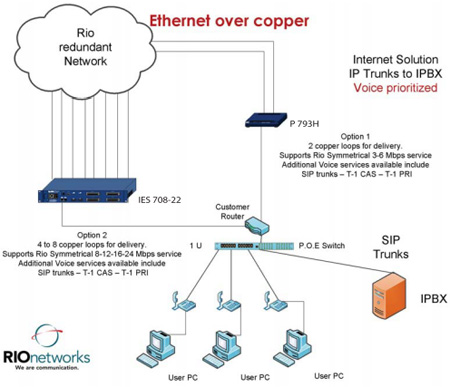 Back to Success Stories