ZyXEL One Network – Uniting Wired, Wireless and Network Security Products Under One Powerful, Centralized, Setup and Maintenance Framework
Unification of industry leading network product range with intelligent, efficient setup and maintenance lifts network management burden from SMBs
Oct. 22, 2014 – Hsinchu, Taiwan – ZyXEL Communications today releases full details of ZyXEL One Network, a next generation unified networking solution, designed to provide customers with more streamlined, efficient and user-friendly network setup and maintenance.
ZyXEL One Network is a visionary solution which encompasses all devices required to operate a small or medium sized network. It allows them to be addressed, configured, reset, and rebooted centrally, thus saving valuable time, eliminating the burden of repetitive tasks and reducing the total cost of ownership of the network.
ZyXEL One Network has been able to deliver this networking breakthrough thanks to a comprehensive portfolio of advanced business networking solutions that have been designed and engineered exclusively in-house. This means that unlike competing brands where products often utilize a wide range of incompatible setup tools, ZyXEL has been able to create a fully integrated suite of customer-focused solutions with complementary and interoperable setup and installation utilities.
The ZyXEL One Network (ZON) Utility, the central element of this transformative solution, heralds the start of a new type of user-friendly networking with the simplest, most efficient network setup and management interface on the market. It has been designed to accelerate networking tasks, freeing network administrators for more strategic, revenue generating business activities.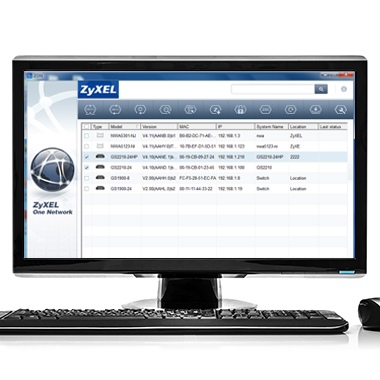 This intuitive, centralized user interface has already been incorporated into ZyXEL's most popular advanced intelligent switches and PoE solutions and will soon be extended to their commercial gateways and security products, allowing them to be located, addressed, rebooted, and have firmware upgraded quickly and efficiently, without the need for direct access or expensive, over-specified network management tools. It also integrates seamlessly with ZyXEL's Access Point Configurator (ZAC) Utility enabling centralized configuration of AP settings, including SSID, Security, and Access Management.
The second key element of the solution is ZyXEL Smart Connect, the inter-device intelligence of ZyXEL products. Smart Connect simplifies network maintenance and troubleshooting, by allowing auto-discovery of neighboring devices, remote viewing of their management interface, and power cycling as well as remote factory reset.
The labor-saving remote power cycle facility can also be extended to most LLDP (Link Layer Discovery Protocol) enabled devices from any manufacturer, and is particularly powerful when used with ZyXEL's extensive range of PoE-enabled switches, where it gives an instant reading of power usage per port, and allows powered devices to be rebooted remotely.
The third element of the ZyXEL One Network experience centers around the integration of ZyXEL AP Controller technology into ZyXEL's extensive commercial Gateway range, including their industry leading Next-Gen USG, and their powerful and popular ZyWALL firewalls, UAG and SBG ranges. This integration ensures affordable, scalable licenced-based AP management, simplifying Wi-Fi Setup and expansion and reducing the TCO (Total Cost of Ownership) by reducing the number of devices that need to be purchased and configured.
ZyXEL's ground-breaking pairing of these three powerful core elements with their comprehensive, well established, and innovative range of networking products is a product of ZyXEL's vision to provide customers with a truly integrated network experience, a direct consequence of more than twenty-five years of customer-focused innovation. The enhanced and streamlined user-experience delivered by the ZyXEL One Network further establishes ZyXEL as the leading brand for customer-focused, advanced SMB Networking Solutions.
For product availability and a complete list of product features, please contact your local sales representatives or visit the ZyXEL global website.
ZyXEL Communications Corp.
Founded in 1989 and celebrating its 25th anniversary this year, ZyXEL Communications Corp. is a world-class networking company providing innovative and reliable Internet solutions. As one of the early modem manufacturers, ZyXEL has gone through transformations in the fast-paced networking industry. Today, ZyXEL is one of the few companies in the world capable of offering complete networking solutions for Telcos, small- to medium-sized businesses, and digital home users for a wide range of deployment scenarios. Telco solutions include Central Office Equipment, Customer Premise Equipment, Wired and Wireless Access Network Devices, and Carrier Switches. SMB and Enterprise solutions include Unified Security Gateways, LAN Switches, WLAN, and IP Telephony. Digital Home solutions include Network Connectivity Devices and Multimedia Solutions.