Zyxel Multy X delivers fast, reliable WiFi coverage throughout the home
Tri-band whole-home WiFi mesh system eliminates dead spots to maximize performance of connected applications
Hsinchu Taiwan, October 2, 2017 – Zyxel Communications today announced Multy X, a tri-band AC3000 whole-home WiFi Mesh system designed to provide fast, reliable WiFi coverage throughout the home. Multy X makes it fast and easy for users to set up and manage a high-performance WiFi network using a simple, intuitive smartphone app. Using the app, users can easily implement and manage features such as parental control, guest network, Alexa voice control, and more.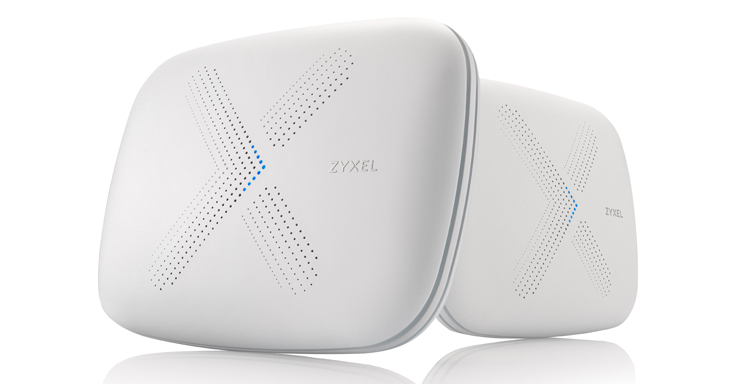 Multy X utilizes WiFi mesh network technology to deliver seamless coverage throughout the home and eliminate WiFi dead spots. Multiple Multy X nodes work together to provide a single network that envelops homes of all sizes in reliable WiFi coverage. Devices automatically connect to the nearest Multy X node with the best signal, allowing free roaming throughout the home and optimum network performance without having to switch networks and reestablish connections. Unlike traditional networks that lose speed and bandwidth as they repeat WiFi signals between routers and extenders to provide connectivity throughout the home, Multy X nodes work together as a single network to deliver full bandwidth and speed to the connected devices.
Tri-Band Means More Speed for Network Devices
Unlike dual-band mesh networking solutions, Multy X is a tri-band solution that uses the third band for the overhead communications between nodes that robs dual-band solutions of bandwidth and reduces the overall performance of the network. Multy X provides the full bandwidth for connected devices on the 2.4 GHz and 5 GHz bands to ensure maximum performance and reliability. MU-MIMO support further improves the user experience by enabling Multy X to connect and communicate with multiple devices simultaneously at the fastest possible speeds.
Set up without a hitch
A simple, intuitive smartphone app makes it easy to set up and manage the whole-home Multy X WiFi network. Using the Multy X app, users can set up the network in a matter of minutes, push over-the-air firmware updates, create temporary guest WiFi access, and pause WiFi access for specific users. Voice control through Amazon Alexa service makes it even easier to manage the Multy X home network.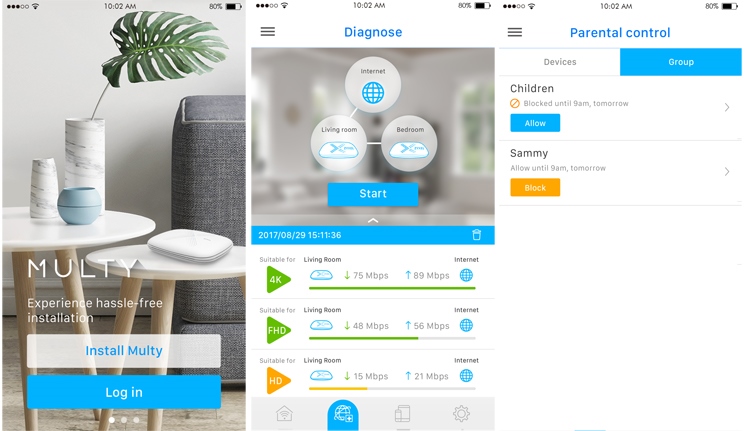 The simple, intuitive Multy X app
"Multy X is all about simplicity and performance," said Bill Su, AVP of Zyxel Smart Living Business Unit. "The elegant and simple look of Multy X enables it to blend into the home environment, but behind the sleek design is a powerful networking solution. Deep down inside, Multy X is designed to provide ease-of-use, fast and reliable performance, and seamless whole-home coverage that gives everyone a great user experience and ensures that all of the connected devices work to their potential."
Zyxel Multy X Whole-Home WiFi Mesh System includes two nodes. Single Multy X nodes for expanding the Multy X network will be available too. A forum dedicated to Zyxel products is provided as an added resource for Multy X users to seek or offer for timely support from peer users or Zyxel professionals.
About Zyxel Communications
Focused on innovation and customer-centric technology and service, Zyxel Communications has been connecting people to the Internet for nearly 30 years. Our ability to adapt and innovate with networking technology places us at the forefront of the drive to create connectivity for telcos and service providers, businesses and home users.
Zyxel is a global force in today's communications market with an unrivalled track record, including:
- 1,500 passionate associates worldwide
- 100 million devices creating global connections
- 700,000 businesses working smarter with Zyxel solutions
- 150 global markets served
Today, Zyxel is building the networks of tomorrow, unlocking potential, and meeting the needs of the modern workplace — powering people at work, life, and play. Zyxel, Your Networking Ally.