ZyXEL Harvests Five More Taiwan Excellence Awards
Enabling Digital Lifestyle with Smart Home Integration
April 22, 2015 – Hsinchu, Taiwan – ZyXEL Communications, a world-class networking company providing innovative and reliable Internet solutions, has already harvested five Taiwan Excellence Awards for 2015. Over the past decade ZyXEL has had a total of 59 products crowned with the Taiwan Excellence honor, gathering an "all-star" product portfolio that strengthens global presence and credibility. The award ceremony was held on April 22, 2015 at Taipei International Convention Center, Taiwan.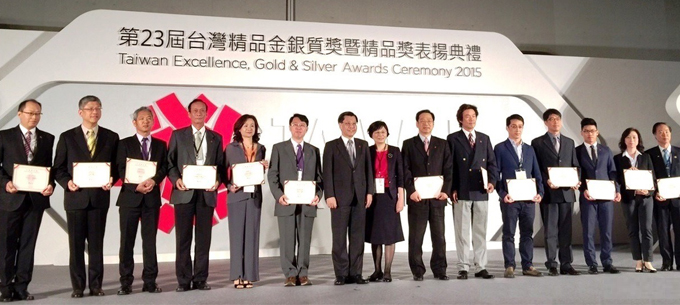 ZyXEL representative (fourth from the right) received the Taiwan Excellence Awards
The five award-winning products solve problems such as data storage, network coverage, home connectivity and management, and ultimately form the cutting edge of ZyXEL's smart home solutions.
4-Bay Personal Cloud Storage, NAS540
Powerline Wireless AC Extender, PLA5435
Simultaneous Dual-Band Wireless AC2350 Media Router, NBG6816
Dual Band Wireless AC/N GPON IAD, PMG5618
Home Network Management Solution, ZyXEL OneConnect
More of daily life depends on digital devices and network connections than ever before. The steep learning curves of learning how to use such devices can sometimes intimidate users from going forward. ZyXEL steers the "One strategy" to home by offering a digital lifestyle that is easy and convenient for service providers and end users, even those with no experience setting up complex networks.
The heart of the smart home lies at the Dual-Band Wireless Router (NBG6816) and GPON IAD (PMG5618), a combination that builds up extensive network coverage across corners at home and connects networking devices altogether. Devices include the Personal Cloud Storage, a network attached storage device with gigantic 24TB storage capacity (NAS540) which saves literally every file you need for work and leisure, the Powerline Wireless AC extenders (PLA5435) which convert your existing power lines at home for network extension as they are plugged in power sockets, and many more. Coupling the devices with the Home Network Management Solution, ZyXEL OneConnect, allows users to manage their digital home through a centralized and intuitive interface.
These award winners all share one thing in common: simplicity in use or deployment. The simplicity comes from in-house technology integration geared towards customers. ZyXEL's customer-centric mindset adheres to the five interwoven values judged for the Taiwan Excellence Award - R&D, design, quality, marketing, manufacture in Taiwan.
The Taiwan Excellence Awards is a widely recognized name for innovation. The Ministry of Economic Affairs (MOEA) of the Taiwanese Government has organized it since 1992, recognizing products qualified to represent Taiwan and to shine in the worldwide community. Award-winning products, including ZyXEL's NAS540 and NBG6816 were also showcased in Mobile World Congress 2015 at booth 1D46, Hall 1 in Fira Gran Via, Barcelona, Spain.


ZyXEL Communications Corp.
Founded in 1989 and celebrating its 25th anniversary this year, ZyXEL Communications Corp. is a world-class networking company providing innovative and reliable Internet solutions. As one of the early modem manufacturers, ZyXEL has gone through transformations in the fast-paced networking industry. Delivering cutting-edge communications innovations to more than 400,000 businesses and more than 100 million consumers throughout the world, today ZyXEL is one of the few companies in the world capable of offering complete networking solutions for Telcos, small to medium-sized businesses, and digital home users for a wide range of deployment scenarios. Telco solutions include Central Office Equipment, Customer Premise Equipment, Wired and Wireless Access Network Devices, and Carrier Switches. SMB and Enterprise solutions include Unified Security Gateways, LAN Switches, WLAN, and IP Telephony. Digital Home solutions include Network Connectivity Devices and Multimedia Solutions.